News > Washington Voices
Artful bra exhibit aims to lift cancer awareness
Thu., April 16, 2009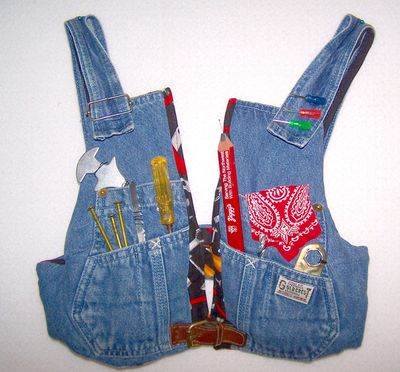 It's loved and hated by women around the world. It lifts and divides, controls and contains, enhances and shapes. A good one fits without creeping up or sliding down, without leaving bulges and marks. A bad one feels like barbed wire.
Of course, the subject is the bra. A handful of creative designs will make their debut in support of breast cancer awareness at this weekend's Women's Show at the Spokane Convention Center.
Among the artsy bras on display will be the sea-themed Sea Cup; Thanks For the Mammaries, which sings a song; the Mardi-Bra, which celebrates life; and the Man Bro, reminding showgoers that men also get breast cancer.
"We picked up the idea from other quilting groups around the world, who've used the idea to create awareness for breast cancer," said Mari Haworth, chairwoman of the local art quilt group that's part of the Washington State Quilters. "It turned out that the Susan G. Komen people had seen this somewhere else, and really wanted to do it, so when we called it all came together."
The brightly colored and decorated undergarments will be on display at the Boyd Walker booth at the Women's Show.
"We ask that people toss a dollar in a jar for the bra they like the most," Haworth said. "Then we give the money to the Komen Foundation, and we have a prize for the bra that gets the most votes."
But the designer brassieres are not for sale.
"We want to take them to other similar shows to raise awareness about breast cancer," Haworth said. She said quilters spent between 30 minutes and 20 hours on each bra.
Haworth said she's always loved the Women's Show. "It's just one of my favorites," she said. "I like that there are so many free health tests to do and so many things to see."
Put on by Providence Sacred Heart Medical Center and Safeway, the Women's Show fills the Spokane Convention Center with more than 200 exhibitors featuring health and beauty products, food and diet tips, books and videos.
Friday evening, Ali Vincent, a winner of NBC's "The Biggest Loser" competition, will speak and announce the winner of a local weight loss competition.
Saturday will feature several rounds of Battle of the Chefs, which pits local chefs against one another.
Sunday morning is the Susan G. Komen Race for the Cure followed by a presentation by Sherry Waldrip, co-author of "I Don't Remember Signing Up for Cancer!" Waldrip is an 18-year breast cancer survivor who speaks with humor about her own experience, which included reconstructive surgery.
The Race for the Cure is a second-seed qualifier for Bloomsday, for the runners who get an official timing chip. More than 5,000 people had registered by Tuesday.
"Our goal is 6,000 participants, so I think we may make it," said Laura Papetti, a Race for the Cure volunteer. "We are expecting phenomenal weather, and we are so very grateful to the community for showing up and being so amazing during such a tough time."
Local journalism is essential.
Give directly to The Spokesman-Review's Northwest Passages community forums series -- which helps to offset the costs of several reporter and editor positions at the newspaper -- by using the easy options below. Gifts processed in this system are not tax deductible, but are predominately used to help meet the local financial requirements needed to receive national matching-grant funds.
Subscribe to the Coronavirus newsletter
Get the day's latest Coronavirus news delivered to your inbox by subscribing to our newsletter.
---
Subscribe and log in to the Spokesman-Review to read and comment on this story