News > Washington Voices
Artist takes viewer across threshold of the mundane
Thu., April 16, 2009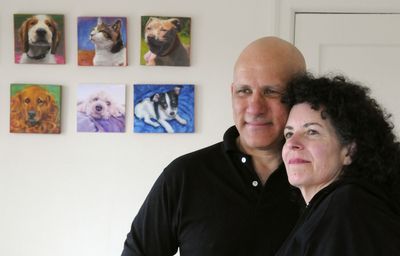 A door is just a door and a window is just a window. Or are they?
Darlene Pucillo's series of oil paintings called "Portals" are linear yet flowing depictions of windows, doors, archways and steps. Simple in composition, the series illustrates Pucillo's ability to take a subject that seems uncomplicated and turn it into a catalyst through which a viewer could question his/her own path in life. "To me the portals symbolize change," Pucillo said, "a spiritual search upwards."
Pucillo, 53, officially began her own path as an artist when, at 16, she visited a van Gogh exhibit in San Francisco. "I instantly connected. I said to myself, 'These (artists) are my people,' " she said.
Since then, she has studied here and there, firmly believing that to learn, you must do and so she did, working odd jobs and training herself to paint in oils. Pucillo has shown her work in more than 30 venues on the West Coast.
Her other bodies of work are "Connections," "Social Realism," "Beach Scenes" and "Psychological Thrillers." The latter includes a piece titled "A Crisis of Faith," which focuses on Adam from Michelangelo's Sistine Chapel. In it, Adam has been recreated on a wall on which a white robe hangs next to a flashy suit.
In order to continue painting without worrying about a day job, Pucillo decided to start a business of pet portraiture. "Am I a 'sellout'? Maybe, but it brings others joy. Even great master painters did pet portraits." Using a combination of Photoshop and her skill as a painter, Pucillo began creating dozens of affordable pet portraits for customers. The portraits contain depth as much of her other work does; the pets' eyes are like portals to pure joy and a day in the park.
About six months ago, Pucillo and her husband, Dave Sweeny, moved from the Portland area to Spokane after the apartment building he was managing went condo. Sweeny grew up in Spokane Valley and together they agreed that it was a good place to weather the economic downturn, an event that Sweeny has been writing about for a while. "He's almost prophetic," Pucillo said.
While Pucillo's paintings reflect change, spiritual searching, and psychological twists, so do Sweeny's notes, research, and words contained in dozens of boxes, soon to become a book titled "Faith of a Child" that he hopes to complete by the end of the year. "It is difficult to capture and express my premise for this nonfiction work. It's how I see our country: part tent revival, part carnival midway, all inside a mythic Wild West show," he said, "I intend to challenge people's preconceptions of the way things are."
The couple live a simple life – frugal but not deprived, they said. They don't have a car and they don't get caught up in "keeping up with the Joneses." Pucillo is exploring the idea of bartering goods/services for her artwork and hopes to show locally and expand her business.
"A life of the spirit has always been more appealing to me than the material-based way. We're here but for a short time so let's get to the heart of it all. How to do this? By reaching into your heart and soul and pulling out the good stuff, the true stuff, the connection that links us with God," Pucillo said.
The Verve is a weekly feature celebrating the arts. If you know an artist, dancer, actor, musician, photographer, band or singer, contact correspondent Jennifer LaRue by e-mail
jlarue99@hotmail.com
.
Local journalism is essential.
Give directly to The Spokesman-Review's Northwest Passages community forums series -- which helps to offset the costs of several reporter and editor positions at the newspaper -- by using the easy options below. Gifts processed in this system are not tax deductible, but are predominately used to help meet the local financial requirements needed to receive national matching-grant funds.
Subscribe to the Coronavirus newsletter
Get the day's latest Coronavirus news delivered to your inbox by subscribing to our newsletter.
---