News > Features
Her career is out of tuna
Thu., April 16, 2009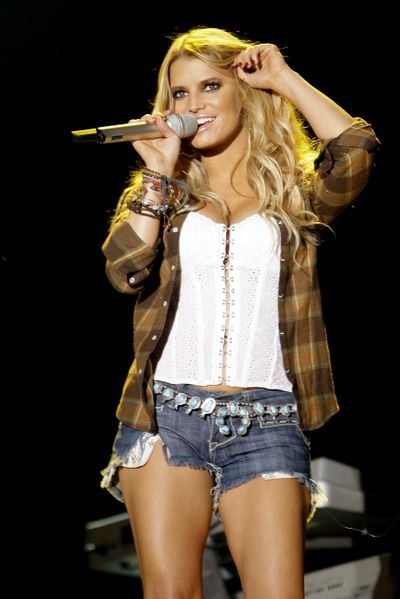 Jessica Simpson's courtship with country music seems to have had a shorter shelf life than her marriage.
After lackluster sales for her country debut, "Do You Know," Simpson and her Nashville record label have parted ways, leaving many wondering what's next for the 28-year-old.
A spokeswoman for the one-time pop princess says Simpson remains part of the Sony Music Group on the Epic label, but is no longer working with the company's country division, Sony Music Nashville.
"Do You Know" started strong but faded fast. So far, it has sold around 178,000 copies – a long way from her 3 million-selling 2003 disc, "In This Skin."
The Texas-born blonde came to country after her 2006 pop outing, "A Public Affair," fell flat, touting it as a return to her roots.
But the former "Newlyweds: Nick and Jessica" reality star got more publicity for her life outside music, most of it far from positive.
She was ridiculed when it seemed as if she had gained a few pounds, and her romance with Dallas Cowboys quarterback Tony Romo was constantly scrutinized.
The cycle of life continues
Elisabeth Hasselbeck says she feels fine after trying to hail a cab from a Manhattan sidewalk and getting hit by a bike instead.
The pregnant co-host of ABC's "The View" joked about the incident on Wednesday's show.
She told viewers that afterward, she sent a reassuring message from her phone to her husband, former NFL quarterback Tim Hasselbeck, then she posted an update on Twitter announcing: "The belly is OK."
Mean girls need not apply
Lindsay Lohan, who recently announced that she and DJ gal-pal Samanatha Ronson are taking a "brief break," has made a mock dating service video posted on the comedy Web site FunnyOrDie.com.
Lohan, 22, says she's "recently single … I think," and is looking for someone to spend the rest of her life with, "or at least the rest of my probation with."
Well, that's one small step
NASA won't name a room in the international space station after Stephen Colbert, but it has named a treadmill after him.
The space agency held an online contest to name a "node" at the station. "Colbert" beat out NASA's four suggested options: Serenity, Legacy, Earthrise and Venture.
NASA instead chose Tranquility, an allusion to the Sea of Tranquility, where Apollo 11 landed on the moon.
But it also announced the Combined Operational Load Bearing External Resistance Treadmill – or COLBERT, for short.
Quoteworthy
Sexpot rapper Lil' Kim, on her near-wardrobe malfunction on "Dancing With the Stars": ""I don't know why this happens a lot of the time, but … the girls were tryin' to come out."
The birthday bunch
Singer Bobby Vinton is 74. Singer Gerry Rafferty is 62. Actress Ellen Barkin is 55. Singer Jimmy Osmond is 46. Singer Dave Pirner (Soul Asylum) is 45. Actor-comedian Martin Lawrence is 44. Actor Jon Cryer is 44. Actor Peter Billingsley ("A Christmas Story") is 38. Actor Lukas Haas is 33.
Local journalism is essential.
Give directly to The Spokesman-Review's Northwest Passages community forums series -- which helps to offset the costs of several reporter and editor positions at the newspaper -- by using the easy options below. Gifts processed in this system are not tax deductible, but are predominately used to help meet the local financial requirements needed to receive national matching-grant funds.
Subscribe to the Coronavirus newsletter
Get the day's latest Coronavirus news delivered to your inbox by subscribing to our newsletter.
---