Sports
In brief: Rangers capitalize, stop Washington in opener
Thu., April 16, 2009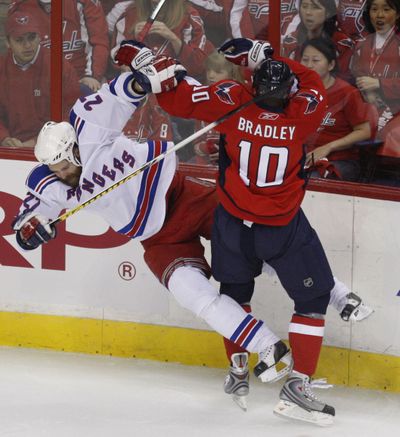 With the score tied in the third period, the New York Rangers did what they do best – kill off a power play.
Then Markus Naslund popped out of the penalty box and set up the winning goal.
Naslund fed Brandon Dubinsky, who made a move that left Jeff Schultz sprawled on the ice and beat goalie Jose Theodore inside the near post with 8:17 remaining, lifting the visiting and seventh-seeded Rangers to a 4-3 victory over Alex Ovechkin and the No. 2 Washington Capitals on Wednesday night in Game 1 of their NHL Eastern Conference playoff series.
•Penguins take opener: The host Pittsburgh Penguins got a goal and an assist each from stars Sidney Crosby and Evgeni Malkin and shut down the frustrated Philadelphia Flyers' fleet of scorers for a 4-1 victory in the opening game of their first-round Eastern Conference playoff series.
Penguins goalie Marc-Andre Fleury made 26 saves as the Penguins won their fourth consecutive conference playoff series opener.
Eleven months later, the Penguins controlled the Flyers much like they did in winning the conference finals in five games last season.
•Canucks start with victory: Daniel Sedin had a goal and an assist, and Roberto Luongo made 25 saves to help the Vancouver Canucks beat the St. Louis Blues 2-1 in their playoff opener at Vancouver, British Columbia.
Sami Salo added a power-play goal for the Canucks, 14-1-1 at home since the start of February.
•Devils turn back Hurricanes: Zach Parise and Jamie Langenbrunner each had a goal and an assist and New Jersey Devils showed they are over their late-season swoon with a dominating 4-1 victory over the Carolina Hurricanes in the opening game of their first-round playoff series at Newark, N.J.
NBA
Spurs grab third seed with rally past Hornets
Michael Finley hit a 3-pointer as time expired to force overtime, and Tim Duncan put on a dominating show from there, leading the San Antonio Spurs to a division-clinching 105-98 win over the visiting New Orleans Hornets.
Coupled with a Houston loss to Dallas, the Spurs clinched the No. 3 seed in the Western Conference. The Hornets fell to the seventh seed after letting this one slip away.
New Orleans led by five with 47.6 seconds left in the fourth period, but missed free throws gave the Spurs a chance. Finley took advantage, draining a 3-pointer as the clock ran down to zero.
•Cavs miss out on mark: LeBron James watched as the Cleveland Cavaliers couldn't quite make history.
With their superstar, All-Star guard Mo Williams and other regulars resting for the playoffs, Cleveland lost for just the second time on its home floor this season, 111-110 in overtime to Philadelphia.
That left the Cavs at 39 home wins – one shy of tying the 1985-86 Boston Celtics' home record of 40-1.
•Thunder keep Brooks: The Oklahoma City Thunder hired coach Scott Brooks, removing the interim tag from the 43-year-old's job title and giving him his first head coaching gig.
Brooks took over early in the season for P.J. Carlesimo.
College basketball
Top players announce draft intentions
Three prominent players announced they will enter the NBA draft without hiring agents.
Kentucky forward Patrick Patterson, Texas swingman Damion James and Southern Miss point guard Jeremy Wise will have the option of backing out by not hiring agents.
At Notre Dame, coach Mike Brey said he expects junior forward Luke Harangody to announce a similar intention today.
Meanwhile, Georgetown said Big East rookie of the year Greg Monroe, a 6-foot-10 center who averaged 12.7 ppg, is sticking around for his sophomore season.
•Auriemma gains another team: Connecticut women's coach Geno Auriemma couldn't pass up coaching an Olympic team and couldn't imagine not coaching the Huskies, so he'll do both.
Auriemma was introduced as the coach of the U.S. women's team for the next three years, through the 2012 Olympics in London. Auriemma, 55, just guided Connecticut to its sixth national championship and third perfect season.
Football
Duke's Paulus considers transfer for new sport
Greg Paulus' next home could be the Big House.
The Blue Devils' point guard visited Michigan to explore the possibility of transferring there to play football, Duke spokesman Art Chase said.
Paulus' visit came Tuesday, the same day word leaked that he worked out for the Green Bay Packers in advance of the NFL draft.
Paulus thought about resuming his football career at Duke, but coach David Cutcliffe's team is set at quarterback.
•Weis pondered stepping down: Notre Dame coach Charlie Weis confirms he talked with his family about quitting at the end of last season, though he said he never thought he'd leave.
Weis says he would have been negligent to his family if he hadn't talked about the prospect of leaving.
Auto racing
Ruling allows points leader to keep victories
Brawn GP's Jenson Button can keep his Formula One victories, while Ferrari will have to rush to redesign its car.
The world motor sports governing body approved the use of a rear diffuser design that helped Button win the season's first two races in Australia and Malaysia.
The decision by the FIA's International Court of Appeals in Paris ends efforts by Ferrari, Renault, BMW Sauber and Red Bull Racing to protest the diffusers. Had they won their appeal, Button could have had his victories annulled.
Button leads the drivers' standings with 15 points, five more than teammate Rubens Barrichello. Toyota drivers Jarno Trulli and Timo Glock, who also use the diffuser, are next.
•Deliberations continue in Castroneves case: Jury deliberations will stretch into a fifth day in the complex tax evasion case of Brazilian race car driver Helio Castroneves and two co-defendants.
The two-time Indianapolis 500 winner, his sister-business manager Katiucia Castroneves and attorney Alan Miller face more than six years in prison if convicted of tax evasion and conspiracy charges.
Miscellany
Gymnast Johnson wins Sullivan Award
Olympic gold medalist Shawn Johnson can add the Sullivan Award as the nation's top amateur athlete to her balance beam title at the Beijing Games.
Johnson beat out teammate Nastia Liukin, the all-around champion at the 2008 Games, and several others for the 79th annual award, presented in New York.
Johnson is the third gymnast to win the Sullivan, joining Kurt Thomas (1979) and Paul Hamm (2004).
•Derby hopeful retired from racing: One-time Kentucky Derby favorite Old Fashioned has been retired from racing after knee surgery.
The 3-year-old colt owned by Rick Porter's Fox Hill Farms injured the knee following a second-place finish in the Arkansas Derby at Oaklawn Park last Saturday.
Local journalism is essential.
Give directly to The Spokesman-Review's Northwest Passages community forums series -- which helps to offset the costs of several reporter and editor positions at the newspaper -- by using the easy options below. Gifts processed in this system are not tax deductible, but are predominately used to help meet the local financial requirements needed to receive national matching-grant funds.
Subscribe to the sports newsletter
Get the day's top sports headlines and breaking news delivered to your inbox by subscribing here.
---
Subscribe and log in to the Spokesman-Review to read and comment on this story