News > Nation/World
U.S. aims to freeze assets to thwart piracy efforts
Thu., April 16, 2009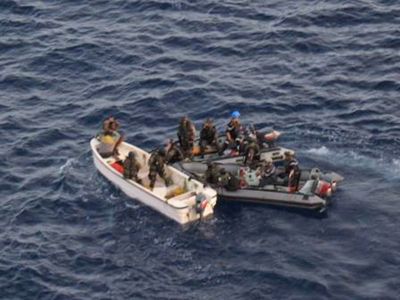 WASHINGTON – Secretary of State Hillary Rodham Clinton said Wednesday the Obama administration will take the unusual step of trying to seize pirate financial assets and property, as it works with shippers to thwart hijackers off the coast of Somalia.
The measures outlined by Clinton, part of a new U.S. diplomatic initiative to thwart sea piracy, are largely stopgap and symbolic moves while officials weigh more comprehensive diplomatic and military action.
The exploratory effort to track and freeze pirate assets will be difficult because of the highly localized and informal nature of their economy, which does not often use regulated portions of the international financial system, current and former officials said.
As part of the package, Clinton said the administration will also call for immediate meetings of an international counter-piracy task force to expand naval coordination against pirates.
She said federal agencies would meet Friday to review the problem and consider its responses ahead of an international conference on Somali piracy and development next week. She also warned that the United States "does not make concessions or ransom payments to pirates."
Clinton acknowledged that the diplomatic steps she outlined Wednesday will not necessarily address piracy's root causes – endemic instability and insecurity on the ground in Somalia.
But she said the moves were critical given the rising number of ship hijackings, including last week's attack on a U.S.-flagged ship that ended with an American hostage freed and three pirates slain by Navy snipers.
On Wednesday, French naval forces launched an early-morning attack on a suspected pirate "mother ship" 550 miles east of Mombasa and seized 11 men, thwarting an attack on the Liberian cargo ship Safmarine Asia, the French Defense Ministry said. No one was injured.
Clinton talked of "going after" pirate bases on the ground in Somalia, a "hot pursuit" policy that was authorized by the U.N. in December, but has not yet been undertaken by the U.S. because of liability concerns among military officials. Despite those comments, Clinton did not specifically call for using military force against the pirates.
"These pirates are criminals, they are armed gangs on the sea. And those plotting attacks must be stopped," she said. "We may be dealing with a 17th-century crime, but we need to bring 21st-century solutions to bear."
Local journalism is essential.
Give directly to The Spokesman-Review's Northwest Passages community forums series -- which helps to offset the costs of several reporter and editor positions at the newspaper -- by using the easy options below. Gifts processed in this system are not tax deductible, but are predominately used to help meet the local financial requirements needed to receive national matching-grant funds.
Subscribe to the Coronavirus newsletter
Get the day's latest Coronavirus news delivered to your inbox by subscribing to our newsletter.
---
Subscribe and log in to the Spokesman-Review to read and comment on this story