News > Spokane
Couple want backyard back
Homeowners say 'squatters' in garage are uninvited, unwelcome and immovable
Fri., April 17, 2009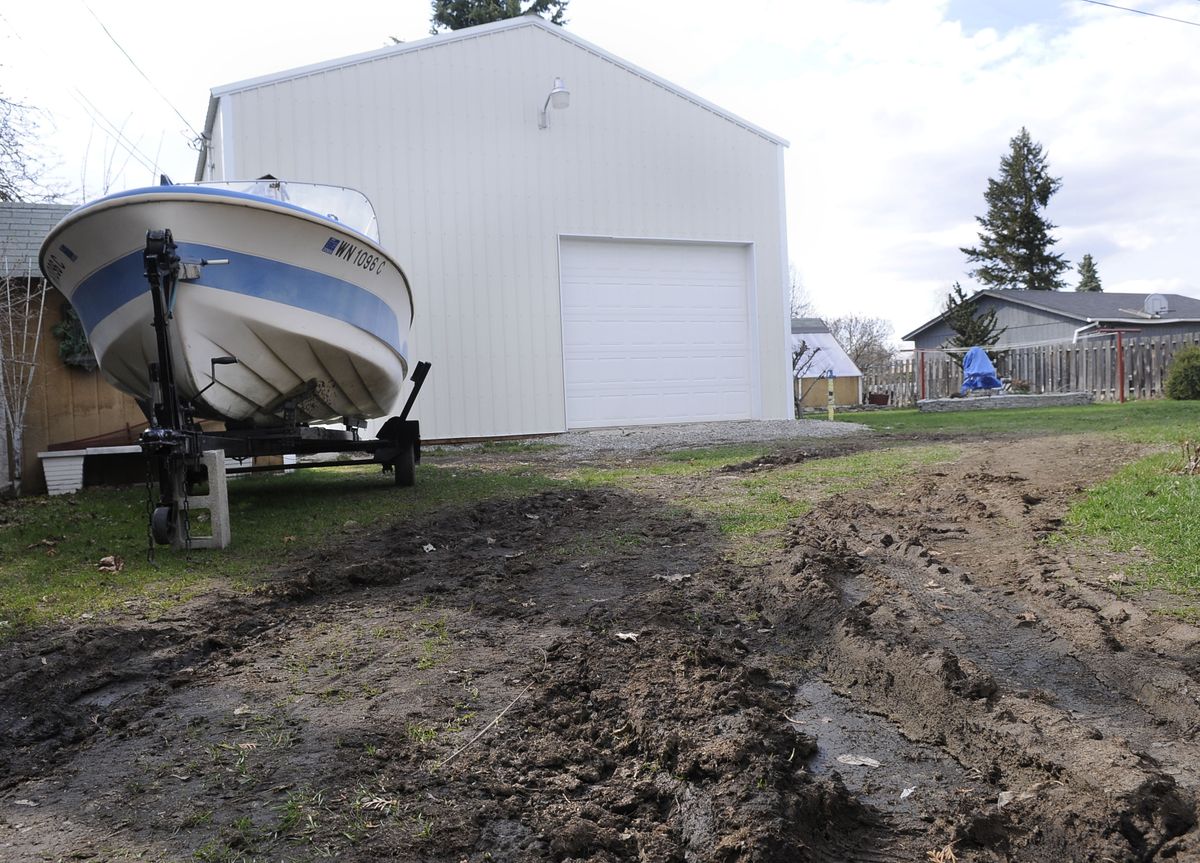 The Bains' garage has room for two vehicles. It also includes living quarters. (Dan Pelle / The Spokesman-Review)
When people Don Bain didn't know took up residence in the garage-slash-apartment in his backyard a couple of weeks ago, he thought he'd be able to have them thrown out.
He didn't figure the police would side with the "squatters," as he calls them. He didn't expect that after installing new locks to keep them out, he'd be asked by an officer to open the doors and let them back in. He could not have predicted that, on another occasion, the police would allow the people to break a window to get back in, he said.
Bain and his wife, Peggy, feel trapped in their home, with a rotating cast of people living in the large detached shop that sits several yards from the back door of their house. An eviction case is proceeding, but it probably won't be concluded for at least two weeks.
Meanwhile, the police have been to the Bains' home on North McCabe Road in Spokane Valley 10 times in recent weeks for various reasons – the Bains complaining about the tenants, the tenants complaining about the Bains – and several of the parties involved have taken out restraining orders against one another.
"We're both 81 years old, and we wanted all our lives to have a nice home," Don Bain said. "We lost control."
The police say the case falls under the Landlord-Tenant Act, because people moved into the shop at the invitation of Peggy Bain's son, and a court order is needed for an eviction. The Bains' attorney says it's a case of trespassing or burglary – no lease was ever considered, no rent paid, no permission of any kind granted by the property owners – and that police should have moved the people out.
"This seems to be very unusual," said the attorney, Pete Schweda. "I'm surprised the (Spokane Valley) Police Department didn't do something about these people. … If you follow the logic of the Police Department, they can bring anybody on that property they want."
Moving in
The problem dates to last fall, when Peggy Bain's son, Skippy Ray Davis, moved into the shop with the Bains' permission. The shop has room for two vehicles, but it also includes living quarters. Davis and a woman who identifies herself as Susan Pierce lived there; they got a lot of nighttime visitors, had a lot of parties and tore up the Bains' lawn driving in and out, the Bains said. They weren't happy about that, but Davis was there with their permission.
Then Davis was arrested and booked into Geiger Corrections Center on April 1 for failing to pay fines associated with convictions for drug possession. Pierce and several others kept living there. The Bains say that the others never had their permission to move in – they didn't even know them – and that they'd made it clear to Davis that he wasn't to have other people in the garage.
It's unclear how many people have lived there during the subsequent weeks. Pierce has been the most consistent resident, though at least three others have lived there at different times, and perhaps more.
"They don't have any business here," Peggy Bain said. "They don't."
Attempts to contact Pierce for comment were unsuccessful.
The Bains and a neighbor who witnessed their initial efforts to have the people evicted say police officers went out of their way to tell Pierce she had rights as a resident and couldn't be removed without a court order.
"They were ready to leave," Don Bain said. Then, he said, one officer told the woman, " 'You're a squatter. You've got rights.' "
Bain said the officer repeated that two more times. "He said, 'You can live here the rest of your life until the court throws you out. …' "
"He didn't need to say that."
When Pierce produced a piece of mail addressed to her at the shop, it established her residency, and meant it would take a court order to have her removed, police said.
Lt. Stephen Jones, of the Spokane Valley Police Department, said he sympathizes with the Bains and others who find themselves in messy civil disputes over residency. However, he said, the law protects people from being thrown out on the street suddenly and without good reason – and so people who have established a basic level of residency can't be evicted without a judge's say-so.
He said the department is doing its best to deal with the situation, which has included a few days with more than one visit to the Bains' home. The Bains complained about the "squatters" – who later complained when they were locked out. The Bains complained that Pierce was knocking and hollering at their doors one night – then Pierce complained that the tires on Skippy Davis' truck were slashed. And on and on.
"To say we're not doing anything – we're responding and using up a lot of our time and valuable resources," Jones said.
'No rights'
Schweda, who has represented many landlords in eviction cases, said police shouldn't consider this a typical landlord-tenant dispute. There never was any formal rental agreement or permission granted. And even if Davis was considered a primary tenant, who could invite in others, now he's gone.
"If he's in jail, how can he say, 'Hey, anybody that wants to can come over here'?" he said. "Skippy's friends are just coming and going at will."
In the two weeks since the Bains' first attempt at eviction, Pierce has drawn up a sign with her name and an address – an incorrect address, as it turns out – and hung it on the fence to the Bains' backyard.
She disappeared for several days, the Bains said, and at Schweda's advice Don Bain changed the locks. When Pierce returned, she called the police, who told Bain to let her back in, according to the Bains and a neighbor, Scott Gorman. Another time, when the people living in the shed lost their key to yet another set of new locks, they called police and accused the Bains of changing them again; an officer escorted Pierce to a window and let her break it, according to the Bains and Gorman.
Jones said that until the eviction is final, Pierce has residency there, and the Bains can't lock her out.
Gorman said the people living in the shop are making life hell for the Bains – his neighbors of more than 17 years.
"These people just come and go all hours," he said.
"If they're not related and aren't wanted by the property owner, I believe the sheriff ought to be able to escort them off. It's trespassing, in my opinion."
Now several of the parties in the dispute have restraining orders against the others, and an eviction hearing is set for April 29.
If the Bains prevail, a sheriff's deputy will come to their home a few days later and do what they were hoping for all along – kick out the people Don Bain considers squatters.
It will have taken more than a month and cost him $1,500.
"We have no rights as homeowners," Don Bain said. "I can't sleep at night worrying what's going to happen."
Local journalism is essential.
Give directly to The Spokesman-Review's Northwest Passages community forums series -- which helps to offset the costs of several reporter and editor positions at the newspaper -- by using the easy options below. Gifts processed in this system are not tax deductible, but are predominately used to help meet the local financial requirements needed to receive national matching-grant funds.
Subscribe now to get breaking news alerts in your email inbox
Get breaking news delivered to your inbox as it happens.
---