News > Features
Polishing up for Polish works
Symphony set to serve up some seldom-played music
Fri., April 17, 2009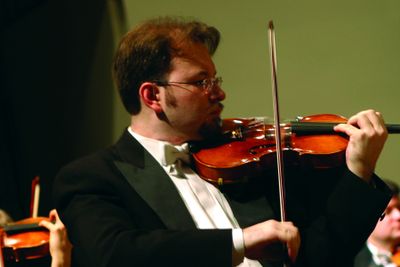 Poland might as well be Pluto for most American concertgoers.
Certainly, classical audiences here know the music of Chopin and maybe one or two of the violin concertos of Wieniawski. But that is where most American listeners' knowledge of Polish music stops.
The Spokane Symphony will feature violin soloist Mateusz Wolski performing two seldom-played Polish works, with guest conductor Michal Nesterowicz, in concerts Saturday and Sunday.
The program includes the Violin Concerto by Mieczyslaw Karlowicz and Witold Lutoslawski's "Venetian Games," along with Tchaikovsky's frequently played Symphony No. 5.
Nesterowicz, music director of the Orquestra Sinfonica de Chile in Santiago, studied violin and conducting at the Academy of Music at Wroclaw, Poland. After winning a number of conducting competitions, at age 29 he became the music director of the Baltic Philharmonic at Gdansk. In 2008, he was appointed to his current position in Santiago.
He has made a number of recordings of film music and an album of vocal works by Respighi with the celebrated contralto Ewa Podles.
Wolski, ending his second season as Spokane Symphony concertmaster, grew up in Warsaw and later studied chamber music with members of the Amadeus Quartet in London.
He came to the United States in 1996 as a scholarship student at the Manhattan School of Music and completed his bachelor's and master's degrees there as a student of New York Philharmonic concertmaster Glenn Dicterow.
In addition to serving as the symphony's concertmaster, Wolski is also the first violinist of the Spokane String Quartet.
"Most people here in the States don't know much Polish music because Poland has been so chaotic politically for a very long time," he says. "It's only when a Polish composer becomes famous in some other place, like Chopin did in Paris, or Wieniawski did in western Europe and even the United States, that the rest of the world knows their music."
Lutoslawski, whose music was far too radical for the Polish regime of the Soviet period, did constant battle with the government, sometimes resorting to writing under a pseudonym.
His work became well known outside Poland through performances brought on by composition prizes and performances in western Europe and the U.S.. His "Venetian Games" was written for the Cracow Philharmonic's performance at the Venice Bienniale in 1961.
"Venetian Games" even has a Spokane connection. Spokane musicologist and manuscript collector Hans Moldenhauer owned seven pages of preliminary sketches and diagrams of the work, which are now in the Rosaleen Moldenhauer Memorial collection at the Library of Congress.
Karlowicz, born in 1876, was the son of a cosmopolitan family of academics. He grew up spending time in Dresden, Heidelberg and Prague, and he finished his music studies in Berlin.
The composer returned to Warsaw, directed an orchestra there, and organized publications and concert series promoting music by young Polish composers. But he loved skiing, hiking and photography and moved to the resort town of Zakopane at the foot of the Tatra Mountains that separate Poland from Slovakia.
When he was only 32, Karlowicz was killed by an avalanche while hiking. He is well known in Poland though, until recently, rarely performed outside the country.
"When I was first starting to play the violin, and I heard Karlowicz's Concerto, I immediately wanted to become good enough to play it," says Wolski. "The melodies are so romantically beautiful, and technically it is very, very demanding. In some ways it is like the Tchaikovsky Concerto.
"After he finished this violin concerto, he wrote a number of very beautiful songs and symphonic poems," Wolski adds. "But his music is still not much known outside Poland.
"In a way, his music is like Spokane itself. It's a beautiful, well-kept secret."
Julian Gomez Giraldo, director of orchestras at Eastern Washington University, will discuss the music on this weekend's concerts one hour before the performance as a part of the Gladys Brooks Pre-Concert Talks series.
Local journalism is essential.
Give directly to The Spokesman-Review's Northwest Passages community forums series -- which helps to offset the costs of several reporter and editor positions at the newspaper -- by using the easy options below. Gifts processed in this system are not tax deductible, but are predominately used to help meet the local financial requirements needed to receive national matching-grant funds.
Subscribe to the Coronavirus newsletter
Get the day's latest Coronavirus news delivered to your inbox by subscribing to our newsletter.
---