News > Spokane
Eugster to run for City Council
Former member will face appointee
Sat., April 18, 2009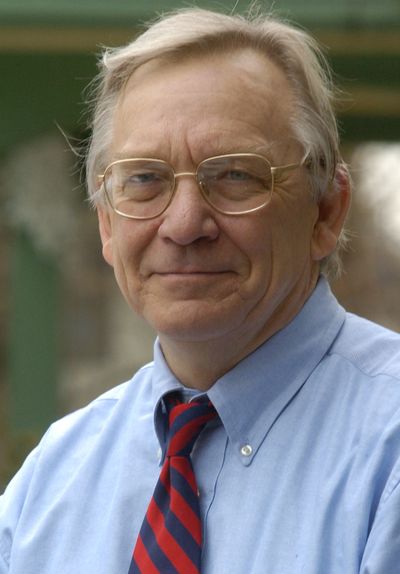 The City Council race in south Spokane went from zero candidates to two Friday, with the prospect of becoming the most interesting election on the municipal ballot this fall.
Former City Councilman Steve Eugster, a Spokane attorney and political activist, announced he would run for the spot after a six-year absence from the council.
Incumbent Councilman Mike Allen, who was appointed to the seat in 2007 after Mary Verner was elected mayor, said he resigned his job at Eastern Washington University this week and will formally announce a campaign next month.
Eugster served a term on the council in one of the city's most tumultuous political periods. A 1999 initiative he authored had changed the city to a strong-mayor government, and the council was split over the controversial River Park Square development.
He acknowledged Friday that some voters may still have a negative opinion of him from that period, but far more either have a positive opinion or would be willing to listen to what he has to say about ways to improve local government. The council of 10 years ago may have been contentious, he said, but it was a place where ideas and legislation were discussed.
"This 'Era of Good Feelings' is putting us all to sleep," he said of the current council.
Eugster believes the city should lower its utility taxes, which are among the highest in the state, and begin the traffic studies that are needed to lower the speed limits on Highway 195. It should annex most of the unincorporated areas of the West Plains which already have city utilities, he added.
Although he authored the charter change that created the strong-mayor system, Eugster said he now thinks it should be scrapped and Spokane returned to a city manager system with a mayor who leads the council.
"I don't think it's working. We haven't developed a strong leader for the city," he said.
The city of Spokane, the county and its other cities and towns should form a "metro" system for all water, sewer and garbage utilities, and perhaps parks and transportation, he said. A complete city-county merger might be worth considering, he added, but would be difficult to achieve because the process is complicated.
The community should also start thinking of a plan for what it would do if the Defense Department closed Fairchild Air Force Base, he said, and form a countywide port district, which can be an economic development tool. Local officials tried to convince voters to approve a port district in the early 1980s, but the proposal failed by a wide margin.
Eugster said he doesn't plan to run against Allen, but instead will tell voters what he'd like to do and let them decide.
The two have at least one issue in common. Allen said Friday that he, too, thinks Spokane should consider a port district. It could be part of what he calls a "comprehensive strategy for economic development" he'd like to pursue if elected to a full term. Spokane is 35 years past its world's fair and needs to decide how it's going to work together to create its next big step into the future, he said.
The city also needs a more comprehensive plan for its revenues, expenses and the services it delivers, Allen said. He wants to re-examine the city's concentration on "centers and corridors" development, which he said hasn't turned out as well as planned.
"We need to re-evaluate what worked and what hasn't," Allen said.
The position is listed as a part-time job, but his time in the position has convinced him it has full-time responsibilities. On Thursday he turned in his resignation as EWU's director of corporate and foundation relations and will begin the campaign early next month.
Local journalism is essential.
Give directly to The Spokesman-Review's Northwest Passages community forums series -- which helps to offset the costs of several reporter and editor positions at the newspaper -- by using the easy options below. Gifts processed in this system are not tax deductible, but are predominately used to help meet the local financial requirements needed to receive national matching-grant funds.
Subscribe to the Coronavirus newsletter
Get the day's latest Coronavirus news delivered to your inbox by subscribing to our newsletter.
---