News > Features
Film 'Earth' opens Wednesday
Mon., April 20, 2009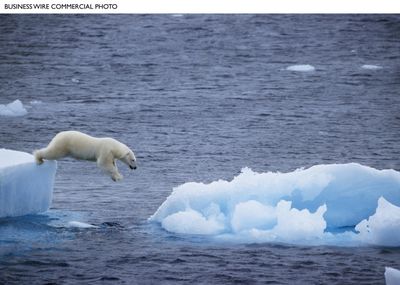 How do you make a movie when the whole planet is your set?
That's the challenge Alastair Fothergill and Mark Linfield faced in making "Earth," the first film from the new Disneynature label, set to hit theaters on Wednesday, which is Earth Day.
The filmmakers, also responsible for the Discovery Channel series "Planet Earth," spent five years collecting footage. They worked with dozens of camera crews, filming at 200 locations in 64 countries to tell a sweeping story about the planet's landscapes, seasons and species.
"I've worked on some pretty massive projects in my time, but they're completely dwarfed by the scale of 'Earth,' " Fothergill said.
Narrated by James Earl Jones, the film follows three animal families as they lead their young through the first year of life.
A male polar bear searches for food beneath melting Arctic ice as his two tiny cubs and their mother emerge from their snow den to greet the first rays of spring sunlight; a mother elephant in Africa's sun-scorched Kalahari Desert guides her calf through a blinding sandstorm in a quest for water after months of drought; a humpback whale and her new calf begin a 4,000-mile journey from the warm waters of the tropics to the food-rich seas of Antarctica.
Besides being "emotionally engaging," Fothergill said, focusing on animal families "has a sort of ecological resonance of us as human beings preserving our planet for our children."
Fothergill and Linfield made "Earth" and the Discovery Channel series concurrently, using detailed storyboards to keep the projects separate.
Where the 11-part TV series is "habitat-based," Linfield said, with installments on oceans, forests and the like, "Earth" is a character-based narrative.
The filmmakers relied on advances in camera and film technology to capture the natural behavior of their main characters and 39 other animal species. A gyro-stabilized aerial camera attached to a helicopter revolutionized the filming process, Linfield said.
"Now we can actually film detailed behavior from the air from a kilometer away," he said. "You can actually film behavior and film animals in the context of their environment from places you could never even get to in the past, and the animals are largely oblivious to the fact that you're there."
The aerial camera captured some of the film's most spectacular images, including a polar bear diving into the Arctic Ocean and a group of elephants fighting their way through a desert sandstorm.
"We were just filming elephants from the air, a sandstorm blew in, and out of nowhere we got a true-life drama," Linfield said. "It was an incredibly moving, touching drama with these mothers trying to save their calves against the elements."
A high-speed, high-resolution camera that shoots 1,000 frames per second and records directly onto a hard drive also allowed for up-close looks at animal life, Fothergill said. Not only can the camera run endlessly, but its images can be slowed down up to 40 times while maintaining complete clarity.
Filmmakers used it to show the majestic power of a great white shark leaping out of the water to snatch his prey and the determined grace of a cheetah as she chases down a gazelle.
"When you slow it down to that speed, it becomes a ballet really," Fothergill said. "It says look at this beautiful animal and admire it. Yes, it's about to eat Bambi, but that isn't the point."
After working in television for most of their careers, Fothergill and Linfield were eager to bring these nature images to the big screen.
"Television has never done justice to it," Fothergill said. "In the cinema, when you're there and you're looking at the big picture and also the surround sound, I do feel we can transport people."
The two are already at work on their next project for Disneynature: "Chimpanzee," set for release in 2012, which Fothergill characterizes as "the ultimate soap opera."
Natural history films have a renewed appeal in the era of digital manipulation, Linfield said.
"There's so much artifice in normal supposed live-action Hollywood movies at the moment," he said. "Just to see something which you know is true from beginning to end, without a single frame of manipulation, is much more powerful."
Local journalism is essential.
Give directly to The Spokesman-Review's Northwest Passages community forums series -- which helps to offset the costs of several reporter and editor positions at the newspaper -- by using the easy options below. Gifts processed in this system are not tax deductible, but are predominately used to help meet the local financial requirements needed to receive national matching-grant funds.
Subscribe to the Coronavirus newsletter
Get the day's latest Coronavirus news delivered to your inbox by subscribing to our newsletter.
---
Subscribe and log in to the Spokesman-Review to read and comment on this story