Dachau liberator ensures we never forget
Veteran talks about his memories of WWII death camp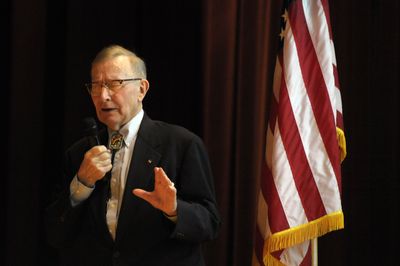 The day's bright sunshine was hiding behind a high overcast sky by the time Dee Eberhart arrived at Adolf Hitler's oldest death factory.
Eberhart, a battle-toughened GI from the Yakima area, was a first scout with the U.S. Army's famed 42nd Rainbow Division. The young soldier had dodged bullets through France and Germany, witnessing enough death and disfigurement to haunt dreams for a lifetime.
But nothing prepares a 20-year-old kid for the carnival of horrors at Dachau.
Boxcars filled with dead bodies. Human skeletons, barely alive.
Corpses piled outside the camp's three crematoria.
"They couldn't burn 'em fast enough," Eberhart said in a somber tone.
April 29, 1945.
That was the day Eberhart and other members of the U.S. Army liberated the concentration camp in southern Germany that exterminated 28,000 prisoners and served as a training hub for the Nazi thug elite.
"It's like a terrible movie," said Eberhart, now a sharp and spry 84 years old. "That's the way this rotten war is for me."
Eberhart recounted some of his World War II experiences Monday during a Holocaust remembrance ceremony at Fairchild Air Force Base.
He has told his story many times since 1992, when he was invited to the Dachau museum for a remembrance gathering.
Since then, Eberhart has been quite active, speaking to groups of all ages and always with a single purpose:
Never forget.
"You need to know about evil to recognize it and not get caught up in it," he said.
And now more than ever.
Our aged WWII veterans are slipping from this world at a shocking rate. Soon the eyewitnesses will be gone.
Yet the ignorance and hate never go away.
Eberhart was appalled at the news that the Aryan Nations organization was apparently trying to make a comeback in North Idaho. After his speech, the old soldier recoiled when I showed him a clipping of a Spokesman-Review story about racist fliers appearing Friday on the lawns of north Coeur d'Alene residents.
"I thought that had been taken care of," Eberhart said, shaking his head in disgust.
So did I. After decades of preaching racial hate, Richard Butler and his vile operation were busted in 2000 when a jury returned a $6.3 million verdict against him. Butler died four years later. I had hoped the old neo-Nazi had permanently relocated to a new compound in one of hell's hotter subdivisions.
Like a really bad intestinal virus, alas, some of Butler's feeble-minded minions seem to be still hanging around and itching to make trouble.
These pamphleteers are morons, certainly, and few in numbers. It's unlikely they could ever attract much of a following.
But make no mistake. At the core of the Aryan Nations is the same rancid reasoning that led to the slaughter 6 million Jews and millions of Gypsies, Slavs and anyone else who ran afoul of the Third Reich madness.
This is what keeps Eberhart's story fresh and vital.
The years following the war were kind to the man. After finishing college, he said, he taught college geography, worked for the CIA for a time and got into real estate. He has published poetry. Eberhart lives on a ranch near Ellensburg with Barbara, the sweetheart he married in 1953.
One of Eberhart's biggest fears is that "American youth don't understand history." Changing that, he said, is "the only reason I'm willing to go share what little I can."
It's always an honor to stand in the presence of an old warrior. The Allies sacrificed everything to save the world at one of its bleakest moments.
"The victims of the Holocaust had no chance," Eberhart said. "Somebody had to end that war."
Doug Clark is a columnist for The Spokesman-Review. He can be reached at (509) 459-5432 or by e-mail at
dougc@spokesman.com
.
---