News > Spokane
Unwanted tenants may have moved on
Tue., April 21, 2009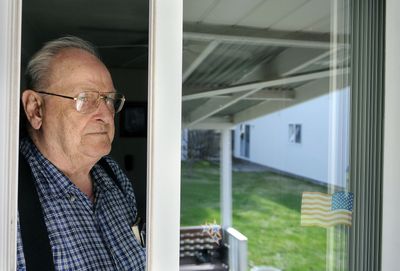 An elderly Spokane Valley couple beleaguered by unwelcome tenants in their backyard garage say the people have apparently moved out.
But Don and Peggy Bain say they're still being advised by police that they can't go into the garage, which has been outfitted with living quarters.
"The police said it's still hers, and I'm not allowed to go in there," Don Bain said, referring to Susan Pierce, a friend of his stepson who'd refused to leave for weeks. "I said, 'I'm going in. No one's there.' "
The Bains, both 81, have complained that Pierce and several other people they didn't know have been living in the garage at their home on North McCabe Road without permission since the first of April.
That's when Peggy Bain's son, Skippy Ray Davis, was arrested and booked into Geiger Corrections Center for failing to pay fines associated with drug convictions.
Davis had lived there with the Bains' permission, but when he left, Pierce and several others continued living there. Spokane Valley police refused to evict her, saying she had established residency by showing a piece of mail addressed to her there; that means it would take a court order to toss her out.
Police say they're acting under the state Landlord-Tenant Act, which is intended to protect people from being thrown out of their homes suddenly and without cause. The law requires periods of notice, a court hearing if necessary and chances for tenants to contest evictions.
Lt. Stephen Jones, of the Spokane Valley Police Department, said that Pierce had lived in the garage with Davis and that once a person establishes proof of residence, the department requires an official eviction proceeding, overseen by a judge, rather than making its own judgments.
The Bains' attorney, Pete Schweda, said the case is best viewed not as a landlord-tenant dispute, but as a trespassing or burglary. A landlord-tenant relationship never existed – the people moved in without permission, never paid rent or signed a lease, and simply refused to leave. Under the law, a "tenant" is defined as "any person who is entitled to occupy a dwelling unit primarily for living or dwelling purposes under a rental agreement."
Schweda began formal eviction proceedings against Pierce earlier this month, and a hearing was set for April 29. But Bain said Monday that Pierce has been gone since the middle of last week.
Jones said he suggested to Bain that he allow the eviction to play out before entering the garage. He said that if Pierce were to return and claim Bain had stolen something or damaged property, for example, it could further complicate the situation.
"Let it take its course, let it be completely done," Jones said he advised Bain. "We want to be real careful and encourage Mr. Bain to let this thing play out. He's more than halfway there."
Bain said Pierce has disappeared and returned before, so he's not certain she's gone for good.
Bain said he has put a notification on the garage door that he intends to enter, as he would have to do for a renter.
"I told them I'm going to enter, to make that legal," he said. "I'm the landlord, I guess."
Local journalism is essential.
Give directly to The Spokesman-Review's Northwest Passages community forums series -- which helps to offset the costs of several reporter and editor positions at the newspaper -- by using the easy options below. Gifts processed in this system are not tax deductible, but are predominately used to help meet the local financial requirements needed to receive national matching-grant funds.
Subscribe now to get breaking news alerts in your email inbox
Get breaking news delivered to your inbox as it happens.
---