A&E > Food
At Hay J's Bistro, premium dishes are the standard
Liberty Lake restaurant offers a wide range of menu choices
Wed., April 22, 2009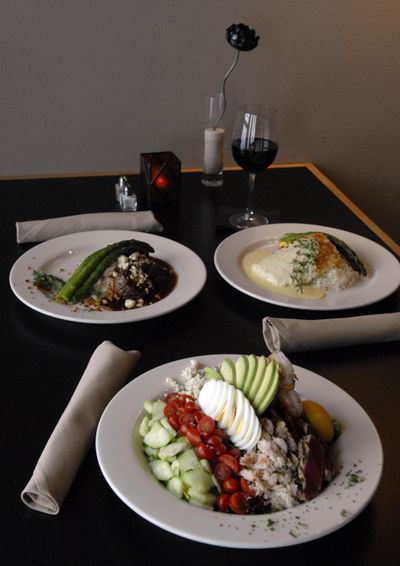 Gas station grub has never tasted so fine.
There's no way around it. Hay J's Bistro is the restaurant in Liberty Lake … next to the gas station. Just don't let that description keep you from stopping.
Stepping inside the busy bistro is almost enough to make you forget the directions you followed to get there. The dark ceiling and floor, along with a muted palette, helped us settle in for relaxing lunch and dinner meals. Curtains let the daytime sun through and block the lights from the neighboring gas pumps in the evening.
Hay J's menu offers an array of what has become typical American bistro fare – crab cakes, bruschetta, seared ahi, salads and burgers – but the dishes we sampled were not ordinary.
Our late lunch began with the crostini ($9), which arrived with four ample slices of toasted bread. Two were topped with fresh tomato, basil and garlic, the others with warmed goat cheese and roasted portobello mushroom. The flavors were complementary and delicious – we alternated bites from the pungent, acidic bruschetta topping and the more earthy combination of tangy goat cheese and roasted mushroom.
My companion's Blackened Steak Salad ($9 starter/$14 entrée) was a crisp mix of salad greens, cucumber, tomato, almonds and red onion topped with blue cheese vinaigrette and the Cajun-spiced steak tips. Those who prefer a heavier hand with the chilies in their Cajun seasoning might not find it spicy enough. Hay J's blackening seasoning has a more pronounced herbal flavor and a nice zing.
Splurge at lunch on the signature parmesan crusted halibut ($15). Chef and co-owner Patrick Fechser sears the fish until the parmesan and bread crumb coating is crisp and golden brown. It's finished with a lemon thyme cream sauce and served with roasted vegetables. Fechser finishes the sauce with a bit of butter to give it a nice silky mouthfeel. The popular entrée also is part of the dinner offerings ($24).
Fechser and his mother, Rhonda Entner, opened the restaurant three years ago this May. Entner says they settled on the unlikely space north of the interstate after a deal to put Hay J's on Spokane's South Hill fell through. Their initial trepidation about the location has become something of a trademark.
"At first I hated it … but now, I don't know, it's kind of part of us," Fechser says.
Two more of Entner's children also work at the bistro, son Jeramie Entner and daughter Natasha Burleson. Even the name has family roots – Hay J's was inspired by Hailey and Jackson, who are Fescher's children.
Fechser worked in the kitchen at Cafe Americana in the Spokane Valley for nine years, and Rhonda Entner worked many years in restaurants, most recently as a bartender at Applebee's, before they opened Hay J's. They also owned the short-lived Stilos in Liberty Lake before closing it because of overwhelming overhead.
"We just try to do fairly simple foods the best we can," Fechser says.
Describing the dinner offerings as simple is, well, oversimplifying. The Crab Stuffed Chicken ($20) is wrapped in pancetta and finished with garlic cream sauce. The stuffing shone with the delicate flavors that make the crab cakes ($12) on the appetizer menu a winner.
Our Bistro Medallions ($20) were perfectly cooked beef and tender enough to cut with a dinner knife. They are served atop garlic mashed potatoes and finished with gorgonzola and cabernet demi glace.
Even the ubiquitous menu offering of Grilled Ahi Tuna ($19) gets a second wind at Hay J's. Fechser seasons the fish with a marinade of soy, honey and Dijon mustard. He adds cracked black pepper before searing it on the hottest part of the grill. Then it's served with wasabi mashed potatoes and a sauce of soy, fresh ginger, brown sugar, honey and a bit of chicken broth, sesame oil and sesame seeds. The result is a satisfying sweet and spicy combination that reminded me why I once fell in love with seared ahi.
The ample portions will fill you up and the service was attentive and swift during both our visits.
Don't miss the truffles; there are enough to share ($9 for five). Pastry chef Jake Schneider, a former Percy's sous chef, makes the Bailey's Irish Cream-spiked confections. As the chocolate melted in my mouth it made me regret that I didn't try the B-52 cake, a popular dessert featuring dense layers of white chocolate with Bailey's, milk chocolate with kahlua and dark chocolate with Grand Marnier.
Local journalism is essential.
Give directly to The Spokesman-Review's Northwest Passages community forums series -- which helps to offset the costs of several reporter and editor positions at the newspaper -- by using the easy options below. Gifts processed in this system are not tax deductible, but are predominately used to help meet the local financial requirements needed to receive national matching-grant funds.
Subscribe to the Spokane7 email newsletter
Get the day's top entertainment headlines delivered to your inbox every morning.
---
Subscribe and log in to the Spokesman-Review to read and comment on this story