News > Nation/World
Court ruling curtails Blagojevich's TV career
Ex-governor doesn't understand position he's in, judge says
Wed., April 22, 2009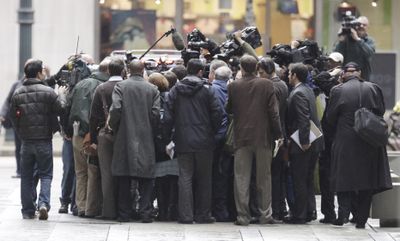 CHICAGO – A federal judge on Tuesday denied former Illinois Gov. Rod Blagojevich's bid to join a reality TV show in Costa Rica and told him it's time he focus on the actual reality of his criminal trial.
U.S. District Judge James Zagel told Blagojevich it was a "bad idea" for the ex-governor to spend a few weeks running through the jungle trying not to get voted off a show by viewers, all while ignoring the voluminous government evidence against him.
The "great shock" of seeing perhaps tens of thousands of pages of documents – and digesting their contents – will lead to a better sense of what kind of jeopardy the sweeping federal case represents for Blagojevich, the judge said.
"The defendant has not gone through either of those preliminary stages," Zagel said. "It's way too soon. I don't think the defendant in all honesty fully understands, nor could he understand, (having) not seen everything, the position he finds himself in."
Blagojevich's lawyer, Sheldon Sorosky, described the role on "I'm a Celebrity … Get Me Out of Here!" as a job for the ousted governor, who he said is essentially broke. He could have earned as much as $123,250 on the program.
In one bit of good news for Blagojevich, Zagel indicated he might allow the former governor to use the nearly $2.7 million in his campaign fund to help pay his legal defense.
Blagojevich has pleaded not guilty to charges he ran state government as a criminal enterprise to enrich himself and close aides, advisers and fundraisers. Tuesday marked his second appearance in court in just a week.
Following the hearing, Blagojevich endured another scrum with the media and public outside the Dirksen U.S. Courthouse.
Asked about Zagel's comments that he doesn't understand the jeopardy he faces, Blagojevich said he looks forward to being vindicated in court.
"I'm fully aware of what the allegations are and I know what the truth is concerning me and I know that I've done absolutely nothing wrong," he said. "And I'm actually looking forward to this day in court. … I want to prove my innocence. I want to vindicate myself. I want to clear my name."
Local journalism is essential.
Give directly to The Spokesman-Review's Northwest Passages community forums series -- which helps to offset the costs of several reporter and editor positions at the newspaper -- by using the easy options below. Gifts processed in this system are not tax deductible, but are predominately used to help meet the local financial requirements needed to receive national matching-grant funds.
Subscribe to the Coronavirus newsletter
Get the day's latest Coronavirus news delivered to your inbox by subscribing to our newsletter.
---
Subscribe and log in to the Spokesman-Review to read and comment on this story