News > Business
Hotel financing evaporates after church demolished
Wed., April 22, 2009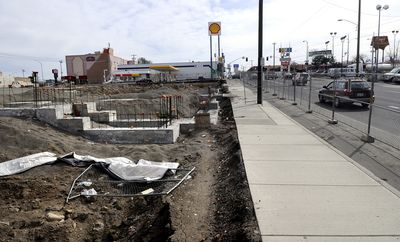 The co-owner of a stalled hotel project in downtown Spokane said Wednesday she hopes work can resume by June at the site on the corner of Third Avenue and Division Street. Rita Santillanes said construction of a 115-room Best Western Peppertree Inn came to a halt because the project lost its financing while Spokane officials processed a demolition permit for the St. John's Lutheran Church that had occupied the site since the early 1900s. The church was severely damaged by fire in the 1960s and rebuilt, she said. Santillanes said she and husband John were told historic preservation would not be an issue. The stained glass windows and everything else of value already had been stripped out of the building, she said. But Kristin Griffin, who became the city's historic preservation officer after the couple applied for a demolition permit in June 2008, said there was a finding the church might fit preservation guidelines for buildings within the downtown core. Demolition was allowed to proceed in December because the new hotel met criteria for acceptable replacement structures, she said. By then, said Rita Santillanes, two banks participating in a consortium led by Bank of Whitman had stepped away from the $9 million package as the economy worsened. Santillanes said she thought new financing would be relatively easy to arrange. She found out otherwise. "The timing was as bad as it could be," she said. "I did not realize what the economy had come to in terms of loans." The couple, which also owns Peppertree Inns on the Sunset Hill, and in Liberty Lake, Auburn and Omak, financed the demolition and initial construction with their own money, with the expectation a new loan would be forthcoming, she said. But bad weather and slow progress on a new loan forced them to stop work. Santillanes said refinancing of the Omak Peppertree should set the stage for new funding. The Santillanes bought the property in July 2007 for $1.9 million.
Local journalism is essential.
Give directly to The Spokesman-Review's Northwest Passages community forums series -- which helps to offset the costs of several reporter and editor positions at the newspaper -- by using the easy options below. Gifts processed in this system are not tax deductible, but are predominately used to help meet the local financial requirements needed to receive national matching-grant funds.
Subscribe to the Coronavirus newsletter
Get the day's latest Coronavirus news delivered to your inbox by subscribing to our newsletter.
---
Subscribe and log in to the Spokesman-Review to read and comment on this story