News > Nation/World
Israel linking Palestinian talks, Iran
Officials want U.S. to curb nuclear threat
Wed., April 22, 2009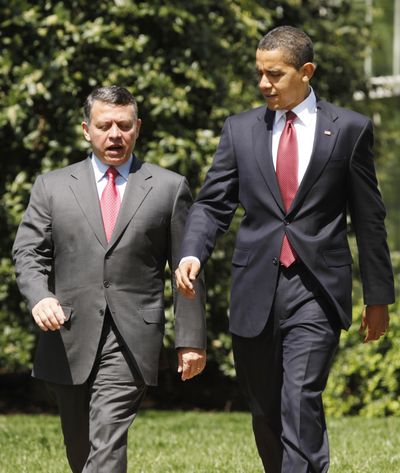 JERUSALEM – The new Israeli government will not move ahead on the core issues of peace talks with the Palestinians until it sees progress in U.S. efforts to stop Iran's suspected pursuit of a nuclear weapon and to limit Tehran's rising influence in the region, according to top government officials familiar with Prime Minister Benjamin Netanyahu's developing policy on the issue.
"It's a crucial condition if we want to move forward," said Deputy Foreign Minister Daniel Ayalon, a member of the Israeli parliament and former ambassador to the United States. "If we want to have a real political process with the Palestinians, then you can't have the Iranians undermining and sabotaging."
The emerging Israeli position, a significant change from that of previous governments, presents a challenge for President Barack Obama, who has made quick progress on Palestinian statehood a key foreign policy goal.
Declaring a need to defeat growing cynicism about the prospects for Middle East peace, Obama has invited the leaders of Israel, Egypt and the Palestinian territories to the White House for separate talks over the next six weeks.
Obama said he wants to see Israelis, Palestinians and neighboring Arab countries take their first steps toward progress on the ground within months.
"My hope would be that over the next several months that you start seeing gestures of good faith on all sides," Obama told reporters after a meeting Tuesday with King Abdullah of Jordan.
Obama is also trying to begin engagement with Iran as part of a broad effort to slow its nuclear program and curtail its growing strength in the Middle East.
U.S. officials are wary of linking the two issues and, if anything, would like to do the reverse of what Israel has proposed, by using progress in the Israeli-Palestinian talks to curb Iranian influence, which is wielded in the region through anti-Israeli organizations such as Hezbollah and Hamas.
"We have to be pretty careful how you approach that kind of connection," said a senior U.S. official, speaking on the condition of anonymity. "We are dealing with Iran because there are behaviors out there that are deeply troubling. We would be doing that regardless of other issues. By the same token, the Palestinian issue is an issue that obviously evokes a great deal in the region."
The official argued that the Obama administration has already demonstrated it is committed to dealing with both issues at the same time by appointing high-profile officials – former senator George Mitchell on the Palestinians, former peace negotiator Dennis Ross on Iran – to craft and implement the administration's policies.
While Israeli officials have long expressed concern about Iran, Netanyahu views the threat from Tehran as so acute that he is shaping Israel's policy toward the Palestinians around that issue – a shift in approach that effectively puts Palestinian statehood after resolution of a complicated regional and international issue.
Local journalism is essential.
Give directly to The Spokesman-Review's Northwest Passages community forums series -- which helps to offset the costs of several reporter and editor positions at the newspaper -- by using the easy options below. Gifts processed in this system are not tax deductible, but are predominately used to help meet the local financial requirements needed to receive national matching-grant funds.
Subscribe to the Coronavirus newsletter
Get the day's latest Coronavirus news delivered to your inbox by subscribing to our newsletter.
---
Subscribe and log in to the Spokesman-Review to read and comment on this story