News > Idaho
Kansas St. provost becomes UI president
Wed., April 22, 2009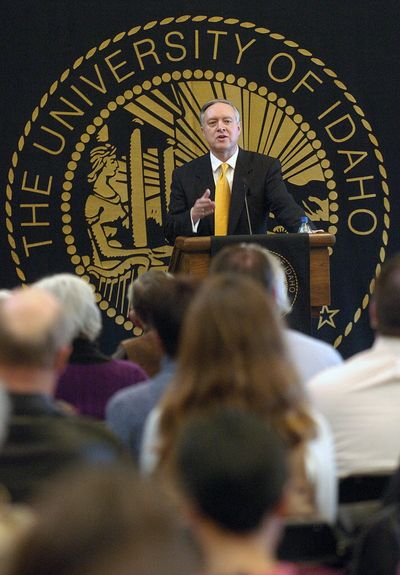 Duane Nellis, the Kansas State University provost who cited too little money when he earlier turned down an offer to become the University of Idaho's president, took the job Wednesday after state officials sweetened the deal. The state Board of Education announced his hiring during a meeting on the Moscow campus, agreeing to waive a policy prohibiting multiyear contracts and the use of private funds to supplement the salaries of university presidents. The board approved a three-year contract and annual base salary of $335,000 for Nellis. Of that, $298,000 will come from state money, with another $37,000 from the University of Idaho Foundation. "We need to be competitive, it is not only a matter of compensation but also adding other things such as multiyear contracts," said board President Paul Agidius. Nellis told The Associated Press last month that he declined an offer to become Idaho's president because the board rejected his salary request. Nellis said he had been willing to take less than the combined base pay of $370,354 that he and his wife, Ruthie, also a Kansas State employee, make at that school. Former Idaho President Timothy White, who left last year to become president at the University of California, Riverside, was paid $291,912 in his fourth and final year. After intense lobbying by influential Vandal boosters, the board restarted negotiations with Nellis three weeks ago. "I appreciated their persistence in getting me to come to the University of Idaho," Nellis told faculty and students at a press conference after the announcement. Nellis, 54, who was born in Spokane, Wash., and grew up in Montana, is now the highest-paid state university president in Idaho. His compensation package includes a $7,200 yearly vehicle allowance, the rank of a full tenured professor, membership in the Hillcrest Country Club in Boise, health benefits and an on-campus residence. Idaho schools have wrestled with budget shortfalls caused by the bad economy, slashing programs, cutting temporary instructors and eliminating vacant positions. "I'm very sensitive to the budget situation," Nellis said. "The compensation that I did agree to, if you look to the national average for the university presidents of land-grant institutions, it's still below that." Nationwide, median pay and benefits for presidents of public research universities rose 7.6 percent during the 2007-2008 school year to $427,400, according to an annual survey that The Chronicle of Higher Education released in November. Nellis described himself as a workaholic and pledged to be open in his decisions as president and accessible to students and faculty. He is the 17th president of the state's oldest public university and will officially start work July 1. Lee Shellman, a 71-year-old physical therapist and 1961 graduate, was among the Vandal alumni who rallied around Nellis after he dropped out of the running earlier this year. "He has land-grant university knowledge and he is an excellent leader," Shellman said. "Probably the best thing about him is the people at Kansas State University don't want him to leave." Idaho has gone through five presidents, both temporary and permanent, in the past six years. Nellis was one of five finalists selected by a university search committee. During a visit to Moscow in February, he told faculty and staff he would stick around if the Board of Education chose him. "That was a big issue for everyone here on campus, it was asked directly," said Karen Guilfoyle, an education professor and chairwoman of the University of Idaho Faculty Council who was on the presidential search committee. The committee picked two finalists, Nellis and David Dooley, provost and vice president for academic affairs at Montana State University, to visit the campus. "It just seemed like he had the experience and the background to really move us forward," Guilfoyle said.
Local journalism is essential.
Give directly to The Spokesman-Review's Northwest Passages community forums series -- which helps to offset the costs of several reporter and editor positions at the newspaper -- by using the easy options below. Gifts processed in this system are not tax deductible, but are predominately used to help meet the local financial requirements needed to receive national matching-grant funds.
Subscribe to the Coronavirus newsletter
Get the day's latest Coronavirus news delivered to your inbox by subscribing to our newsletter.
---
Subscribe and log in to the Spokesman-Review to read and comment on this story