News > Nation/World
Medical student arraigned as Craigslist killer suspect
Wed., April 22, 2009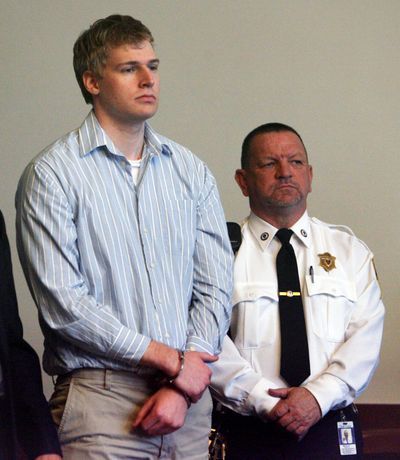 BOSTON – Philip Markoff seemed to have a good life: The handsome, clean-cut, 23-year-old medical student was planning a lavish beachfront wedding this summer to a beautiful woman.
But authorities say his computer and surveillance video paint a picture of a suspected serial criminal who targeted women offering erotic services through Craigslist. Now he's accused of killing one and suspected of robbing and tying up another. And police have said there could be more victims.
"This was a brutal, vicious crime – savage, and it shows Philip Markoff is a man who is willing to take advantage of women, to hurt them, to beat them, to rob them," District Attorney Daniel Conley said Tuesday. "He probably thought he was going to get away with it. He thought he was too smart for us."
Authorities refused to comment on reports that Markoff might have been seeking money to pay gambling debts, but a Connecticut casino confirmed it was cooperating in the investigation.
Markoff, a second-year medical student at Boston University, appeared in court Tuesday on charges including murder, kidnapping and armed robbery. Dressed in a wrinkled button-down shirt and khakis, he said nothing during the brief hearing and was jailed without bail.
Defense attorney John Salsberg said later that Markoff is not guilty of the charges and "has his family's support."
Markoff is accused in the death of Julissa Brisman of New York City, who was found dead April 14 in a Boston hotel after being bashed in the head and shot three times.
Brisman, 26, was an aspiring model and actress who had advertised erotic massage on Craigslist. Authorities said she and Markoff communicated through e-mail and cell phone to set up a meeting.
Authorities say he was the man seen on surveillance video near where Brisman was found.
Markoff is also suspected in the attempted robbery Thursday in Warwick, R.I., of a stripper who had posted an ad on Craigslist. She was held at gunpoint before her husband entered the room and her attacker fled.
Police say they found a semiautomatic weapon, duct tape and restraints – what prosecutors called "critical, powerful" evidence – in the upscale apartment Markoff shared with his fiancée in Quincy, about 10 miles south of Boston.
According to the couple's Web site, Markoff and his fiancée had planned to marry Aug. 14 on a beach at sunset in Long Branch, N.J. The couple also had registered for kitchen goods and housewares from Pottery Barn, Macy's and Williams-Sonoma.
Conley, the district attorney, said he believes Markoff's original motive was robbery, but he wound up killing Brisman when she fought back.
Markoff's fiancée, Megan McAllister, insists police have the wrong man.
"He could not hurt a fly," McAllister said in an e-mail to ABC's "Good Morning America. "All I have to say is Philip is a beautiful person, inside and out."
Local journalism is essential.
Give directly to The Spokesman-Review's Northwest Passages community forums series -- which helps to offset the costs of several reporter and editor positions at the newspaper -- by using the easy options below. Gifts processed in this system are not tax deductible, but are predominately used to help meet the local financial requirements needed to receive national matching-grant funds.
Subscribe to the Coronavirus newsletter
Get the day's latest Coronavirus news delivered to your inbox by subscribing to our newsletter.
---
Subscribe and log in to the Spokesman-Review to read and comment on this story