News > Nation/World
Nation in brief: Sebelius approved as health secretary
Wed., April 22, 2009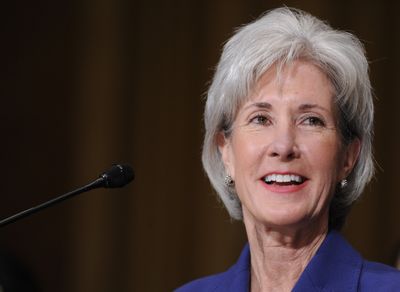 Kathleen Sebelius won Senate committee approval as health secretary over Republican opposition Tuesday, putting her on track for a final Senate vote in coming days.
Her expected confirmation would complete President Barack Obama's Cabinet, which held its first formal meeting Monday without Sebelius there.
The Senate Finance Committee voted 15 to 8 in favor of sending the nomination of Kansas' two-term Democratic governor to the full Senate. Just two of 10 committee Republicans joined majority Democrats in voting "yes."
The committee vote came after several Republicans voiced concerns in recent days about Sebelius' initial failure to disclose to senators the full extent of campaign donations she got from Dr. George Tiller, a late-term abortion doctor who is under investigation by the Kansas medical board.
San Diego
Officials examine swine flu outbreak
Two mysterious cases of swine flu have been found in Imperial and San Diego counties, leading to an investigation by state, local and federal health officials to find the source.
A 9-year-old girl in Imperial County and a 10-year-old boy in San Diego County were identified as suffering from swine flu, officials said Tuesday.
Neither needed hospitalization and both have recovered. But health officials remain puzzled because neither patient had been in contact with pigs or with each other, and the strain of the flu is one never seen before in the U.S.
Officials said there is no indication the virus is spreading. "We do not have an epidemic," said Dr. Wilma Wooten, San Diego County health officer.
Detroit
Judge upholds reporter silence
A federal judge upheld the right of a Pulitzer Prize-winning newspaper reporter to invoke the Fifth Amendment when he refused in court Tuesday to reveal his sources in a 2004 story about a terrorism prosecutor.
David Ashenfelter of the Detroit Free Press appeared at the federal courthouse to be questioned in a deposition sought by Richard Convertino. The ex-prosecutor is suing the U.S. Justice Department over a leak that led to a Free Press story about an internal ethics investigation, and he wants to know the reporter's sources.
During the closed-door deposition, Ashenfelter asserted his Fifth Amendment right against self-incrimination when asked for his sources, his lawyer, Richard Zuckerman, said.
Convertino's lawyer, Stephen Kohn, objected, but U.S. District Judge Robert Cleland overruled him, Zuckerman said.
From wire reports
Local journalism is essential.
Give directly to The Spokesman-Review's Northwest Passages community forums series -- which helps to offset the costs of several reporter and editor positions at the newspaper -- by using the easy options below. Gifts processed in this system are not tax deductible, but are predominately used to help meet the local financial requirements needed to receive national matching-grant funds.
Subscribe to the Coronavirus newsletter
Get the day's latest Coronavirus news delivered to your inbox by subscribing to our newsletter.
---
Subscribe and log in to the Spokesman-Review to read and comment on this story