News > Spokane
Tubbs Hill tours rejected
Outfitter opposed by residents worried about crowding
Wed., April 22, 2009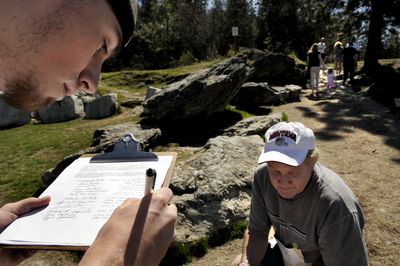 A last-minute petition campaign and passionate testimony Tuesday night won over the Coeur d'Alene City Council, which voted 4-2 against allowing a commercial outfitter to conduct guided hiking tours on Tubbs Hill, the city's treasured nature park.
"You have to respect and cherish certain things," Councilman Ron Edinger said in leading the vote against the proposal by Coeur d'Alene's ROW Adventures. "Tubbs Hill and McEuen Field are two of those things."
Joining Edinger in voting against the tours were council members Mike Kennedy, Deanna Goodlander and Woody McEvers. Councilmen John Bruning and Al Hassell supported the tours.
ROW had proposed two, two-hour guided hikes a day with as many as 14 paying customers each, accompanied by a tour guide. An alternative would have had people kayaking to one side of Tubbs Hill, then hiking back. The tours would have run from May to September.
ROW, owned by Peter Grubb and his wife, Betsy Bowen, planned to charge $27 for adults and $19 for youth on the hiking adventures and as many as $59 for the kayaking trips. The trips would have emphasized the need to protect and preserve the downtown Coeur d'Alene park, the couple said.
Though testimony during the council meeting made clear that other entities already conduct tours of the park on a limited basis, Grubb said a permit is required for commercial ventures on city property so he felt he needed to go through the public process.
"It's clear that Tubbs Hill has a special place in people's hearts. There was a lot of emotion this evening," he said. "I tried to take the high road, and at the end of the day, I can't do something I believe would be value-added for the community."
Though the public process began months ago, several residents who learned of the proposal just over a week ago launched a petition drive and gathered almost 1,000 signatures from people opposed to the hiking tours. Resident Linda Wright led the petition drive.
"Now we all need to step up to the plate and keep (Tubbs Hill) what it is," she said.
Many people expressed concerns about the tours crowding 14 kayaks onto limited space on Sanders Beach, near the 11th Street entrance to Tubbs Hill. Others said they were concerned about the precedent tours would set.
Earlier, on a beautiful Tuesday afternoon, dog walkers, joggers and families with kids swarmed the popular park. Many visitors stopped to sign one of two petitions offered at the Third Street entrance. Coeur d'Alene attorney Steve Bell also circulated a petition saying the hill was dedicated to residents for public use and no commercial endeavors should be allowed.
Many people, including Councilman Mike Kennedy, praised ROW and its owners for being passionate conservationists and said if anyone were to conduct the tours, it should be ROW. And some people who favored the proposal said educating people about a natural area can help protect and preserve it.
Former guide Jason Wing said he'd seen the "catalyzing power" of giving someone an incredible experience in a beautiful place. It motivates them to understand the need to protect such places, he said.
Grubb and Parks Director Doug Eastwood said the tours would help the city police the hill, helping users understand, for example, that mountain bikes are not permitted and that people shouldn't pick flowers. Eastwood said ROW wasn't proposing anything the city didn't offer already. He said the parks department has offered guided walking tours on Tubbs Hill upon request and began advertising them last year. He pointed out that ROW's tours were being considered solely on a one-year, trial basis.
"I do not see a problem with it," Eastwood said. "What I find beneficial about the tours is it gives us the opportunity to educate people on the sensitivity of the hill."
However, the majority of the speakers spoke emotionally about the importance of keeping Tubbs Hill just like it is.
"You've got two miles of gorgeous shoreline on Lake Coeur d'Alene and the public is going to be asked to move over," said Ruth Spencer, who helped gather signatures. "Allowing even one step toward commercialization is actually betraying the public trust."
Local journalism is essential.
Give directly to The Spokesman-Review's Northwest Passages community forums series -- which helps to offset the costs of several reporter and editor positions at the newspaper -- by using the easy options below. Gifts processed in this system are not tax deductible, but are predominately used to help meet the local financial requirements needed to receive national matching-grant funds.
Subscribe to the Coronavirus newsletter
Get the day's latest Coronavirus news delivered to your inbox by subscribing to our newsletter.
---
Subscribe and log in to the Spokesman-Review to read and comment on this story