Sports
WSU athletes have breakthrough seasons
Wed., April 22, 2009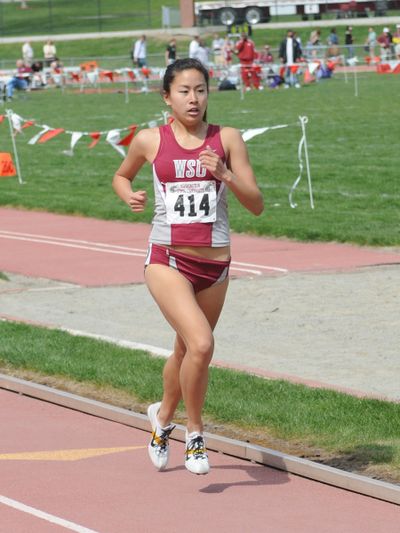 Big breakthroughs require big explanations, right?
Slash seconds off a best time or make a quantum leap in, well, your leap and there must be some magic technical or training twist to reconcile it. Or not.
Lisa Egami's junior season at Washington State is off to a fast start. Two weeks ago, she ran the 800 meters in 2 minutes, 8.16 seconds – by nearly 3 seconds, her best in three years. Earlier, she lowered her 1,500 best to 4:22.57 – a 5-second gain that lifted her to third on the Cougars' all-time list. Indoors, she lowered the WSU mile record to 4:44.92.
"I can't really think of any big reason," she said. "I've had a couple of years of good, solid training, and I've been able to up my (training) mileage. But as far as anything very different, no."
Well, then, don't go changing.
Egami isn't the only Cougar who's made dramatic early-season improvement. Last week at the Mt. SAC Relays, Isley Gonzalez whacked nearly 25 seconds off her best in the 5,000 to put herself in range of the school record at 16:18.04. Marissa Tschida's school-record javelin throw of 175 feet, 11 inches was a 14-foot jump. And on the men's side, Drew Polley ran 29:26.46 for 10,000 meters – a 46-second lifetime best, the first sub-30:00 by a Cougar in seven years and the fastest since 1994.
In Egami's case, making the transition from a high school 800 runner in Coquitlam, British Columbia, to the 1,500 has taken some time, and trust.
"In a race, you might hear a split and think, 'Too fast,' and freak out," she said. "You have to trust that you can recover and that your training will get you where you need to be."
WSU has made some gains in the Pac-10 distance events the past two years, but almost all of it in the steeplechase races. At the moment, Egami's 1,500 time gets her in the top 10, but she's looking for more.
"The Pac-10 meet was difficult last year," said Egami, who was 14th. "The heat in Arizona affected me and I didn't have the strength I've acquired this year. And when you get in with such great athletes, it can be a little overwhelming.
"I think I've gotten that out of the way now."
Track season – or week?
Barely a week after the area's last – presumably – snowstorm, Whitworth heads to Forest Grove, Ore., for the Northwest Conference championships, where the Pirates men are defending champions.
Nowhere are the Bucs more proficient than in the throws and nowhere are they deeper than in the javelin with three NCAA Division III provisional qualifiers (Alexander Hymel, Michael Wemple and Kory Kemp) and five throwers beyond 183 feet – not including defending champ Joey Van Hoomissen. And the future may be better – Hymel (200-7) and Wemple are sophomores, and John McCormack is a freshman from New Jersey.
"They're all legit," coach Toby Schwarz said. "If they're in the 220s by the time they graduate, I won't be surprised."
Booty takes a break
Eastern Washington quarter-miler Chad Butorac is redshirting the outdoor season, allowing him a fifth year of school to complete a biology degree with a teaching endorsement. It'll also allow the 2007 Big Sky 400-meter champ to recover from a disappointing indoor season that saw him fail to make the finals at the conference meet.
"Part of it was that I had a rigorous academic quarter and I was mentally tired when I'd show up for practice and not able to really attack workouts," said the senior from Northport. "And because of that, I knew it wouldn't be all there in races."
He'll still run some meets unattached. At Whitworth recently he tried the 400 hurdles for the first time, finishing in a respectable 56.55.
Bell laps
Lewis and Clark High School grad Britney Henry (hammer) and Idaho alum Melinda Owen (pole vault) have been awarded Elite Athlete Development Grants of $4,000 by USA Track and Field. … Mead and Community Colleges of Spokane alum Corissa Hutchinson continues to climb the Western Athletic Conference lists with lifetime bests of 47-9 in the shot put and 161-10 in the discus.
Local journalism is essential.
Give directly to The Spokesman-Review's Northwest Passages community forums series -- which helps to offset the costs of several reporter and editor positions at the newspaper -- by using the easy options below. Gifts processed in this system are not tax deductible, but are predominately used to help meet the local financial requirements needed to receive national matching-grant funds.
Subscribe to the sports newsletter
Get the day's top sports headlines and breaking news delivered to your inbox by subscribing here.
---
Subscribe and log in to the Spokesman-Review to read and comment on this story