News > Features
'Dilbert' creator Scott Adams still has a feel for cubicle culture
Sat., April 25, 2009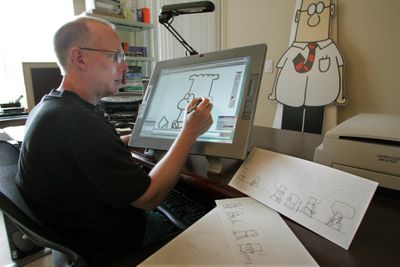 Scott Adams, the wry genius who, for 20 years, has delivered daily doses of workplace farce via his "Dilbert" comic strip, is struggling with a case of writer's block.
Perched in front of a 21-inch computer monitor in his Dublin, Calif., townhouse office, Adams can't quite nail down just the right zinger of a punchline for a strip that will appear in 2,000 newspapers and 70 countries.
But that's not what has him so peeved. No, it's the warm, relaxing bath he took the night before – a rare bit of self-indulgent downtime that he blames for his current brain cramp.
"It's probably the first bath I've taken in seven years or so. I just wanted to lay there and not do anything," he explains.
"But now I'm blaming that bath for the fact that I can't draw a comic today. All morning, I've been thinking if I hadn't taken that bath, I wouldn't have lost my edge."
OK, so the man is a little high-strung. But his stubborn resistance to slowing down is what has allowed Adams, 51, to keep cranking out his comic strip and best-selling books, while also writing a daily blog, managing two restaurants, overseeing construction of a new home and playing on an over-30 soccer team that, he admits, does not instill fear in its opponents.
And his relentless "edginess" enables him to give voice to millions of disgruntled cubicle dwellers slaving under the tyranny of pointy-haired bosses. As Adams points out, "There's a certain amount of anger you need to draw 'Dilbert' comics."
Make that anger and pain. As "Dilbert" celebrates its 20th anniversary, it is riding a water-cooler resurgence tethered to all the dire news stories about America's economic woes.
In January, the strip's bumpy-headed hero was fired and saw his investments tank. And in recent months, Adams has crafted clever comics dealing with government bailouts, mergers, downsizing and bank failures.
Is it any wonder he's sort of feeling like an undertaker at a bus crash?
"You don't want to be happy about the bus plunging into the ravine, but on the other hand, it's good for business," he admits. "Whenever there's more angst and unhappiness, it's fodder for humor."
In that sense, it certainly beats the dot-com boom era, when giddy workers were sitting on piles of cash and Adams experienced his "worst time as a cartoonist." These days "Dilbert" seems to be benefiting from a misery-loves-company dynamic.
In February, the strip's Web site and home to Adams' blog ( www.dilbert.com) logged 1.5 million visitors, making it one of its busiest months ever.
Then there was the recent storyline that had a defiant Dogbert blasting politicians at a bailout hearing. It made the rounds across the Web, and Adams says it's probably the most popular strip he's done in several years.
As for Dilbert himself, well, it just wouldn't be right if the dweeby engineer was immune to the cruel realities of the economic meltdown.
"When I get together with my friends, there's a shocking number of them who are out of work, or who might be out of work soon," Adams says. "So it didn't make sense for Dilbert to be the one happily employed guy in the world. It was time for him to go with the flow."
(Dilbert was eventually rehired – at a much lower salary.)
That kind of relatability long has been the fuel for "Dilbert." Many strips ideas come from readers who e-mail Adams with anecdotes from their workplace.
And it's a key factor in the strip's rise from humble beginnings to an iconic piece of pop culture that has spawned an animated TV series, a computer game and merchandise ranging from T-shirts to plush toys.
Still, for the intensely driven Adams, it may not be enough.
"I have to admit that it doesn't meet my wildest dreams only because I've got pretty wild dreams," he says before sharing details of a phone call he had years ago with Charles Schulz, in which the late cartoonist mentioned that the billionth "Peanuts" greeting card had just been sold.
"That's a billion with a 'b.' And that's just one (licensing) category," Adams marvels. "Think about it: What other artist has ever done anything that had a 'b' in it for billion? There's nothing that approaches that.
"His estate will probably make more in one year than what I make in my whole career. There's success, and then there's success."
Does that get Adams down? Actually, it does.
"I'd be lying if I said it didn't bug me a little bit," he says. "I'm certainly aware that most people would be happy to be in my position. But whatever personality trait that causes you to work 10 years straight without taking a day off to make all this stuff happen is the same thing that prevents you from enjoying it.
"The hunger doesn't go away. It just transforms into hunger for something else. … And it's not a good thing, by the way."
Local journalism is essential.
Give directly to The Spokesman-Review's Northwest Passages community forums series -- which helps to offset the costs of several reporter and editor positions at the newspaper -- by using the easy options below. Gifts processed in this system are not tax deductible, but are predominately used to help meet the local financial requirements needed to receive national matching-grant funds.
Subscribe to the Coronavirus newsletter
Get the day's latest Coronavirus news delivered to your inbox by subscribing to our newsletter.
---
Subscribe and log in to the Spokesman-Review to read and comment on this story