Sports > Seattle Mariners
Angels send Washburn to first loss
Mon., April 27, 2009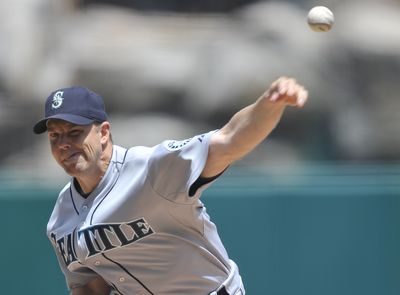 ANAHEIM, Calif. – A telling moment in the third inning of Sunday's series finale let Jarrod Washburn and the Mariners know this wasn't their day.
Washburn, already down by two runs, retired the first two hitters of the third inning, only to issue a subsequent walk to Los Angeles Angels switch-hitter Gary Matthews Jr. The next batter, Bobby Abreu, drilled a ball to right-center field for a run-scoring double that pretty much sealed an 8-0 loss for Washburn and his first-place team.
In the clubhouse afterward, Washburn cringed with disgust when reminded of the walk. A pitcher receiving as little run support as Washburn has the past four-plus seasons knows he can't give away free bases when he's close to ending an inning.
"That killed me. I'll fine myself in kangaroo court for that one," Washburn said. "There was no excuse for that. You get two quick outs like that and then fall behind and walk that guy. That one hurt."
But poor command at times was the story of why Washburn no longer remains undefeated. He had walked only four batters and yielded just four runs total over his first 21 innings this season in going 3-0 with a 1.71 earned-run average.
Not this time.
"It was there for two batters and then I'd lose it for a batter," said Washburn, who allowed six runs and walked three batters in struggling through 5 1/3 innings. "Or, it was there for three or four pitches for a batter and then, one pitch, I'd miss on that. It was just inconsistent today with the mechanics."
And so, a crowd of 43,057 at Angel Stadium could exhale with some relief as the home side salvaged a game in this series and remained within viewing distance of the 12-7, division-leading Mariners. Seattle accomplished its goal of winning another series against an Angels squad with seven players on the disabled list, including top pitchers John Lackey, Ervin Santana and Kelvim Escobar and slugger Vladimir Guerrero.
With none of those hobbled players due back for another month or so, the main goal for the Angels is to avoid getting completely knocked out of this race. They are now 4 1/2 games back after their only reliable starter, Jered Weaver, limited the Mariners to three hits through seven innings.
And if the Mariners lacked a killer instinct in this series, they displayed similar tendencies in a 23-pitch first inning by Weaver. The Mariners had two on with two out, but Russell Branyan went down swinging and Seattle never had multiple base runners against Weaver again.
"We had an opportunity right from the get-go to get to Weaver," Mariners manager Don Wakamatsu said. "I've seen this kid pitch over the last couple of years and he's one of those guys who, if you give him any breathing room, you can see it on his face. He comes back real strong. He pitched a heck of a ballgame."
And so, with Washburn already down 2-0 after a Howie Kendrick home run in the second inning, that third run after the Matthews walk was huge. Washburn entered the contest having averaged just 4.29 runs per game by his offense since the start of the 2005 season, the worst support for any starting pitcher in the American League.
That's why this game was all but over once Juan Rivera made it 4-0 with a home run to left field in the fourth inning.
Washburn has received 17 runs of support in four starts this year, with 11 of those coming in the same game. The way the Mariners were swinging into quick outs against Weaver, it was clear the trend wasn't going to change.
"It's very important to score early, but he pitched great," Mariners second baseman Jose Lopez said of Weaver. "He doesn't make mistakes. When he wants to throw inside, he throws inside. When he wants to go outside, he throws outside. He doesn't miss and he throws strikes."
And while Lopez was satisfied was winning two of three, correctly noting that "if we keep doing that, we'll win a lot of games" he knows his team wasn't good enough to sweep. Doing that would have meant hitting some of those Weaver strikes.
And it would have required Washburn to again be virtually mistake-free with his command.
Neither happened. And that's why the ravaged Angels, stomped on as they've been, just bought themselves needed time to pick themselves up.
Local journalism is essential.
Give directly to The Spokesman-Review's Northwest Passages community forums series -- which helps to offset the costs of several reporter and editor positions at the newspaper -- by using the easy options below. Gifts processed in this system are not tax deductible, but are predominately used to help meet the local financial requirements needed to receive national matching-grant funds.
Subscribe to the sports newsletter
Get the day's top sports headlines and breaking news delivered to your inbox by subscribing here.
---
Subscribe and log in to the Spokesman-Review to read and comment on this story