News > Features
Quest for perfect college can involve extended travel, intangibles
Mon., April 27, 2009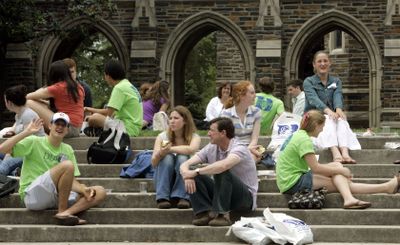 Forget the Grand Tour of Europe. If your kid is in high school, your next family vacation – in fact, your next couple of family vacations – may well be the Grand Tour of Colleges.
Instead of museums or cafes in London or Rome, you'll be seeing quads, dorms and dining halls. Instead of converting dollars to euros, your brain will be grappling with GPAs, SATs, and oh, yes, the price of tuition.
Now, if you went to college way back in the 20th century, you may wonder how this process got so complicated, and why it involves so much effort by parents.
When I was in high school, I applied to one college. I got in. I went there. The first time I saw the campus was the day I moved into my dorm, toting, naturally, a plastic milk crate filled with record albums.
Fast-forward to today. My oldest is a high school junior, so our Easter vacation was spent on the New York State Thruway, driving to colleges in places like Syracuse and Albany.
Not that the trip wasn't fun. Colleges do a good job of recruiting the perkiest, most articulate 19-year-olds on earth as tour guides, the kind who somehow make it seem thrilling that you got to walk past the salad bar in a dining hall.
But how exactly these tours are supposed to show that a school is right for your kid, I'm not quite sure, since we've been on seven of them so far (with another five to go) and have yet to see anyone teach a class.
To a parent, the reasons for the thumbs-up or down can seem a little arbitrary. Ellen Hirzy, a mom from Washington, D.C., said that when she was looking at colleges with her son, Pepsi and Windows were "the kiss of death. Coke and Mac campuses, perfect."
Driving around one place, he got all excited at the sight of a "high-rise dorm with a lot of bikes parked out front," Hirzy said. "He had just realized that he could take his bike to college, and that would be so cool."
Hirzy recalled that when her stepdaughter visited colleges, she "practically refused to get out of the car at the University of Missouri-Columbia because it was too big." She finally agreed to walk to the admissions office, but left without taking the tour.
But the very same campus turned out to be the right choice for Hirzy's son, now a freshman there.
"When Will was little, he had a very recognizable 'happy walk' – kind of a zingy little bounce in his step," Hirzy said. After hearing the presentation at the University of Missouri's journalism school, "I watched him walk the happy walk, and I knew it was the place for him."
Local journalism is essential.
Give directly to The Spokesman-Review's Northwest Passages community forums series -- which helps to offset the costs of several reporter and editor positions at the newspaper -- by using the easy options below. Gifts processed in this system are not tax deductible, but are predominately used to help meet the local financial requirements needed to receive national matching-grant funds.
Subscribe to the Coronavirus newsletter
Get the day's latest Coronavirus news delivered to your inbox by subscribing to our newsletter.
---