News > Features
PBS opens new portal to videos
Mon., April 27, 2009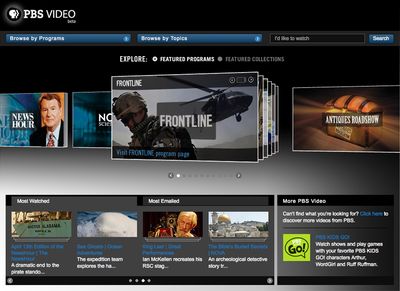 PBS may be cooler than you think.
Though long-form video on the Web has become all the rage in the last year or two thanks to sites like Hulu.com, PBS has been hosting full episodes online for years.
Last week, the Public Broadcasting Service staked its Internet claim by launching a new video portal at www.pbs.org/video. PBS says that by the summer, it will eventually host thousands of hours of programming.
The portal brings together programming that previously had been scattered across numerous Web sites. The site gathers full-length episodes of shows that many would say are among the best on television, including "American Experience," "Frontline," "American Masters," "Nature" and "Masterpiece" (formerly known as "Masterpiece Theater").
PBS already has a channel on Hulu, and it posts shorter clips on YouTube. But the new player, which will eventually include material from its 357 affiliates, offers an online destination for PBS viewers.
The network says it's finding younger viewers online.
"It's a new audience for us," said Jason Seiken, senior vice president of interactive at PBS. "It's not our television audience watching things online. It's a new and younger and more diverse audience."
The portal is a component of a larger online strategy for the network. Last fall, it launched a video player for children's programming: www.pbskidsgo.org/video.
PBS is also premiering the first episode of a new archaeological show, "Time Team America," on the Web site before its broadcast premiere this summer.
It hopes the new player will help tie together its large, disparate network of public broadcasters, and expects it will boost viewers to local affiliate programs. The player can also be embedded, so affiliates can host national programming on their sites.
Oregon Public Broadcasting President and CEO Steve Bass said in a statement that the new PBS.org "expands our mission in a way we could not do otherwise."
Though most other networks have stopped short of putting all of their programming and library online, PBS says its mission is different as a broadcaster meant to serve the public.
Depending on appetite and rights issues, some programs will have their entire back catalog added – such as Julia Child's cooking shows.
In the network's ongoing efforts to shed an old and stodgy image, PBS – which turns 40 this year – is also present in social networking sites like Facebook and Twitter.
The network is also planning to open up PBS.org to user-generated content and online festivals, Seiken said.
"We're going to shock a lot of people when they come and look at this video portal," said Seiken. "We're not your grandfather's PBS."
Local journalism is essential.
Give directly to The Spokesman-Review's Northwest Passages community forums series -- which helps to offset the costs of several reporter and editor positions at the newspaper -- by using the easy options below. Gifts processed in this system are not tax deductible, but are predominately used to help meet the local financial requirements needed to receive national matching-grant funds.
Subscribe to the Coronavirus newsletter
Get the day's latest Coronavirus news delivered to your inbox by subscribing to our newsletter.
---
Subscribe and log in to the Spokesman-Review to read and comment on this story