News > Idaho
Not your run-of-the-mill loggers
Exhibit honors ax-wielding women
Tue., April 28, 2009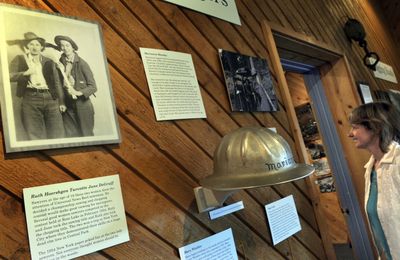 In a 1934 photograph, two young women wear jaunty grins and double-bladed axes slung casually over their shoulders. Ruth Hoershgen and June DeGraff were 19 when they won a tree-felling contest at Rose Lake, Idaho.
The competition was sponsored by United News Reel Service, which had come to North Idaho to film a movie about female loggers – not unlike the History Channel's current "Ax Men" series.
The teens became instant, if minor, celebrities. A writer for the New York Daily Mirror invited them to New York City as guests of Hearst Newspapers. The paper ran daily coverage of their visit, including photos of them chopping down a dead elm in Central Park.
Fay King, the Mirror's trailblazing female cartoonist, offered commentary on the two Idaho teens' logging skills, though it was colored by gender stereotypes of the day.
"I don't approve of women becoming ax experts," King wrote. "It's not necessary and it's dangerous."
The teens' story is part of a new timber exhibit at the Museum of North Idaho that traces the industry from the late 1800s – when North Idaho's virgin stands of white pine drew Midwestern timber barons to the state – to last year's closure of the DeArmond sawmill. The mill was the last remnant of Coeur d'Alene's once thriving sawmill industry.
Museum Director Dorothy Dahlgren combed through decades of history to put the exhibit together. As she evaluated oral histories, she was inspired to include lesser-told tales of women in the industry.
"It wasn't mainstream for women to run logging companies," Dahlgren said, "but there were a number of them that worked in the woods."
Some women were cooks in logging camps. Others worked with their husbands and sons in family-run businesses. Many performed hard physical labor, including a twice-widowed woman who ran her own contract logging business in the mountains east of Coeur d'Alene.
Despite their bout with fame, Hoershgen and DeGraff are relative footnotes in the region's timber history.
Hoershgen grew up on a farm near Latour Creek, which swelled with logs each spring when neighbors cut trees on their property. She and her sister would scamper across the logs, as cocky as lumberjacks in cork boots.
"They were quite the pioneer girls," said Hoershgen's niece, Jean Meyer, of Coeur d'Alene.
Hoershgen and DeGraff won timber exhibitions at the annual Miners' Picnic in Kellogg before they entered the contest that took them to New York. For two young women from North Idaho, it was the trip of a lifetime, Meyer said. They met heavyweight champion Jack Dempsey at his restaurant in Times Square.
Hoershgen, whose married name was Ruth Turcotte, died in 1992. She'd spent most of her life as a farmwife.
By the time of her death, the vast stands of white pines were a distant memory. In 1900, white pines covered 2.1 million acres in North Idaho, with some trees stretching 200 feet high, seven feet in diameter. An acre of old growth could yield enough timber to build 10 homes.
But the white pine was felled by an imported blister rust disease, as well as lumberjacks. The trees grow in a fraction of their former habitat, covering about 11,600 acres today.
Local journalism is essential.
Give directly to The Spokesman-Review's Northwest Passages community forums series -- which helps to offset the costs of several reporter and editor positions at the newspaper -- by using the easy options below. Gifts processed in this system are not tax deductible, but are predominately used to help meet the local financial requirements needed to receive national matching-grant funds.
Subscribe to the Coronavirus newsletter
Get the day's latest Coronavirus news delivered to your inbox by subscribing to our newsletter.
---
Subscribe and log in to the Spokesman-Review to read and comment on this story