News > Spokane
Monkey-smuggling women sentenced to jail
Wed., April 29, 2009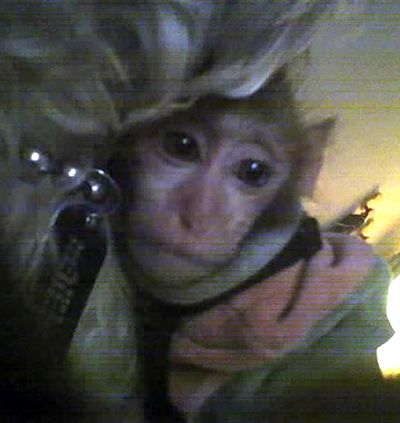 A Spokane woman who faked pregnancy to smuggle a rhesus macaque monkey from Thailand into the United States in violation of federal laws has been sentenced to jail, along with her mother, according to the U.S. Justice Department. Gypsy Lawson, 28, and her mother, 57-year-old Fran Ogren of Northport, Wash., were sentenced this week to 60 days in jail. In addition, both women will be under court supervision for three years and must pay $4,507 in restitution, said to James A. McDevitt, U.S. Attorney for Eastern Washington. The monkey heist occurred in November 2007. A hand written travel journal later seized from Lawson's Spokane residence described the women's efforts to acquire a monkey – "specifically one small enough to conceal for the journey back," according to a Justice Department press release. The journal also described the women's experiments with medication to sedate the monkey for the trip. Pictures of Lawson with a protruding abdomen, appearing as though she was pregnant, were also seized from her home. The items were seized in January 2008, when the monkey they named Apoo was found at Lawson's Spokane residence and put into quarantine. The monkey is now at a rescue center for abandoned primates. "The callousness and intent these people showed in carrying out their plan was egregious and placed at risk not only wildlife but potentially the health of other passengers on the plane and in their community," said Paul Chang, a special agent for the U.S. Fish and Wildlife Service. "These animals are known carriers of viruses and parasites that can be transmitted to humans, although this one tested negative." Prosecution of the case involved teamwork between the Royal Thai Police, Immigration and Customs officials, and the U.S. Fish and Wildlife Service.
Local journalism is essential.
Give directly to The Spokesman-Review's Northwest Passages community forums series -- which helps to offset the costs of several reporter and editor positions at the newspaper -- by using the easy options below. Gifts processed in this system are not tax deductible, but are predominately used to help meet the local financial requirements needed to receive national matching-grant funds.
Subscribe to the Coronavirus newsletter
Get the day's latest Coronavirus news delivered to your inbox by subscribing to our newsletter.
---