News > Features
People: Rimes writes of her reasons
Wed., April 29, 2009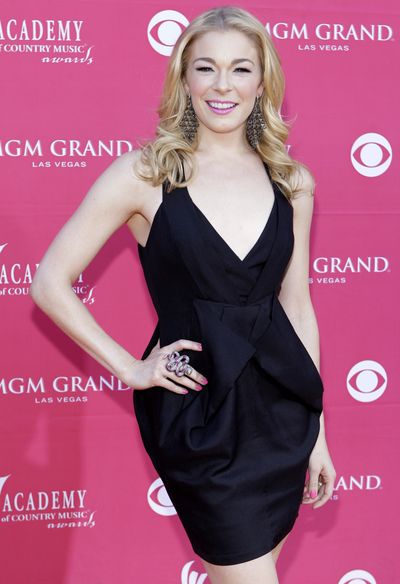 LeAnn Rimes' new book, "What I Cannot Change," offers her take on the serenity prayer.
And these days, she's practicing what she's been preaching.
The singer and actress can't change the recent past – tabloid reports alleging a romance with Eddie Cibrian, with whom she starred in the recent Lifetime movie "Northern Lights."
Both Rimes and Cibrian are married to other people; an Us Weekly cover story plastered photos of the two holding hands and kissing at a restaurant.
Cibrian has denied a romance. Rimes acknowledged "difficult time for me and my loved ones" on her Web site but did not directly address the allegations.
When asked how she was dealing with scrutiny, Rimes replied, "You know? I'm actually really great.
"It's something that I'm not going to back-and-forth in the press about, because it does hurt me and my loved ones, and I'm really not going to address tabloid rumors and I'm sticking to that," she added, with a small laugh.
Ironically, much of "What I Cannot Change" is about coming clean. About half of the book is based on anonymous confessions posted to Rimes' Web site of the same name, inspired by fan reactions to the song "What I Cannot Change" from her 2007 album "Family."
"Well, the song was basically written by myself and my very good friend Darrell Brown on a very tough day I was having, and I kind of poured my heart and soul out into these verses," Rimes said.
Many of the entries, both on the site and in the book, are nothing short of harrowing: a parent mourning the loss of her son to schizophrenia, a child watching a mother dying of cancer, a woman who had six miscarriages.
"It makes you realize that there's not much that separates us as human beings," Rimes says. "It kind of makes you feel the human race is one connected unit."
The other half of the book is autobiographical, as the Grammy winner recounts her rise to stardom at just 12 with the song "Blue."
The book also touches on her painful battle with the autoimmune disease psoriasis, and writes about her complicated relationship with her parents, who divorced when she was 14.
"You know, I think a lot of people, because I did grow up so fast, thought, 'Easy. She'll be able to handle it. No big deal,' " says Rimes.
"And I was able to handle it fine. But not until a few years ago did I realize how much it affected me."
While "What I Cannot Change" has proven to be a gift to Rimes' fans, it's also been rewarding for Rimes, inspiring the singer to not fret about things you cannot control – the list of which clearly includes those tabloid reports.
"You really realize these small things that we obsess over are really small," Rimes said. "We could look in the negative way or choose to look at things in a positive light. But I'm trying to rewire my brain to look at positive things every day of my life."
The birthday bunch
Bluesman Otis Rush is 75. Singer Tommy James is 62. Comedian Jerry Seinfeld is 55. Actress Kate Mulgrew ("Star Trek: Voyager") is 54. Actor Daniel Day-Lewis is 52. Actress Michelle Pfeiffer is 51. Actress Eve Plumb ("The Brady Bunch") is 51. Singer Carnie Wilson is 41. Actress Uma Thurman is 39.
Local journalism is essential.
Give directly to The Spokesman-Review's Northwest Passages community forums series -- which helps to offset the costs of several reporter and editor positions at the newspaper -- by using the easy options below. Gifts processed in this system are not tax deductible, but are predominately used to help meet the local financial requirements needed to receive national matching-grant funds.
Subscribe to the Coronavirus newsletter
Get the day's latest Coronavirus news delivered to your inbox by subscribing to our newsletter.
---
Subscribe and log in to the Spokesman-Review to read and comment on this story