News > Spokane
Police find fugitive hiding in woods
Man had camouflage, survival guides, food
Sat., Aug. 1, 2009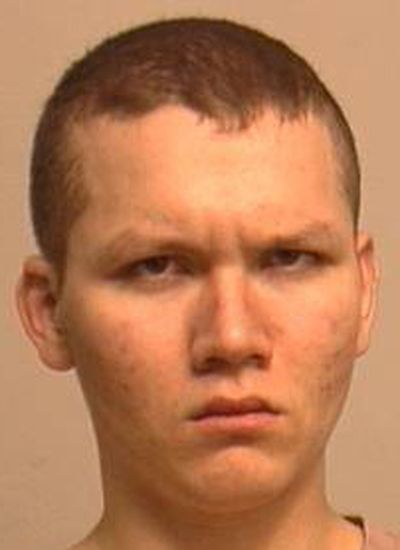 Footprints led federal agents Friday to a fugitive who eluded capture for nearly a month.
But Anthony E. Burke's legal problems began more than three years ago, when police responding to reports of violence at his family's Spokane-area home found him with 100 rounds of Russian ammunition.
Burke, now 21, was prohibited from having the bullets because he'd been committed to a mental hospital as a teenager.
He was released last month from federal prison in Victorville, Calif., but never showed up as scheduled to the Geiger Work Release Center.
His disappearance launched a federal manhunt that took hundreds of hours. Officials eventually tracked Burke, who also goes by Anthony Garver, to the woods near his former home along East Offmy Lane, west of Newman Lake, said Bob Doty of the U.S. marshal's office in Spokane.
Federal agents spotted footprints on the road Friday morning and followed them into the trees, where they found Burke hiding under camouflage netting about 5 a.m., Doty said.
Burke surrendered without incident. Authorities found him with food, rain gear, maps, survival magazines and a 7-inch hunting knife; he didn't appear to pose a danger, Doty said.
"As far as we can tell he was just trying to hide," Doty said.
Burke, dressed in a black tank top, camouflage pants and a camouflage jacket, appeared in U.S. District Court in Spokane on Friday afternoon on one charge of violating his release conditions. U.S. Magistrate Judge Cynthia Imbrogno ordered him to remain in federal custody.
Court papers filed as part of his federal conviction portray Burke as a troubled man haunted by his stepfather's abuse and angry at authorities for calling him mentally ill.
"There is not a single substantiated or admissible fact to support a finding that I am a danger to either myself or to others, that would support my involuntary hospitalization," Burke wrote in a May 2007 legal briefing asking the court to reconsider its order that he get a mental evaluation.
A judge denied his request. Six months later, his public defender said in court that federal authorities sought a lengthier prison sentence for the ammunition conviction only after a mentally ill student murdered 32 people in a shooting at Virginia Tech University.
Burke was sentenced to three years with credit for time served. He was released July 2, but federal agents waiting at the Greyhound bus station for him in Spokane never saw him.
Burke has been diagnosed with anti-social disorder and is mildly autistic, according to court records. Inmates at the Spokane County Jail told federal agents Burke had discussed plans to kill Joseph Harrington, the assistant U.S. attorney prosecuting his case, along with several witnesses.
Federal agents allege he had an al-Qaida training manual and a book on how to make bombs, according to court documents.
A family friend testified at his sentencing in January 2008 that Burke often spoke of his disdain for the U.S. government.
"At that point he was favoring Morocco and that kind of a thing, so he told me he doesn't have any respect for the United States," the woman said, according to court records.
Burke's next court appearance is set for Aug. 4.
Local journalism is essential.
Give directly to The Spokesman-Review's Northwest Passages community forums series -- which helps to offset the costs of several reporter and editor positions at the newspaper -- by using the easy options below. Gifts processed in this system are not tax deductible, but are predominately used to help meet the local financial requirements needed to receive national matching-grant funds.
Subscribe now to get breaking news alerts in your email inbox
Get breaking news delivered to your inbox as it happens.
---