News > Features
Brotherhood lifts Los Lonely Boys
Fri., Aug. 7, 2009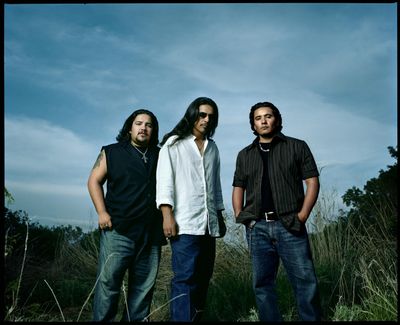 Grammy-winning, multiplatinum-selling, Texican rock trio Los Lonely Boys is all about family.
Since their 2003 self-titled major label debut, Henry, Jojo and Ringo Garza have shown their musical synchronicity, and that connection has only grown with time.
On Los Lonely Boys' third and latest album, last year's "Forgiven," the Garza brothers' bond is laced and locked, delving deeper into interlinking musical dynamics and vocal harmonies that can only be forged from a family bond.
Stylistically, the third outing from the southern Texas-based trio branches out while following the success of Los Lonely Boys' breakthrough debut along with the highly rated followup, 2006's "Sacred."
The chops are still undeniable, as is the passion, coming in bursts of Tex-Mex rock, Latin-tinged pop and Stevie Ray Vaughan-esque blues.
The lyrics on "Staying With Me" are straightforward and earnest, but the instrumentation carries the sweetly laid harmonies. The title track approaches the same emotional depth of Los Lonely Boys' No. 1 debut single, "Heaven."
Fuzzy guitar lines replace organ sounds in the band's Hendrix-like, Chicago blues-driving cover of the Steve Winwood-penned Spencer Davis Group tune "I'm A Man."
While "Make It Better" borrows a page from The Beatles, the Southern-rockin' "You Can't See The Light" has a jazzy subtext.
But the album's real twist is the funk-heavy "Superman." While lead guitarist Henry and bassist Jojo often switch off on lead vocals, "Superman" was drummer Ringo's debut as a lead singer.
Blending elements of rock and roll, soul, blues and country, the album was tracked in just three short sessions and was produced by Steve Jordan (John Mayer's Continuum, Herbie Hancock), whom the band began to refer to as "Steve Garza" before the project was finished.
Los Lonely Boys are the sons of the senior Ringo Garza, who with his own brothers formed the Falcones, which played Spanish- and island-influenced music throughout Texas in the 1970s and '80s.
The Garza brothers formed their band while in their teens, and recorded their first album under the guidance of Willie Nelson.
"We came from a town with nothing," Ringo Jr. says in the band's bio, "… came from nothing but love – and brotherhood."
Local journalism is essential.
Give directly to The Spokesman-Review's Northwest Passages community forums series -- which helps to offset the costs of several reporter and editor positions at the newspaper -- by using the easy options below. Gifts processed in this system are not tax deductible, but are predominately used to help meet the local financial requirements needed to receive national matching-grant funds.
Subscribe to the Coronavirus newsletter
Get the day's latest Coronavirus news delivered to your inbox by subscribing to our newsletter.
---