News > Spokane
Fans of a feather
Picnic lets parrot lovers celebrate avian friends
Sun., Aug. 23, 2009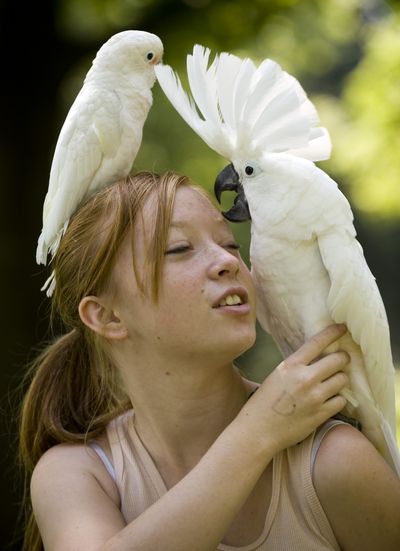 Parrots, it is said, have their own personalities.
Snuggles shows off for the camera, spreading her white wings to reveal their yellow undersides, like the surprisingly extravagant lining of a suit coat.
Socko doesn't like anyone, even her owner, Mike Edwards, to peek under her wings.
Some birds nervously pluck out their own feathers. Others will give their owners a sociable little kiss. Some are sweet-natured, and others – often helped along by neglect or abuse – can be mean.
The people who gathered Saturday in Franklin Park like all kinds.
"Their personalities are just amazing," said Chris Sheasley, 27, who works at a pet store and helps run a bird rescue operation for cockatiels. "You watch any bird long enough and they all have their own individual personalities. You have dog people, cat people – I'm a bird person."
Organized by Pampered Parrots Avian Rescue, the picnic brought together parrot lovers of all kinds. More than 20 people and 10 parrots – ranging from umbrella cockatoos to cockatiels to green-cheeked conures to African grays – gathered for the event.
Several of those attending met through Pampered Parrots, owned by Bret and Tracy Conant, and have taken up the cause of bird rescue.
There's a pretty big need. The Conants have rescued and found homes for more than 500 birds in nine years; Sheasley has 23 birds under his care now. Bret Conant said a lot of people buy parrots without realizing that they can take some effort.
"People will get into birds without researching it," he said. "They don't realize that all birds make noise, all birds can destroy furniture and other things, all birds can make a mess."
Most of the people at Saturday's picnic know one another; many carried someone else's bird on their shoulder. And most of them have more birds at home.
Jeanne Ettenborough, 67, of Spokane, had to stop and think before saying how many parrots she has. She has "a lesser cockatoo, a severe mini-macaw, a brown-eyed Meyer parrot, a regular little Meyer parrot, and I've just got a Jardine, two cockatiels and a little parakeet," she said.
"About nine, I think," she said. "Oh – I have a lovebird, too. I forgot the lovebird."
Ettenborough said her parrot habit became serious about 14 years ago, when a little Meyer parrot followed her around in a store.
"The bird actually picked me," she said.
Other bird owners tell a similar tale.
"My granddad taught me you never pick the dog, the dog picks you," said Edwards, eating a sandwich while Socko perched on his shoulder. "That's pretty much how this was. … He picked me."
Local journalism is essential.
Give directly to The Spokesman-Review's Northwest Passages community forums series -- which helps to offset the costs of several reporter and editor positions at the newspaper -- by using the easy options below. Gifts processed in this system are not tax deductible, but are predominately used to help meet the local financial requirements needed to receive national matching-grant funds.
Subscribe now to get breaking news alerts in your email inbox
Get breaking news delivered to your inbox as it happens.
---