Wolf hunting just one facet of management, experts say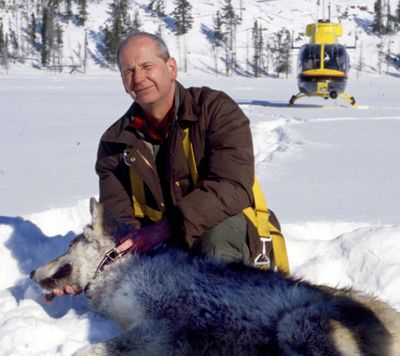 Some tough love – including regulated hunting – is needed to carve a permanent niche for wolves reintroduced to the Northern Rocky Mountains, say leading wolf authorities in this region and beyond.
Social and political factors of wolf management are as important as biology in wolf survival, they say.
On the eve of the first gray wolf hunting seasons in six decades in Idaho and Montana, passions are flaring at both extremes.
Environmental groups on Monday will argue for a court injunction that could block the hunts.
More than 9,200 hunters so far have purchased Idaho tags for a shot at a predator that's gnawing a big chunk from some of their prized elk herds.
Adding to the drama on Friday, coinciding with wolf-hunt protests in Coeur d'Alene, officials in Montana confirmed that wolves had killed 120 sheep in a private pasture near Dillon about Aug. 15. The mass killing surpassed the number of sheep taken by wolves statewide in 2008.
None of the experts contacted by The Spokesman-Review said hunting will be a panacea. Limited seasons are just one of several options they'll need to help keep wolves from depleting their prey, acquiring a taste for livestock and being aggressive toward humans.
The ultimate challenge, they say, is keeping wolves from once again becoming socially unacceptable outside of national parks.
"Wolves are fully recovered in the Northern Rocky Mountain states," said Ed Bangs, the Helena-based U.S. Fish and Wildlife Service regional wolf recovery coordinator. "It's important to let the states manage them."
Joe Maurier, Montana Fish, Wildlife and Parks director, said his agency finally has the "full range of tools" to manage wolves.
"Our goal is to manage all Montana wildlife in balance with their habitats, other species and in balance with the people who live here," he said.
Bangs emphasized that wolves already are being culled, especially since the once-endangered species multiplied from the mid-'90s reintroductions.
"We have followed more than 1,100 radio-collared wolves since 1982," he said. "On average, about 10 percent a year are killed by agency control, about 10 percent from illegal killing and about 3 percent are accidentally killed, by vehicles and such.
"So about 23 percent of the Northern Rockies wolf population already is being harvested each year, and it's still growing at an annual rate of up to 20 percent."
Season quotas have been set, allowing hunters to take no more than 15 percent of the wolves in Montana and 22 percent in Idaho.
Carter Niemeyer, who traps wolves for Idaho Fish and Game, said hunters probably will not reach Idaho's statewide limit of 220 wolves.
Young, unsavvy wolves are likely to be the first to be killed, he told the Idaho Statesman this week. But wolves will learn quickly to be more elusive and wary of humans, he added.
That is a desired outcome, wolf experts say.
"I think the wilder we keep the animals the better it is," said David Mech, wildlife biologist and founder of the Minnesota-based International Wolf Center. "One way that's done is through hunting them."
Wild wolves that become unwary of humans are headed for trouble, he said.
"When we teach wolves to lose their fear of humans or associate humans with food, the chances of conflict greatly increase," Mech said. "The results can include dead pets, dead wolves, and, very rarely, attacks on people."
Luigi Boitani, a leading wolf authority in Europe, said a wolf that survives a shooting passes a learned fear of humans to the rest of the pack.
"The irony is that since shooting wolves was banned in Italy, people are poisoning them instead," Boitani said. "Poisoning does not allow for learning because there don't tend to be any survivors."
Wolves are likely to attack dogs when they have a chance and become aggressive to people accompanying the dogs, said Lu Carbyn, a leading Canadian government wolf authority, now retired in Edmonton.
"Hunting wolves is already allowed in Canada. It's a negative reinforcement that keeps wolves wild and more respectful of keeping a distance from people," he said.
"History has shown the most likely places for negative wolf encounters to occur are in protected areas or around industrial sites where for safety reasons people are prohibited from hunting or trapping wolves," said Mark McNay, Alaska Fish and Game biologist for 27 years and author of research on wolf encounters in Alaska and Canada.
Yellowstone National Park is a different story, said Doug Smith, the park's wolf project leader.
"Yellowstone wolves are not wild; they're tolerant," he said. "It's hard for wolves to stay wild in Yellowstone, where every year about 325,000 of the park's 3 million visitors actually see wolves."
Yellowstone officials have the authority to manage not just the wolves, but also the visitors. Wolves that show interest in developed areas are pounded with beanbags, cracker shells and rubber bullets. People who approach wolves or make food available to them are fined.
In May 2009, for the first time, Yellowstone officials shot and killed a troublesome young wolf near Old Faithful.
"It crossed the line and became a threat to human safety," Smith said. The incident was regrettable, he said, because a human was likely the first to cross the line by making food available to the wolf, either purposely or through carelessness.
"Wildlife managers outside the park have a much tougher time managing people," Smith said. "That may be their biggest problem."
Biologists say they are eager to learn if hunting will help reduce attacks on domestic livestock and the government's cost for tracking down and killing the offending wolves.
The U.S. Department of Agriculture spent more than $1 million on wolf control in the Northern Rockies in 2008, Bangs said.
Hunting should lead to at least some reduction in attacks on livestock.
"The wolves most likely to be harvested by hunters are the boldest, in the most open and accessible areas – the same type most likely to get into livestock problems," he said.
---