News > Features
Worthy goals aside, 'Brothers' falls short
Fri., Dec. 4, 2009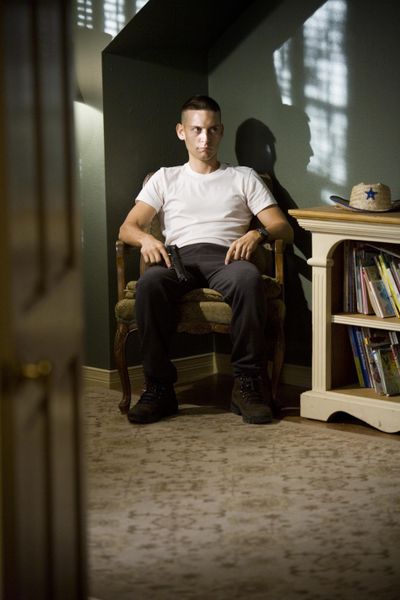 In "Brothers," it feels like the film's three young stars are playing house.
Tobey Maguire, Natalie Portman and Jake Gyllenhaal have all played memorable teenage characters, and each has maintained a youthfulness into their late 20s and 30s.
Here, they star in a suburban, domestic drama that extends all the way to Afghanistan.
Maguire is Capt. Sam Cahill, a decorated Marine and husband to his high school sweetheart, Grace (Portman), with whom he has two daughters.
Gyllenhaal is Sam's brother, Tommy (Gyllenhaal), the black sheep of the family who, at the movie's start, is just getting out of prison.
When Sam ships out to Afghanistan, he's presumed dead after a fiery helicopter crash. Grace is heartbroken from the loss, but finds support in a maturing Tommy. He helps around the house, plays with the kids and begins to have feelings for Grace.
All the while, we know Sam is not dead and has been taken prisoner. Under threat of death, he's forced to commit an unspeakable sin, an incident that damages and haunts him when he returns to his previously idyllic family life.
The possibility that his brother and his wife have become romantically involved causes him to explode in jealousy.
"Brothers" is a remake of Susanne Bier's 2004 Danish film "Brodre." It's a simple story and "Brodre" had an affecting, lyrical quality, a poetry lacking in director Jim Sheridan's sleeker, more sentimental film.
Staying almost scene-for-scene with the original, Sheridan ("My Left Foot," "In America") weaves the dual story lines – at home and in Afghanistan – building the tension for the inevitable clash between the separate worlds.
By distilling the story of war down to a single family, "Brothers" makes an impossibly complex story understandable and human. But missed are opportunities to expand the film, such as with Sam and Tommy's father, an alcoholic veteran played by Sam Shepherd.
In the end, "Brothers" hopes that healing can happen through confession and understanding. Ultimately, it's the need for the home front to know the pain of its sons and daughters fighting abroad.
It's a worthy lesson and the aspiration of "Brothers" is noble. But it can't preserve the intimacy of the original film, and the loosened characters slide into cliché.
Local journalism is essential.
Give directly to The Spokesman-Review's Northwest Passages community forums series -- which helps to offset the costs of several reporter and editor positions at the newspaper -- by using the easy options below. Gifts processed in this system are not tax deductible, but are predominately used to help meet the local financial requirements needed to receive national matching-grant funds.
Subscribe to the Coronavirus newsletter
Get the day's latest Coronavirus news delivered to your inbox by subscribing to our newsletter.
---