News > Spokane
Glacier Park brimming with stories
Centennial's scale as grand as scenery
Sat., Dec. 26, 2009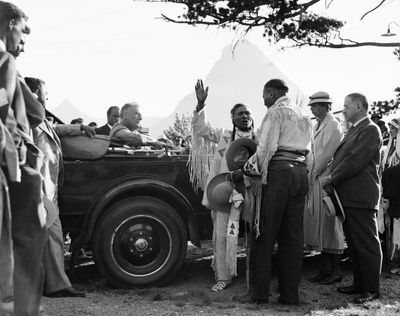 HELENA – The stunning scenery and bountiful wildlife of Glacier National Park have lured travelers for decades, but the human stories that unfolded there – some sweeping, some personal – are getting a share of the attention as the park commemorates its 100th anniversary.
"People have these amazing stories, their own histories associated with the park," said Jennifer Bottomly-O'looney, curator at the Montana Historical Society.
"We talk to people who visit the park and they all have something in their heart associated with it," she said.
Glacier became a national park on May 11, 1910. The centennial commemoration, which is already under way, includes a rededication ceremony on May 11 and an array of concerts, movies, art exhibits, history conferences and other events.
Glacier spans more than 1 million acres, or about 1,600 square miles, against the U.S.-Canadian border. Besides its two dozen glaciers, 175 mountains and 760 lakes, the park is home to animals ranging from mice to grizzly bears, plus hundreds more species of birds, fish and plants.
Just across the border is Canada's Waterton Lakes National Park. The U.S. and Canada designated the two parks the Waterton-Glacier International Peace Park in 1932.
Archaeological evidence indicates humans were in Glacier 10,000 years ago, Bottomly-O'looney said. Both the Blackfeet Nation on the park's east side and the Confederated Salish and Kootenai Tribes on the west side gathered food and found spiritual solace there long before it was a park.
"What makes the park come alive are not just the park's natural and cultural sites, not just the landscape, but people's experience on that landscape," said Chas Cartwright, the park superintendent.
Glacier's centennial committee published a book, "A View Inside Glacier National Park: 100 Years, 100 Stories," with recollections from visitors, residents, park employees and others.
Some of the park's stories are ugly. In 1895, under pressure from miners hoping to find copper and gold, the federal government pressed the Blackfeet into selling the government thousands of acres, land that would later become the east side of the park.
"They forced a sale upon us," said Jack Gladstone, a Blackfeet Indian singer-songwriter who specializes in Native American myth, legend and history.
But the land grab had a silver lining, he said. Had the area remained under Indian control, it might have been "sliced and diced and sold off" when federal law allowed tribal members to sell their individual land allotments. Instead, when no valuable minerals were found, it was kept intact.
"What was in the short term a curse and really a debacle turned into probably about as good as it could have been because of the enhanced protection afforded by Glacier as a national park, a national treasure," he said.
"What is important from our Blackfeet perspective is that this is where our identity was born and this is where we became consciously aware of ourselves as human beings on Earth," Gladstone said.
Cartwright said a long-delayed exhibit on Indians' place in Glacier history will open at a visitor center next year.
James Steele Jr., chairman of the Confederated Salish and Kootenai, said he's pleased with the park's effort to tell their side.
Gladstone said he's waiting to see how the commemoration plays out before deciding how well the Blackfeet story is recounted.
Some of Glacier's other stories are about grand human accomplishments. The Great Northern Railway built a series of elegant hotels and picturesque chalets in the park in the early 1900s that still shelter guests today. Going-to-the-Sun Road, an engineering feat that seems to cling to vertical mountainsides, was finished in 1933.
Still other park stories are personal. Glacier ranger Kassandra Hardy, the park's centennial coordinator, recalls seeing a man in his 80s leafing through "A View Inside Glacier Park" when he realized he had witnessed one of the events recounted in the book.
"Tears came to his eyes and he pulled the book to his chest and said, 'I love Glacier Park,' " Hardy said.
Documentary filmmaker Ken Burns, whose series "The National Parks: America's Best Idea" aired on PBS this year, recalled taking a short but memorable hike in Glacier with his young daughter.
"It's not so much what you see but who you see it with that matters so much in the national parks," Burns said in an interview. "It's part of the same alchemy of the national parks."
Dayton Duncan, co-producer with Burns of the PBS series, calls Glacier "kind of a Rosetta stone" of the national parks.
Glacier's history encapsulates the campaigns of the early conservationists, the railroad-driven rise of tourism and the U.S. government's tumultuous relationship with Native Americans, Duncan said. He also called it an ideal place to monitor environmental change.
Local journalism is essential.
Give directly to The Spokesman-Review's Northwest Passages community forums series -- which helps to offset the costs of several reporter and editor positions at the newspaper -- by using the easy options below. Gifts processed in this system are not tax deductible, but are predominately used to help meet the local financial requirements needed to receive national matching-grant funds.
Subscribe now to get breaking news alerts in your email inbox
Get breaking news delivered to your inbox as it happens.
---