News > Business
GM subsidizes sale of Pontiacs and Saturns
Incentives of $7,000 per car let dealers drop their prices
Wed., Dec. 30, 2009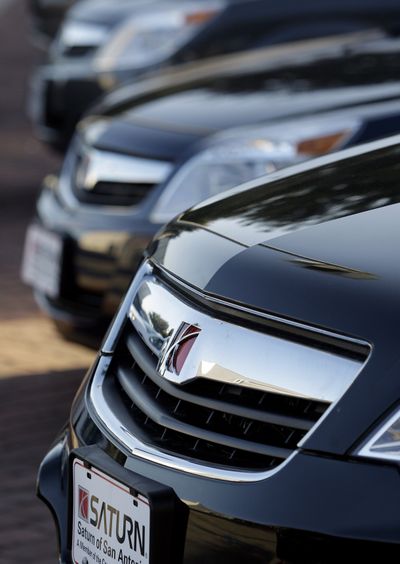 DETROIT – General Motors Co. is paying dealers $7,000 for remaining Saturn and Pontiac models in what amounts to a sweetened incentive aimed at clearing inventories of the discontinued brands, company offices and dealers said Tuesday.
The plan, which is in effect through Jan. 4, allows dealers to sell the remaining vehicles as used cars at whatever price they want, but any sales will count toward GM's December new vehicle sales numbers.
As of Nov. 30, Pontiac dealers had 8,500 vehicles in stock and Saturn dealers had 5,700 throughout the United States, said GM spokesman Tom Henderson.
While dealers were notified of the program earlier this month, publicizing it now will certainly stimulate year-end sales, but not necessarily at a profit.
Jerry Seiner, a large GM dealer with two Pontiac showrooms in the Salt Lake City area, said his stock of Pontiacs is down to about 30 days' supply, which he is confident he can sell with or without the latest discount. He said current incentives of some Pontiac models have been running at as much as $6,500 before this program kicked in.
"The goal is to get those units out of inventory so we can move on," Seiner said. "With sadness, we're taking the Pontiac name off our license plate frames."
Such models as the Pontiac G3, G5, G6, G8, Solstice and Torrent, and Saturn Sky, Aura, Astra and Outlook will be classified as rental fleet vehicles. But buyers will still have new car warranty coverage, minus the miles they are driven before they are sold, Seiner said.
The program does not apply to Hummer or Saab vehicles.
Local journalism is essential.
Give directly to The Spokesman-Review's Northwest Passages community forums series -- which helps to offset the costs of several reporter and editor positions at the newspaper -- by using the easy options below. Gifts processed in this system are not tax deductible, but are predominately used to help meet the local financial requirements needed to receive national matching-grant funds.
Subscribe to the Coronavirus newsletter
Get the day's latest Coronavirus news delivered to your inbox by subscribing to our newsletter.
---