Sports
Pac-10 title up for grabs
Wed., Dec. 30, 2009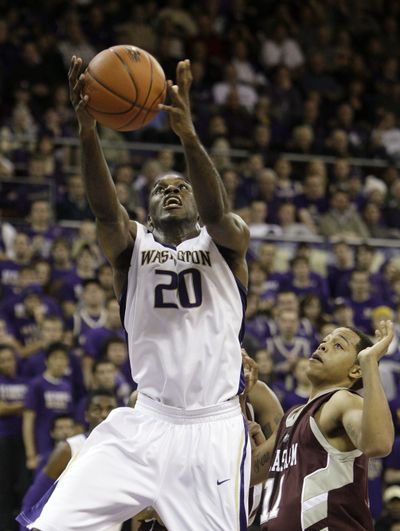 PULLMAN – What's going on in the Pacific-10 Conference?
UCLA loses at home to Cal State Fullerton and by 37 points to Portland – then loses its starting center.
Arizona, with 25 consecutive NCAA tournament appearances, loses by 30 to BYU – at home.
Oregon State opens the season with a 24-point loss to Texas A&M-Corpus Christi – and loses at home to Sacramento State.
The Mountain West's top three teams, BYU, New Mexico and UNLV, are 4-1 against the conference.
The WCC has six wins against Pac-10 schools, the Big West and Big Sky two apiece.
"I see it being a little bit down compared to the last few years," said Washington State University head coach Ken Bone, whose Cougars open conference play Thursday afternoon by hosting Oregon.
"When you lose so many kids to the NBA and guys are leaving early, then (the conference) is going to take a hit."
Bone's point is well taken. In the last three NBA drafts, 17 Pac-10 players were chosen in the first round, including 10 who could still be playing college basketball.
The conference has overcome draft losses before, but the 2009-10 season is one that will seemingly be dominated by youth and be without a true favorite.
"There's no clear-cut, dominant team (in the Pac-10)," Oregon coach Ernie Kent said this week. "I think it's up for grabs, because it's going to come down to consistency."
The most consistent teams so far have been in Washington, with the Huskies ranked 15th in the nation and the Cougars posting a surprising 10-2 record, with their two losses coming on the road to ranked teams.
"There are some teams, like Oregon, USC, UCLA, a few teams out there that have had their share of injuries, or, like us, very young teams," Bone said. "Now some of those teams are playing better and better as of late."
Here's a team-by-team look at the conference in predicted order of finish, along with the non-conference record and where the school was picked in the Pac-10's preseason media poll.
1. Washington Huskies (9-2)
Picked to finish: Second
So far: The defending champions haven't ventured out of the Hec Edmundson Pavilion often, with losses at Texas Tech (ranked 20th this week) and against Georgetown (13th) in Anaheim. But they've also handled then-No. 19 Texas A&M and every other foe to venture into Seattle. … UW is ranked 15th in this week's Associated Press poll, the only Pac-10 team in the top 25.
Surprises: Highly touted freshman Abdul Gaddy has struggled, shooting 31.5 percent from the floor, 8.3 percent beyond the arc. … Sophomore guard Scott Suggs has played well off the bench, averaging 15 minutes and hitting 40 percent of his 3-point attempts.
Scoring leader: Quincy Pondexter, 21.9; Rebounds: Pondexter, 8.4; Assists: Venoy Overton, 3.4.
2. California Golden Bears (8-4)
Picked to finish: First
So far: The road hasn't been kind to Cal, perfect in five home games. The losses have come in New York (to No. 5 Syracuse and No. 15 Ohio State), at No. 19 New Mexico and last week at No. 1 Kansas, a game in which the Bears stayed close until late.
Surprises: The loss of 6-foot-8 Harper Kamp to season-ending knee surgery has stripped the Bears of inside depth. … Jamal Boykin has become a monster on the boards, grabbing a career-best 15 rebounds in the Kansas loss.
Scoring leader: Jerome Randle, 19.2; Rebounds: Boykin, 7.7; Assists: Randle, 5.0.
3. Arizona State (10-3)
Picked to finish: Seventh
So far: The Sun Devils have had some decent wins, including routing USF and LSU, two teams that recently lost to UW and WSU, respectively. But they've also lost at home to Baylor and by 13 on the road at BYU.
Surprises: Ty Abbott has found a shooting touch, hitting 43.8 percent behind the arc. He shot 32.4 from that distance his first two seasons. … Point guard Derek Glasser is taking care of the ball, turning it over about two times a game despite averaging more than 32 minutes.
Scoring leader: Rihards Kuksiks, 11.8; Rebounds: Eric Boateng, 6.3; Assists: Glasser, 5.7.
4. Washington State (10-2)
Picked to finish: Eighth
So far: The Cougars haven't played an overly tough schedule, but their only losses have been to ranked teams on the road (then No. 17 Gonzaga and Kansas State, now 12th). … Wing Klay Thompson has emerged as one of the nation's best scorers, third in the NCAA in the most recent statistics. … WSU has won four consecutive games.
Surprises: Freshman point guard Reggie Moore is not only averaging more than five assists per game, but also 12.6 points. … Wing Marcus Capers shot 29 percent from the floor last season. The sophomore has raised that to 54 percent this year.
Scoring leader: Thompson, 25.0; Rebounds: DeAngelo Casto, 7.3; Assists: Moore, 5.1.
5. USC (8-4)
Picked to finish: Ninth
So far: The Trojans have played well recently – or since Mike Gerrity has been eligible. The transfer from North Carolina-Charlotte (and Pepperdine before that) moved into the lineup four games ago and USC has won them all, including upsets of then No. 9 Tennessee and UNLV. … USC has won six consecutive games.
Surprises: The entire season. Kevin O'Neill was hired to clean up the mess left behind by former coach Tim Floyd, accused of recruiting violations. The Trojans lost most of their recruits, and had three players leave early for the NBA. … Dwight Lewis, last year's leading scorer, is struggling, shooting just 26.2 percent from beyond the arc. He hit 37.9 percent last season.
Scoring leader: Gerrity, 14.8; Rebounds: Nikola Vucevic, 9.8; Assists: Gerrity, 4.3.
6. Oregon (8-4)
Picked to finish: Sixth
So far: The Ducks have been hit with as many injuries as anyone in the conference, with inside presence Joevan Catron (back) having not played in more than a month and Josh Crittle (ankle) and Tajuan Porter (ankle) having missed a handful of games each. … Oregon has won four consecutive games. … The Ducks have played just twice on the road, losing both.
Surprises: A home loss to Montana, though neither Catron nor Michael Dunigan played. … Dunigan, the 6-10 sophomore, slimmed down over the offseason. The lighter version is averaging 10.6 points – including a career-high 26 Monday night – and 4.4 rebounds.
Scoring leader: Porter, 11.0; Rebounds: Catron, 5.8; Assists: Malcom Armstead, 4.2.
7. Arizona (6-6)
Picked to finish: Fourth
So far: Until their final non-conference game (see below), the Wildcats have played a series of close contests. But they've fallen short in enough that the Cats' string of 25 consecutive NCAA appearances seems in real jeopardy. … Senior Nic Wise, playing for his fourth coach, hit two game-winning shots in three days.
Surprises: A 30-point home loss to BYU on Monday in which Jimmer Fredette scored a McKale Center-record 49 points. … Freshman Derrick Williams, who originally committed to USC, is averaging 15 points and 6.4 rebounds.
Scoring leader: Wise, 16.3; Rebounds: Jamelle Horne, 7.9; Assists: Wise, 4.0.
8. UCLA (5-7)
Picked to finish: Third
So far: At one point the Bruins lost five consecutive games, including a 74-47 blowout by the University of Portland. … Center Drew Gordon, who led UCLA in scoring two of its first three games, has left the team and will transfer.
Surprises: UCLA opened the season with a double-overtime loss to Cal State Fullerton in Pauley Pavilion. The Bruins also lost to Long Beach State. … 6-9 wing Nikola Dragovic, who is facing a felony assault charge, is shooting just 21.7 percent beyond the arc.
Scoring leader: Malcolm Lee, 14.5; Rebounds: Reeves Nelson, 5.8; Assists: Jerime Anderson, 4.3.
9. Oregon State (6-5)
Picked to finish: Fifth
So far: The Beavers struggled from the start, losing their opener to Texas A&M-Corpus Christi by 24 points. … They've also lost at home to Sacramento State and at Illinois-Chicago Circle.
Surprises: Oregon State is turning the ball over nearly 18 times a game after averaging just more than 13 last year. … Six different Beavers have led the team in scoring in their 12 games.
Scoring leader: Seth Tarver, 13.4; Rebounds: Tarver, 5.2; Assists: Tarver, 2.2.
10. Stanford (6-6)
Picked to finish: 10th
So far: The Cardinal started better than expected, including a win against Virginia and a near upset of then-No. 5 Kentucky … Stanford is on a three-game losing streak. … Senior forward Landry Fields is sixth in the nation in scoring.
Surprises: Sophomore Jarrett Mann has filled a void at point guard after playing no more than 15 minutes in a game last season. … Senior Drew Shiller has found the range from outside, hitting 52.2 percent of his 3-point shots.
Scoring leader: Fields, 23.4; Rebounds: Fields, 9.0; Assists: Mann, 5.6.
Local journalism is essential.
Give directly to The Spokesman-Review's Northwest Passages community forums series -- which helps to offset the costs of several reporter and editor positions at the newspaper -- by using the easy options below. Gifts processed in this system are not tax deductible, but are predominately used to help meet the local financial requirements needed to receive national matching-grant funds.
Subscribe to the sports newsletter
Get the day's top sports headlines and breaking news delivered to your inbox by subscribing here.
---
Subscribe and log in to the Spokesman-Review to read and comment on this story