News > Nation/World
Combat gear's weight triggers injury spike
Filling units harder for Army; lighter load a goal
Sun., Feb. 1, 2009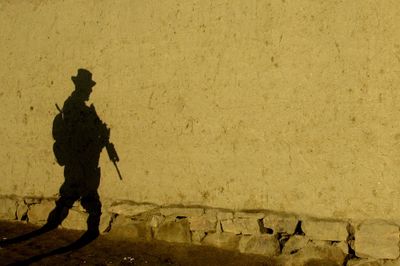 WASHINGTON – Carrying heavy combat loads is taking a quiet but serious toll on troops deployed to Iraq and Afghanistan, contributing to injuries that are sidelining them in growing numbers, according to senior military and defense officials.
Rising concern over the muscle and bone injuries – as well as the hindrance caused by the cumbersome gear as troops maneuver in Afghanistan's mountains – prompted Army and Marine Corps leaders and commanders to launch initiatives last month that will introduce lighter equipment for some U.S. troops.
As the military prepares to significantly increase the number of troops in Afghanistan – including sending as many as 20,000 more Marines – fielding a new, lighter vest and helmet is a top priority, Marine Corps Commandant Gen. James Conway said recently. "We are going to have to lighten our load," he said, after inspecting possible designs at Marine Corps Base Quantico in Virginia.
Army leaders and experts say the injuries – linked to the stress of bearing heavy loads during repeated 12- or 15-month combat tours – have increased the number of soldiers categorized as "non-deployable." Army personnel reported 257,000 acute orthopedic injuries in 2007, up from 247,000 the previous year.
As injuries force more soldiers to stay home, the Army is having a harder time filling units for upcoming deployments to Afghanistan and Iraq, said Gen. Peter Chiarelli, the service's vice chief of staff.
"There is no doubt that (in) our non-deployable rates, we're seeing increase," he said. "I don't want to see it grow any more."
The number of total non-deployables has risen by an estimated 2,000 to 3,000 since 2006, putting the current figure at about 20,000, according to Chiarelli. "That occurs when you run the force at the level we're running it now," he said.
"You can't hump a rucksack at 8,000 to 11,000 feet for 15 months, even at a young age, and not have that have an impact on your body, and we are seeing an increase in muscular-skeletal issues," Chiarelli told reporters last month.
The top U.S. commander for eastern Afghanistan, where the bulk of U.S. troops in the country operate, has issued a formal request, known as an operational needs statement, for lighter body armor for troops there. The new equipment, called a "plate carrier," would protect vital organs and weigh less than 20 pounds. It would not include additional pieces that troops currently use to shield sides, shoulders, arms, the groin and other areas – pieces that, with a helmet, weigh about 35 pounds.
The military has added to its protective gear in recent years to guard against improvised bombs and other threats common in Iraq and Afghanistan, but that has come with a trade-off, as soldiers and Marines routinely carry more than half their body weight into combat.
Individual Marine combat loads – including protective gear, weapons, ammunition, water, food and communications gear – range from 97 to 135 pounds, well over the recommended 50 pounds, a 2007 Navy study found.
In Afghanistan, soldiers routinely carry loads of 130 to 150 pounds for three-day missions, said Jim Stone, acting director of the soldier requirements division at the Army Infantry Center at Fort Benning, Ga. In Iraq, where patrols are more likely to use vehicles, loads range from 60 to nearly 100 pounds, he said.
"It's like a horse: We can load you down, and you just don't last as long," Stone said.
Injuries – the bulk of them musculoskeletal – are the main cause of hospitalizations and outpatient visits for active-duty Army soldiers, leading to about 880,000 visits per year, according to Army data. The injuries include sprains, stress fractures, inflammation, and pain from repetitive use, and they are most common in the lower back, knees, ankles, shoulders and spine.
Local journalism is essential.
Give directly to The Spokesman-Review's Northwest Passages community forums series -- which helps to offset the costs of several reporter and editor positions at the newspaper -- by using the easy options below. Gifts processed in this system are not tax deductible, but are predominately used to help meet the local financial requirements needed to receive national matching-grant funds.
Subscribe to the Coronavirus newsletter
Get the day's latest Coronavirus news delivered to your inbox by subscribing to our newsletter.
---
Subscribe and log in to the Spokesman-Review to read and comment on this story