News > Nation/World
Islamist cleric sworn in as Somalia's president
Moderate views make him popular with most factions
Sun., Feb. 1, 2009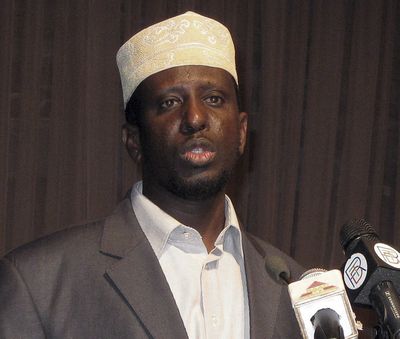 NAIROBI, Kenya – A moderate Islamist cleric was sworn in Saturday as Somalia's new president, a widely popular choice that could mark a turning point for the troubled Horn of Africa nation.
Sheik Sharif Ahmed, who led a federation of Islamic courts that briefly ruled southern Somalia in 2006, is a former schoolteacher who's respected by Western officials and ordinary Somalis alike. Analysts say he might be the leader best equipped to unite Somalia's fractious mix of clans, warlords and Islamist insurgents.
The boyish-looking Ahmed, who's in his 40s, takes over a country where the United Nations says more than 3 million people – half the population – need urgent humanitarian aid. The interim government also is under threat from a powerful Islamist group known as al Shabaab, which is on the U.S. list of foreign terrorist groups and controls much of southern Somalia, including the parliamentary seat of Baidoa and chunks of the capital, Mogadishu.
Ahmed immediately pledged to negotiate with the insurgents, a sharp departure from his predecessor, Abdullahi Yusuf, whose stubborn refusal to open talks with rivals lost him the support of African and Western countries that are bankrolling Somalia's long – and so far fruitless – peace process. The septuagenarian Yusuf, a secular warlord-turned-politician, resigned in December, forcing Saturday's parliamentary vote on a new president.
With hardly anywhere in Somalia safe for the government, Ahmed was selected by parliamentarians meeting in neighboring Djibouti.
"He's the most popular leader in Somalia and the best person for this position and time," said Ali Said, director of the Center for Peace and Democracy, an independent Somali civic group operating in exile in Kenya. "His Islamist background is important."
Ahmed's selection capped a remarkable political comeback. The Libya-educated lawyer and scion of a powerful Somali clan is credited with restoring law and order in the six months that the Islamic courts controlled chronically violent Mogadishu.
Ahmed favored a moderate form of Islamic religious law, but he was eventually sidelined by hard-liners within the Islamic courts. In late 2006 he fled to Djibouti while neighboring Ethiopia, with U.S. backing, invaded Somalia to drive the Islamists from power.
The invasion triggered a violent Islamic insurgency that was led by al Shabaab, which began as the militant wing of the Islamic courts and helped bring Ahmed to power. As al Shabaab grew more radicalized – using roadside bombings and suicide attacks reminiscent of the worst days of the insurgency in Iraq – the group turned on Ahmed, accusing him and the government of being pawns of the West.
Following Ahmed's selection as president, a senior al Shabaab leader pledged to launch new attacks on the government, Somalia media reported.
Local journalism is essential.
Give directly to The Spokesman-Review's Northwest Passages community forums series -- which helps to offset the costs of several reporter and editor positions at the newspaper -- by using the easy options below. Gifts processed in this system are not tax deductible, but are predominately used to help meet the local financial requirements needed to receive national matching-grant funds.
Subscribe to the Coronavirus newsletter
Get the day's latest Coronavirus news delivered to your inbox by subscribing to our newsletter.
---
Subscribe and log in to the Spokesman-Review to read and comment on this story