News > Nation/World
Security gains likely to benefit Al-Maliki
Sun., Feb. 1, 2009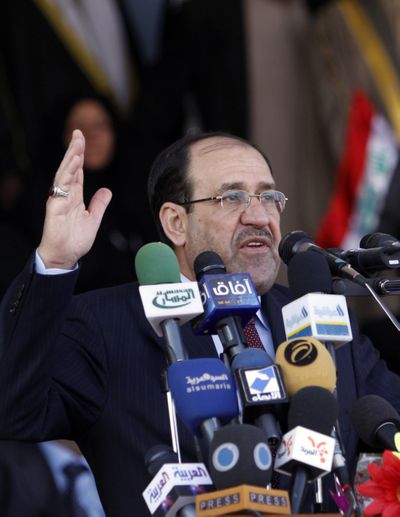 BAGHDAD – A young Sunni man strolling along the Tigris River hesitated when asked whom he had voted for in provincial elections Saturday. Then he gave an answer that would have seemed unthinkable during the depths of Iraq's bloody civil war: "Our prime minister" – the Shiite head of the government, Nouri al-Maliki.
Along Haifa Street, where high-rises once served as shooting galleries for Sunni gunmen battling U.S. troops, another Sunni voter was coy about his choice but hinted that he too is pleased with the job al-Maliki has done. "Definitely I'm happy," the elderly man said when asked his opinion of the current state of affairs in Iraq.
Four years ago, during Iraq's last provincial elections, most Sunnis boycotted the vote, leaving the country's powerful provincial councils dominated by the ascendant Shiites and Kurds. This time the Sunnis took part, but that won't necessarily hurt al-Maliki as he seeks to solidify his Islamic Dawa Party's hold on power.
Sectarianism certainly remains an issue here, but in some voters' minds, it's trumped by the improved security that al-Maliki, rightly or wrongly, is credited with bringing to once-lawless parts of Iraq.
Underscoring the security gains were the latest death tolls from war-related violence, released Friday: 189 civilians and Iraqi security forces were killed in January, the lowest total since April 2003, when the initial ground war of the U.S.-led invasion ended.
"When there are insurgents on the Sunni side, he hits them. When there are insurgents on the Shiite side, he hits them," the riverside stroller, Wissam Hussam, said of al-Maliki, whom he initially distrusted on sectarian grounds but has grown to admire.
Such views bode well for al-Maliki, who faces national elections later this year and would like to use a strong showing in this vote to hinder his rivals, be they Kurds in the north, rival Shiites in the south, secularists, or Sunni parties.
Provisional results from the vote are expected in several days, and final results verified by international observers won't be known for about a month. Late Saturday, the plastic tubs stuffed with the poster-size ballots used for voting were being emptied by election workers for transport to a central counting center inside Baghdad's Green Zone.
Election officials and police reported no major violence, compared with Jan. 30, 2005, voting in which 17 people were killed. A driving ban was in effect for most of the day, turning Baghdad's normally traffic-choked streets into soccer fields for boys and young men using boxes and rocks as goal posts. Smartly dressed families strolled together to polling stations, past rows of chickens roasting on cafe spits and old men sipping tea and watching the procession from the city's broken sidewalks.
Many adults headed to vote with children in tow, a sign that the security fears of the past were gone.
But there were problems, with some voters saying their names did not appear on polling station voter rolls, denying them the chance to cast ballots. In some cases, people had gone to the wrong polling stations, not realizing they were supposed to vote only at their assigned location.
Some voters said there was no reason for their names to be missing.
Other voters were assigned polling places far from home, and a driving ban made it difficult for them to reach their polls. The ban, originally scheduled to remain through the night, was lifted at 3 p.m., and voting was extended an hour past the scheduled closing time, until 6 p.m., to give people more time to vote.
Since March, when al-Maliki launched a surprise offensive against Shiite militiamen in the southern city of Basra, his public image has changed. His metamorphosis from a supposedly weak leader struggling to earn respect from fellow lawmakers to a strongman exerting his authority quickly began drawing accusations from political rivals that he was a despot.
In the campaign's final days, al-Maliki launched a charm offensive in major cities, preaching against sectarianism and insisting that the election process itself – not the result – was the important thing.
"Saturday must be an electoral wedding party," he said Thursday in the northern city of Mosul, where he urged Iraqis to "send a message to the world" that they no longer defined themselves according to religious sect.
Local journalism is essential.
Give directly to The Spokesman-Review's Northwest Passages community forums series -- which helps to offset the costs of several reporter and editor positions at the newspaper -- by using the easy options below. Gifts processed in this system are not tax deductible, but are predominately used to help meet the local financial requirements needed to receive national matching-grant funds.
Subscribe to the Coronavirus newsletter
Get the day's latest Coronavirus news delivered to your inbox by subscribing to our newsletter.
---
Subscribe and log in to the Spokesman-Review to read and comment on this story