News > Features
Time for Super Bowl TV ad trivia
Football-free quiz is for everyone
Sun., Feb. 1, 2009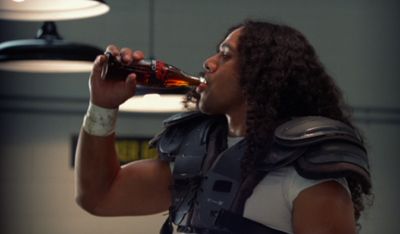 All those years of sitting on the couch and consuming mass quantities of pizza on Super Bowl Sunday are about to pay off.
You've seen a bazillion ads. You've watched scads of superstar halftime shows. Now test your knowledge by taking this trivia quiz.
The questions are a football-free zone, so you don't need to be a sports fan to play. Answer XV or more correctly and you're meaner than Joe Greene. Get X or more right and you qualify as an honorary Clydesdale.
A score less than X means you'd probably rather watch the "America's Next Top Model" rerun-fest on Oxygen, right?
1. The 1973 Super Bowl featured a sexy ad with Joe Namath's face being covered in shaving cream by:
A) Future "Charlie's Angels" star Farrah Fawcett
B) Future "Wonder Woman" star Lynda Carter
C) Future "Bionic Woman" star Lindsay Wagner
2. The acclaimed 2000 ad for EDS involved grizzled cowboys who herded:
A) Rabbits
B) Cats
C) Hamsters
3. When Motown's own diva Diana Ross finished her half-time performance in 1996, she made a dramatic exit from the field in a:
A) helicopter
B) jet-pack
C) chariot
4. The dogs appearing in Animal Planet's "Puppy Bowl" have something in common. They're all:
A) breeds being considered as Obama family pets
B) recruits from animal shelters
C) borrowed from Steelers and Cardinals fans
5. True or false: For counter programming, the DIY network is running a "Toilet Bowl Marathon" with hours of programming on bathroom renovations.
A ) True
B ) False
6. Janet Jackson's notorious wardrobe malfunction in 2004 happened as she teamed with Justin Timberlake on the song:
A) "Rock Your Body"
B) "Nasty"
C) "Escapade"
7. This year, a Coke Zero ad with Pittsburgh Steeler Troy Polamalu will re-create the 1980 Super Bowl's classic Coca-Cola ad with Mean Joe Greene, a spot so popular that it inspired a:
A) Broadway musical
B) Sitcom pilot
C) Made-for-TV movie
8. Last year's Audi ad took a shocking moment from a great American movie and gave it a clever twist. The scream-worthy scene originally came from:
A) "The Terminator"
B) "Jaws"
C) "The Godfather"
9. This famous entertainer with an unforgettable voice crawled on a ceiling, poured coffee on a keyboard and generally disrupted a workplace in an adorably silly ad in 2007 for Emerald Nuts:
A) Robert Goulet
B) Sean Connery
C) James Earl Jones
10. In 1993 at the halftime show in Pasadena, Michael Jackson performed "Heal the World" accompanied by:
A) Bubbles the chimp
B) Dancing zombies
C) 3,500 local schoolchildren
11. True or false: Some 30-second spots are selling for up to $2 million, which is down from 2008's $2.7 million average.
A) True
B) False
12. A cinematic gimmick will be featured in a few commercials, including one for the upcoming DreamWorks film "Monsters vs. Aliens." Get ready for:
A) Smell-o-vision
B) 3D
C) Sensurround
13. Why is the Super Bowl so important to advertisers, even in an economic crisis? Because last year's audience was an estimated
A) 77.5 million
B) 87.5 million
C) 97.5 million
14. The Super Bowl is a hot destination for touting upcoming blockbuster films. Two of these flicks are expected to be previewed. Pick the one that's not:
A) The "Star Trek" prequel
B) The "Transformers" sequel
C) The "Sex and the City" sequel
15. Budweiser's 2004 "Sleigh Ride" ad with the gassy horse was reminiscent of a "Seinfeld" episode where Kramer fed a carriage horse a canned food called:
A) Pastariffic
B) Beefareeno
C) Spaghetti No's
16. A 2002 commercial that helped revitalize Cadillac's image got a musical boost from the song playing in the background, namely:
A) Led Zeppelin's "Rock and Roll"
B) Journey's "Don't Stop Believin"'
C) The Police's "Roxanne"
17. A memorable 2003 ad featured office linebacker Terry Tate, who tackled his co-workers with unexpected body slams. But can you remember the company it promoted?
A) OfficeMax
B) Sierra Mist
C) Reebok
18. The game-changing Apple "1984" ad put more emphasis than ever on the quality and visual flair of commercials. It was directed by:
A) Ridley Scott
B) James Cameron
C) Steven Spielberg
19. True or false: The special episode of "The Office" following today's game will have guest appearances by Jessica Alba and Jack Black.
A) True
B) False
20. Last year's National Anthem was sung by a pop star who appeared on "American Idol." The singer was:
A) Clay Aiken
B) Carrie Underwood
C) Jordin Sparks
Answers
1. A) Future "Charlie's Angels" star Farrah Fawcett
2. B) Cats
3. A) Helicopter
4. B) Recruits from animal shelters
5. True: The Toilet Bowl Marathon will air on the DIY network.
6. A) "Rock your body"
7. C) Made-for-TV movie
8. C) "The Godfather"
9. A) The late Robert Goulet
10. C) 3,500 local schoolchildren
11. False: 30-second commercials are going for as much as $3 million.
12. B) 3 D
13. C) 97.5 million
14. C) The "Sex and the City" sequel
15. B) Beefareeno
16. A) Led Zeppelin's "Rock and Roll"
17. C) Reebok
18. A) Ridley Scott
19. True: Guest stars on "The Office" will be Jessica Alba and Jack Black.
20. C) Jordin Sparks
Local journalism is essential.
Give directly to The Spokesman-Review's Northwest Passages community forums series -- which helps to offset the costs of several reporter and editor positions at the newspaper -- by using the easy options below. Gifts processed in this system are not tax deductible, but are predominately used to help meet the local financial requirements needed to receive national matching-grant funds.
Subscribe now to get breaking news alerts in your email inbox
Get breaking news delivered to your inbox as it happens.
---