News > Nation/World
Boxer pushes energy measure
She aims to create jobs, check climate change
Wed., Feb. 4, 2009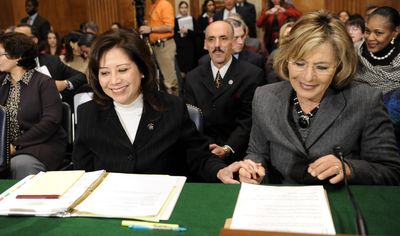 WASHINGTON – Sen. Barbara Boxer on Tuesday announced that the Senate Environment and Public Works Committee would draft a new climate bill that would help consumers avoid higher prices and create new jobs in clean energy.
"We all understand the urgent need for action, and this is a great way to reinvigorate the economy," Boxer said as she outlined the principles she wanted included in a bill to limit and lower greenhouse gas emissions.
Boxer, a California Democrat, said she aimed to get the bill passed by Congress before international negotiators meet in Copenhagen, Denmark, in December to negotiate the final form of a treaty with binding limits on emissions globally.
The bill's prospects are uncertain. Boxer outlined only general principles and no details, but no Republican members of her committee endorsed them. Some Senate Democrats from coal-dependent states also have raised concerns about plans to put mandatory limits on greenhouse gas emissions.
Rep. Henry Waxman, D-Calif., is drafting a separate climate bill in the House of Representatives, and differences between the two versions eventually would have to be worked out.
Boxer urged the environmentalists and business leaders who support her bill – and who packed a hearing room for her press conference about her basic principles for it – to rally support for it even before it takes shape.
"The message has to be, don't allow talk of an economic recession to stop our work because in fact the surest way to create good jobs in this country is to mobilize for clean energy independence," she said. "If you want to fight this recession, do it by mobilizing to become energy independent with clean energy and really save this planet."
The basic approach is to set a limit on greenhouse gas emissions that would decline each year and require companies to buy tradable permits for the pollution they generate. The system would create incentives for companies to produce non-polluting energy such as wind and solar.
Boxer's principles, endorsed by the other Democrats on her committee but by none of its Republicans, called for reducing emissions to levels guided by scientific research to avoid global climate disruption. She didn't announce specific reduction figures.
She also called for giving an unspecified percentage of funds from the sale of pollution permits to consumers so that they wouldn't suffer economic losses while the nation makes a transition to nonpolluting energy.
Some of the money also would go to investments in clean energy technology and energy efficiency, help for workers and manufacturers in the transition period, support for wildlife and plants threatened by global warming, and aid for developing countries hard hit by climate change.
Boxer said the bill also should create a level playing field by providing incentives and deterrents so that other countries also would reduce emissions.
Local journalism is essential.
Give directly to The Spokesman-Review's Northwest Passages community forums series -- which helps to offset the costs of several reporter and editor positions at the newspaper -- by using the easy options below. Gifts processed in this system are not tax deductible, but are predominately used to help meet the local financial requirements needed to receive national matching-grant funds.
Subscribe to the Coronavirus newsletter
Get the day's latest Coronavirus news delivered to your inbox by subscribing to our newsletter.
---