News > Spokane
Court's focus is recovery, not penalty
Program steers defendants with mental illness toward treatment, housing
Thu., Feb. 5, 2009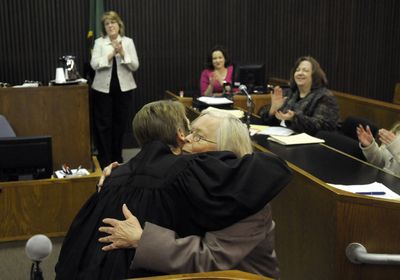 Two years ago, Vicki Palanuik was a mentally troubled methamphetamine addict, going nowhere fast.
She was estranged from the four children she'd neglected while on drugs and was jailed on domestic violence charges. Her untreated mental illness caused immense mood swings and anger. She'd been homeless for six years.
Today, the 53-year-old grandmother born on the Blackfeet Reservation near Browning, Mont., is a new woman thanks to an innovative court program for mentally ill people charged with low-risk offenses.
On Wednesday, along with five others, Palanuik graduated from Spokane County's Mental Health Therapeutic Court with the support of her family and plans for the future.
It's the second graduation ceremony for the court, expanded after Spokane County voters approved a 0.1 percent sales tax increase to pay for services for the mentally ill in 2005. The program takes from a year to 18 months to complete.
Spokane County District Court Judge Sara Derr, who runs the special court to provide an alternative to jail for the mentally ill, gave Palanuik a big hug. Palanuik's sister Dale Petersen, her daughter Jennifer Palanuik and her granddaughter, 5-month-old Mariah Powell, were there to watch.
Derr described Palanuik's difficult journey. After "couch-surfing" as a homeless woman, getting kicked out of Spokane Mental Health and spending time in jail, "something clicked with Vicki – 'If I'm clean and sober, my family will be back with me.' … She is one of our greatest success stories," Derr said.
The judge handed Palanuik her graduation certificate and an even more important document – a signed court order ending her probation and dismissing her criminal charges for domestic violence and breaking a restraining order.
An emotional Palanuik described how the mental health court helped her get the proper medications to control her bipolar disorder and manic depression, got her into counseling, and allowed her to move in with her daughter as she recovered.
"I was miserable, an addict with no home. I was on the road to self-destruction … .Without you, I would have failed," she said through tears.
Her next goal: studying to become a social worker, helping down-and-out Native Americans in Eastern Washington.
The other graduates echoed Palanuik's gratitude.
Michael Sharp, whose drinking worsened his mental problems, decided to get sober so he wouldn't step on his beloved cat, Heidi.
"I'm proud of myself for keeping my sobriety. There is life without alcohol, and it is a good life," Sharp said to applause.
Luke Warwick, who had a history of fights and was hospitalized for psychiatric and coronary problems, has learned to control his temper and works security at a downtown hotel that rents rooms to low-income people.
He and his girlfriend will get married on Valentine's Day.
Mark Strutton, one of the mental health court's current clients, recited one of his poems at Derr's request.
"We ran out of our own fear and ignorance/We were alone in a cold and uncaring world/There came a time when we were tired of running/We are here because we have a will to live."
The therapeutic court isn't for everyone. Just 12 percent of the mentally ill who qualify for the program end up using it, and some never finish. Statistics show that 30 percent of the inmates of the Spokane County Jail and about half of state prison inmates are mentally ill.
The program won't accept people convicted of sex offenses or other serious violent crimes. It's only for people with persistent mental illnesses facing misdemeanor or gross misdemeanor charges. More than half of those who make a first appearance in the mental health court have had no prior contact with the regional mental health treatment system, according to a 2008 Spokane County statistical report.
Once accepted, the participants must attend court and therapy sessions and take medications as prescribed. The court's staff helps get them treatment and housing and coordinates their needs with the criminal justice system. After they are mentally stable for 12 months and have committed no additional offenses, the charges against them are dismissed.
The court also uses a "criminal diversion track" for the 79 percent of mentally ill people charged with misdemeanors who are unwilling or unable to commit to changing their lives and stabilizing their mental illness. Nearly 500 defendants have gone through the mental health court since January 2007.
The therapeutic mental health court is a step toward reducing the trend that makes jails and prisons de facto mental wards, Derr said.
"These are the folks who've made a decision to commit to the process. It makes me feel wonderful," she added.
"This is the best program they've ever created," Palanuik said. "They are here to help you."
Local journalism is essential.
Give directly to The Spokesman-Review's Northwest Passages community forums series -- which helps to offset the costs of several reporter and editor positions at the newspaper -- by using the easy options below. Gifts processed in this system are not tax deductible, but are predominately used to help meet the local financial requirements needed to receive national matching-grant funds.
Subscribe to the Coronavirus newsletter
Get the day's latest Coronavirus news delivered to your inbox by subscribing to our newsletter.
---