News > Washington Voices
Dancing the tango of love
Couple found each other, spiritual bond on dance floor
Thu., Feb. 5, 2009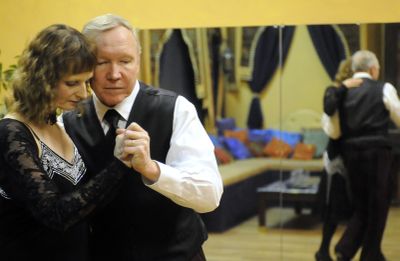 "If you want to have a good life, first of all you have to have a good woman and then you've got to dance!" said Stan Jones.
As Jones explained his words of wisdom, he grinned at Arlene, his wife and dance partner for the last 11 years. Arlene, nestling next to him, nodded in eager agreement and launched into an in-depth analysis of the tango.
The Jones' are bound on a journey of no return in the passionate pursuit of the elegant world of dance.
In 1997, Stan Jones was a retired and single father of a young son in Anchorage, Alaska. He had danced all his life since his mother taught him some country and western moves as a young boy. As a way to entertain his son and his friends, he would teach them dance and organize dance evenings at a local hotel. On that fateful night that Arlene waltzed into his life, he was the DJ.
"I was sitting between his ex-wife and his ex-girlfriend!" Arlene recalled, still laughing with disbelief at the comic position she found herself in. "And all night long, those two women talked about him! Nothing else! My ears were burning. And there wasn't anything bad! So I knew everything about Stan before he asked me to dance!"
"But I wasn't going to go near where she was even though I had my eyes on her all night!" Stan said. "Are you kidding?"
But inhibition caved under the weight of unbearable attraction. At the last dance, Stan gathered up his courage, walked up to the three women and extended his hand to Arlene.
"And I almost fainted when he said he would like to teach me how to dance!" Arlene said. "The sparks were flying. I was almost knocked over. It was like this wave that just came over me."
Single for three years, Arlene had been hit by ballroom dancing "like a brick," as she puts it. And it was her first adventure in pursuit of the newfound passion. "And as we danced our first dance with the last song of the evening, I knew he was the one. He will be my husband. I liked the feeling of being so close to him!"
"I told her I wasn't going to date her. Instead, I was going to take her on a journey," Stan said. And since they embarked on that first dance, their love and life has been propelled by the sheer magic and power of dance. They have been dancing with each other three to five nights a week for the last 11 years.
"We dance everything … from tango to hip-hop!" Stan said as he recalled one early morning hour when he and Arlene walked out of Brotherhood of Friends dance hall. Soon they were confronted by a few young people on the street. Sensing hostility, Stan put his wife in the car cranked up some hip-hop. He proceeded to dance to the music right in the middle of the street. "Before you knew it, the youngsters were dancing with him. They were all completely carried away," Arlene said.
"We carry our dance shoes everywhere we go." she said. "We will even dance for food!"
Stan recounts the time they were in a restaurant and the manager picked up their tab in exchange for a dance. But, other than the fact that dance is good for your health, the couple see it as a spiritual pursuit that binds their marriage.
"To me, there are only two places that I can shut out this world, the church and the dance floor," Arlene said. "When the music is on, there are no bills to pay, no cranky customers, no appointments to meet. There is just Stan and me."
Stan agrees. "Dancing is really a partnership in motion. Especially in tango, you are waiting for each other's cue. We all can learn a lot in our marriages from dancing together."
The couple might be dancing their way to stardom as well. They appeared in dance scenes in the movie "Alicia's Book" starring Christian Slater. The movie is a thriller shot in Spokane and due out this year.
Local journalism is essential.
Give directly to The Spokesman-Review's Northwest Passages community forums series -- which helps to offset the costs of several reporter and editor positions at the newspaper -- by using the easy options below. Gifts processed in this system are not tax deductible, but are predominately used to help meet the local financial requirements needed to receive national matching-grant funds.
Subscribe to the Coronavirus newsletter
Get the day's latest Coronavirus news delivered to your inbox by subscribing to our newsletter.
---
Subscribe and log in to the Spokesman-Review to read and comment on this story