News > Nation/World
Funds 'hiding in the weeds'
New claims, angry exchanges at hearing
Thu., Feb. 5, 2009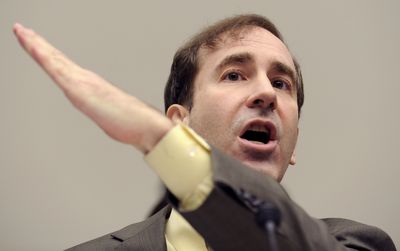 WASHINGTON – House lawmakers on Wednesday accused the Securities and Exchange Commission of impeding their probe into how the agency failed to uncover the alleged $50 billion fraud perpetrated by Bernard Madoff.
The clash between lawmakers and high-ranking SEC officials came at a hearing after the whistle-blower in the case, Harry Markopolos, said he had feared for his physical safety and would turn over new evidence to the agency showing the alleged Ponzi scheme mastermind had not acted alone.
Markopolos said he had discovered a dozen additional funds that funneled money to Madoff "hiding in the weeds" in Europe. Managers of investment "feeder" funds that relayed money to Madoff willfully turned a blind eye to his improprieties because they were paid generous fees, Markopolos said.
He plans to present his findings to the SEC's inspector general today. If proven, they would substantiate the assertions of many analysts that the alleged fraud was far too large for Madoff to have conducted alone.
Madoff, a prominent Wall Street figure who had been chairman of the Nasdaq Stock Market, was arrested in December after allegedly confessing to his sons that he had bilked investors in what the authorities say may be the largest Ponzi scheme ever.
Markopolos also planned to provide information on what he called a "mini-Madoff," another Ponzi scheme he said he's uncovered that may have defrauded investors of as much as $1 billion.
In loud, angry exchanges, lawmakers threatened to issue subpoenas to SEC officials to compel their testimony.
Rep. Paul Kanjorski, D-Pa., the House Financial Services subcommittee's chairman, vented frustration after the SEC's acting general counsel said the five officials appearing before the panel couldn't answer lawmakers' questions about the Madoff case because it's under investigation. The five SEC commissioners voted earlier to assert a privilege in not having officials answer questions from Congress.
Kanjorski accused the agency of impeding the panel's investigation, calling it an "abuse of authority."
It was a blistering escalation of criticism of the SEC, which has been blasted by lawmakers and investor advocates over its failure to discover Madoff's alleged $50 billion Ponzi scheme despite the credible allegations brought to it by Markopolos over a decade. Against the backdrop of the worst financial crisis since the 1930s, lawmakers of both parties are calling for a shake-up of the agency.
President Barack Obama's new SEC chief, Mary Schapiro, has pledged to revitalize the agency's enforcement efforts.
But any changes will come too late for Markopolos, who said that because of the SEC's inaction, "I became fearful for the safety of my family."
"The SEC is … captive to the industry it regulates and is afraid" to bring big cases against prominent individuals, he said. The SEC's inspector general is investigating how the agency missed the Madoff scheme despite Markopolos' credible allegations and several agency examinations of his operations, and whether his prestige led regulators to look away.
Markopolos, a former securities industry executive and fraud investigator, brought his allegations to the SEC about improprieties in Madoff's business starting in 2000 after determining there was no way Madoff could have been making the consistent returns he claimed.
Markopolos and his investigators raised 29 specific red flags regarding Madoff's operations to SEC staff in Boston, New York and Washington. Markopolos also suggested that senior editors at the Wall Street Journal may have prevented a reporter from pursuing leads he provided in 2005 because the newspaper "respected and feared" Madoff. That was disputed by a vice president at Dow Jones & Co., the Journal's publisher.
Local journalism is essential.
Give directly to The Spokesman-Review's Northwest Passages community forums series -- which helps to offset the costs of several reporter and editor positions at the newspaper -- by using the easy options below. Gifts processed in this system are not tax deductible, but are predominately used to help meet the local financial requirements needed to receive national matching-grant funds.
Subscribe to the Coronavirus newsletter
Get the day's latest Coronavirus news delivered to your inbox by subscribing to our newsletter.
---
Subscribe and log in to the Spokesman-Review to read and comment on this story