News > Nation/World
Militants torch trucks on Afghan supply route
Petraeus seeking routes outside Pakistan
Thu., Feb. 5, 2009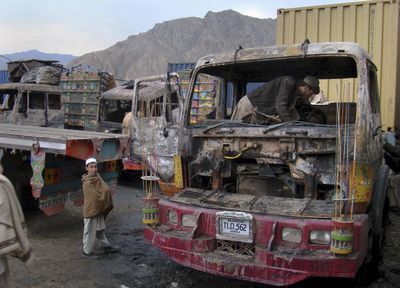 PESHAWAR, Pakistan – A day after blowing up a crucial land bridge, Taliban militants Wednesday torched 10 supply trucks returning to Pakistan from Afghanistan, underscoring the insurgents' dominance of the main route used to transport supplies to Afghan-based U.S. and NATO troops.
Months of disruptions on the route that runs from the Pakistani port of Karachi and through the historic Khyber Pass have forced NATO and American military authorities to look elsewhere for transport options. Currently, about three-quarters of supplies for Western forces in Afghanistan, mainly food and fuel, are ferried through Pakistan by contractors, usually poorly paid truckers. Many now refuse to drive the route.
Gen. David Petraeus, the head of the U.S. Central Command, said last month during a visit to the region that alternate routes outside Pakistan had been found, but he provided no details and gave no timetable for their use. The supply question has taken on added urgency with the planned deployment of up to 30,000 extra American troops in the Afghan theater in the next 18 months.
The potential complications of moving supplies through Central Asia were highlighted when the government of Kyrgyzstan said Tuesday that it would deny American access to an air base important to the Afghan war effort. U.S. officials said talks were in progress on keeping the base open.
In response to dozens of Taliban attacks, the Pakistani military late last year launched an offensive in the Khyber tribal agency, which borders Afghanistan, and Pakistani authorities subsequently declared the Khyber Pass to be secure. But, as in the past when the Pakistani army has carried out short-term operations in the tribal areas, militant attacks recommenced almost immediately after the troops withdrew.
Tuesday's bombing of a 100-foot-long bridge over a dry riverbed about 15 miles west of Peshawar stranded hundreds of truckers.
Pakistani and U.S. officials said the bridge was expected to be repaired soon and that some trucks had been able travel over a makeshift road across the riverbed.
NATO and U.S. officials in Afghanistan have said repeatedly that the disruption of the supply line is militarily insignificant. Weaponry is transported separately to Afghanistan by air, although dozens of Humvees have been lost in militant attacks against the supply routes inside Pakistan. NATO says it keeps a 60- to 90-day supply of fuel and other supplies, but shortages of everyday items are being felt on bases across Afghanistan.
Local journalism is essential.
Give directly to The Spokesman-Review's Northwest Passages community forums series -- which helps to offset the costs of several reporter and editor positions at the newspaper -- by using the easy options below. Gifts processed in this system are not tax deductible, but are predominately used to help meet the local financial requirements needed to receive national matching-grant funds.
Subscribe to the Coronavirus newsletter
Get the day's latest Coronavirus news delivered to your inbox by subscribing to our newsletter.
---
Subscribe and log in to the Spokesman-Review to read and comment on this story