Sports
Sarkisian rounds up group of 18
New Huskies coach dips into JC ranks
Thu., Feb. 5, 2009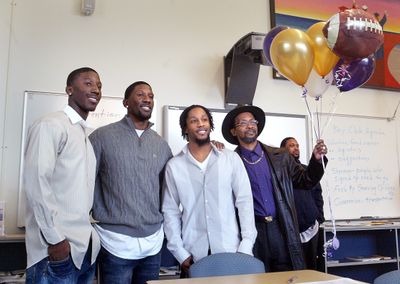 SEATTLE – What Steve Sarkisian's first recruiting class at Washington lacks in numbers, he hopes will be made up in quality.
Even if national pundits don't necessarily agree.
Sarkisian and Washington announced the signing of 18 players to national letters of intent Wednesday, a number that Sarkisian was more than pleased with considering the difficult transition of a new head coach and staff taking over a program that was the only winless major college team in the country a year ago.
Those factors left the Huskies' class ranked toward the bottom of the Pac-10 and in the bottom half nationally, according to various recruiting Web sites. Scout.com ranked Washington 66th nationally and last in the Pac-10, while Rivals.com pegged the Huskies 67th nationally – tied with Akron – and ninth in the conference.
"Anytime you're in a race like this and trying to catch up at the end it's obviously very difficult to develop the relationships that are really needed in recruiting," Sarkisian said. "We were in a lot of battles right to the end and in recruiting you win some and lose some, but I'm proud of our coaches. … I think we left a lot of impressions on coaches and kids."
The 18 signings include a significant dip into the junior college ranks for a school that has traditionally avoided going that route, and has been burned in the past by a few JC transfers who have failed to meet academic requirements. Sarkisian will bring in six JC players to go with the 12 high school recruits, hoping all can significantly help what Sarkisian believes was a lack of depth on last year's team, which went 0-12.
It was all part of a roller coaster two months for Sarkisian since taking over the Huskies program, a stretch that also included a pair of secondary NCAA recruiting violations the school was forced to report to the Pac-10 Conference, although neither are considered significant.
"We're not trying to push the envelope. We're trying to be compliant," Sarkisian said of the two infractions.
The gem of the class came late on Tuesday night when wide receiver James Johnson from Valley Center, Calif. – about 40 miles northeast of San Diego – affirmed his commitment to the Huskies. Johnson was a first-team all-state selection by calhisports.com and set a San Diego Section record with nearly 3,000 yards receiving in his career. While not considered a significant need for the Huskies with potentially nine receivers expected to return next year, Sarkisian considered Johnson Washington's biggest get.
"We needed a guy who could come in and play at wide receiver right now. He can do that," Sarkisian said. "He gets the game of football and it's important for us to get more football guys around this program."
Johnson was one of 13 recruits to come from California, not surprising considering Sarkisian's ties with the state after previously serving as offensive coordinator at USC. Among his other important signings from California were safety Nathan Fellner from the Fresno area – the grandson of former Fresno State coach Jim Sweeney – and quarterback Keith Price from St. John Bosco High School in the Los Angeles area. Price committed to Washington while Tyrone Willingham was coach and Sarkisian said keeping Price's commitment firm was one of his first tasks after taking over.
Sarkisian's first class features only two players from Washington – linebacker Andru Pulu from Federal Way and cornerback Desmond Trufant from Tacoma's Wilson High. Getting Trufant was a top priority for defensive coordinator Nick Holt. Trufant, the younger brother of former Washington State and current Seattle Seahawks cornerback Marcus Trufant, was the first recruit Holt and Sarkisian visited after Holt was hired as defensive coordinator.
But Sarkisian believes he's laid a strong base with coaches in the state for future recruiting classes – namely 2010, when the state is expected to have a bounty of talented prospects including Skyline quarterback Jake Heaps, regarded by some as the top QB recruit in the country next year.
To that point, Sarkisian said the school offered "about 20" scholarships this week to recruits for next year's recruiting class.
Among the Huskies' other notable signings were punter Will Mahan from Bakersfield College, where Mahan was rated the top junior college punter in the country; and defensive linemen Talia Crichton (Lakewood, Calif.) and Chris Robinson (Tustin, Calif.) both of whom Sarkisian said were getting heavy pressure in the final days from other schools.
"We're not going to settle. We didn't settle this year," Sarkisian said. "We're going to go and get the best kids in the country and we're going to go get the best ones next year."
Local journalism is essential.
Give directly to The Spokesman-Review's Northwest Passages community forums series -- which helps to offset the costs of several reporter and editor positions at the newspaper -- by using the easy options below. Gifts processed in this system are not tax deductible, but are predominately used to help meet the local financial requirements needed to receive national matching-grant funds.
Subscribe to the sports newsletter
Get the day's top sports headlines and breaking news delivered to your inbox by subscribing here.
---
Subscribe and log in to the Spokesman-Review to read and comment on this story