News > Washington Voices
Valley Fire Department honors Valley View helpers
Workers, residents saved lives – or worked to make them better
Thu., Feb. 5, 2009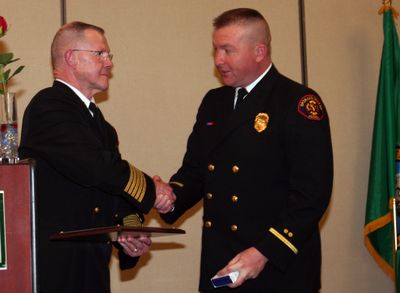 The Spokane Valley Fire Department honored its heroes and helpers Saturday, including three people who rescued two toddlers from a fire.
Other recipients included a deputy fire marshal and a sheriff's deputy who kept some 30 people safe during last summer's Valley View wildfire, and an off-duty Airway Heights firefighter-paramedic who tried to resuscitate a baby at a Trent Elementary School soccer match.
Employees and residents who went an extra mile in service of the department or the community also were feted at the department's third-annual awards dinner.
Among those who received the department's Community Service Award were Jonathan Higginson, Alex Suchanek and Brent Poutre, who saved the lives of siblings Trinity and Tristan Burris. The 1- and 3-year-old children were trapped in a smoke-filled bedroom last June when Higginson, Suchanek and Poutre responded to cries for help.
The fire prevented the children's mother and her boyfriend from reaching the bedroom door, so Poutre boosted his stepson, Suchanek, and Higginson onto a balcony. Using his cell phone as a flashlight, Higginson crawled through the smoke to reach the children.
Fire Department Chief Mike Thompson said Higginson passed the toddlers, one at a time, to Suchanek, who lowered them to Poutre.
Thompson also credited Deputy Fire Marshal Rick Freier and Spokane County sheriff's Deputy Jay Bailey with saving lives in the 1,000-acre Valley View fire that destroyed 11 homes in July.
"I believe they saved approximately 30 people," Thompson said.
Bailey had been assigned to lead an evacuation while Freier was on a fire-scouting mission when they were cut off by fire, along with about 30 residents who were trying to escape with pets and belongings.
Bailey and Freier gathered the residents and nine dogs in an open field while the fire burned around them.
Thompson said he talked to a woman in the group who said she was reassured by Freier's calm demeanor.
"She said, 'We felt very safe because it was apparent that Deputy Fire Marshal Freier had a plan and knew what he was doing, and everything was going to be all right,' " Thompson said.
Freier received the Fire Department's Medal of Valor, which is available only to employees, while Bailey was given the Community Service Award. The awards were a mirror image of those presented earlier by the Sheriff's Office.
Bailey and Freier also have been honored by the Red Cross.
Freier nominated East Spokane Water District Manager Rick Adkins and technician Jeff Eschliman for their role in fighting the Valley View fire. Adkins and Eschliman spent long hours making sure firefighters had a continuous supply of water during the fire. Since the fire, they have initiated improvements to promote fire safety, Freier said.
Off-duty Airway Heights firefighter-paramedic Chet Ziegler received the Fire Department's Community Service Award for his initiative in an unsuccessful effort to revive a 2-month-old infant who stopped breathing at a Trent Elementary soccer match.
Ziegler was watching his son's game when he noticed a large group of frantic people around the infant. He intervened with CPR and continued to treat the baby en route to a hospital, according to Spokane Valley Fire Department Capt. Brian Treffry, who nominated Ziegler for the award.
"Mr. Ziegler knowingly accepted his role in this tragedy without trepidation," Treffry wrote. "His actions and initiative on that afternoon were in keeping with the highest traditions of the fire service."
Treffry got a Community Service Award of his own, along with firefighter Sean Wagner and Fire Commissioner Bill Anderson, for stepping up last fall when the department learned a 24-year-old single mother with a 3-year-old child needed help moving to a new home. The woman was undergoing cancer treatment at the time.
Firefighter-paramedic Paul Hammersley got the Community Service Award for running the department's recycling program.
Nine residents got Community Service Awards for organizing the department's new Community Emergency Response Team. They were: Bobbie Canell, June King, Carl and Dorothy Sandaker, Ronda Ives, Rochelle Renninger, Sheryl Womble, and Luann and Bill Stallcop.
Thompson said the new team, established Jan. 1, has about 15 members trained to help firefighters with evacuations, searches, traffic control and other work that doesn't place them in imminent danger.
He said the community volunteers have been issued Fire Department shirts, reflective vests, radios, traffic cones and lights to illuminate incident scenes. They will be given use of some of the department's older Chevrolet Suburbans. The group's instructor, Deputy Fire Marshal Bill Clifford, received the Community Service Award, too.
Clifford also directs the department's Honor Guard and Pipes and Drum ceremonial units. He and two members, firefighters John Nelson and Mike Claggett, and retired firefighter Harold Kellams were honored for their service at ceremonies all around the region – including Saturday's awards program at the Mirabeau Park Hotel.
Two firefighters' wives, Cathye Bordwell and Angela Hughe, were recognized for their work as directors of the Spokane Valley Firefighters Benevolent Association, which raises money to defray hardships in the community. The association recently paid a towing bill and helped a young mother find temporary transportation when she lost her car, Thompson said.
Claggett and firefighters Mark Kiefer, Terry Odom, Pat Larive, George Sly and Gary Collins got Special Unit Citation Awards for their work setting up the department's new self-contained breathing equipment. Collins, Sam Grizzle, Trish Andersen, Michelle Rodgers, Coop Kennett, John Sprague, Bruce Hammer, Tag Baugh, Dave Griffiths and Michael Charter received Meritorious Service Awards, and Paul Kimball got the Academic Excellence Award.
Local journalism is essential.
Give directly to The Spokesman-Review's Northwest Passages community forums series -- which helps to offset the costs of several reporter and editor positions at the newspaper -- by using the easy options below. Gifts processed in this system are not tax deductible, but are predominately used to help meet the local financial requirements needed to receive national matching-grant funds.
Subscribe to the Coronavirus newsletter
Get the day's latest Coronavirus news delivered to your inbox by subscribing to our newsletter.
---
Subscribe and log in to the Spokesman-Review to read and comment on this story