News > Spokane
Anytime's good time for diploma
Hugs just as meaningful at midyear academic event
Fri., Feb. 6, 2009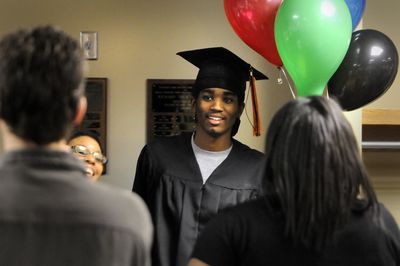 The first commencement for the high school class of 2009 Thursday wasn't without pomp and circumstance.
True, the ceremony came about four months earlier than usual – or eight months later, depending on whom you ask. And it was much smaller – just five graduates.
While the midyear graduation was a first for Spokane Public Schools, the rite of passage had the same elements as the much larger commencement typically held in June. There were caps and gowns, and proud, teary-eyed parents. They had cake and punch afterward.
"It gives them a sense of accomplishment," said Mona Martin, who beamed from the front row inside the district board room as her 18-year-old son, Marcus Fletcher, was handed his diploma from Lewis and Clark High School.
"It's a good thing to get your diploma, even if it comes in the mail," Martin said. "But to have a ceremony for the effort, to commend the boys and girls for sticking with it is so much more."
Recognizing that students face mounting pressures and increased graduation requirements, district officials decided to hold the midyear ceremony for students who either completed required courses early and don't want to wait until June, or for those who needed a little more time to make up missing credits at their schools.
A similar ceremony was held for students who graduated after completing summer school late last year.
"We are getting to a point in education where it should be about competence learned, rather than about seat time," said David Weatherred, the district administrator who helped organize the midyear commencement. "If that's the case we should have more and more people graduating at different times than the norm."
Thursday's group didn't fall into the "norm." There was no shortage of stories of perseverance among the five graduates, all of whom intended to be counted in the class of 2008.
Fletcher was six classes behind at graduation time last year. He had trouble juggling activities, work and homework. He fell into the wrong crowd, skipping classes.
"It was real easy to fall behind, but it was real hard to catch up," the teen said.
He didn't quit. Instead, he returned to Lewis and Clark in the fall for a fifth year.
Sometimes it's difficult for seniors to return, even for one semester. Those who do say they face ridicule from their peers, and many drop out or find alternative routes to a diploma, like a GED.
"It's easy for some to just say 'I'll go get a job' " instead of coming back, said Jennifer Soter, a teacher at Rogers High School.
Three of Thursday's graduates were from Rogers. Among them was Max Chechun, who, like Fletcher, was six classes shy of a diploma last June when he decided to return to his northeast Spokane school in the fall for one more semester.
He got off track as a freshman at Havermale High School, before going to Rogers his sophomore year.
"We've watched him mature so much over the years," Soter said.
As well as motivating his peers, Chechun inspires his family, which immigrated from Ukraine when he was a baby.
The 18-year-old is the first in his family to graduate from public schools in the U.S. Both his older brothers dropped out, and one later earned a diploma through alternative means.
Until Thursday, his mother, Tamara Chechun, never had the opportunity to watch her sons participate in the ritual. She snapped pictures and smiled proudly as he was given his diploma.
"A lot of kids, if they have to come back, they never do," Max Chechun said. "At first I didn't want to come back. It was really embarrassing. But I'm glad I did."
Local journalism is essential.
Give directly to The Spokesman-Review's Northwest Passages community forums series -- which helps to offset the costs of several reporter and editor positions at the newspaper -- by using the easy options below. Gifts processed in this system are not tax deductible, but are predominately used to help meet the local financial requirements needed to receive national matching-grant funds.
Subscribe to the Coronavirus newsletter
Get the day's latest Coronavirus news delivered to your inbox by subscribing to our newsletter.
---
Subscribe and log in to the Spokesman-Review to read and comment on this story