News > Nation/World
Justice Ginsburg treated for pancreatic cancer
Surgery removes small tumor found during routine scan
Fri., Feb. 6, 2009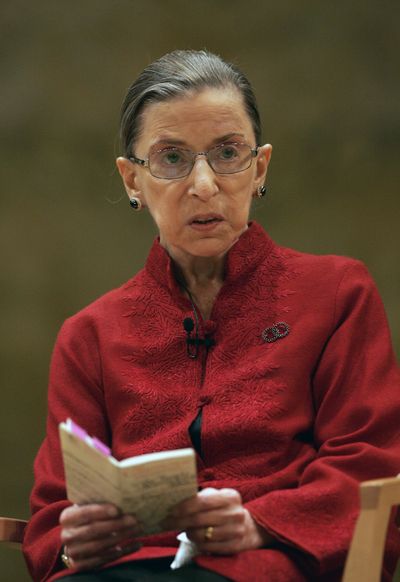 WASHINGTON – Supreme Court Justice Ruth Bader Ginsburg underwent surgery for pancreatic cancer Thursday. The court said the cancer, which is one of the most lethal of diseases, was in its early stages.
In a statement, the court said the cancer was discovered during a routine scan in late January. The scan revealed a small tumor, about 0.4 inches across, in the center of the pancreas. Ginsburg, 75, had experienced no symptoms before the discovery of the cancer, the court said.
She underwent surgery at Memorial Sloan-Kettering Cancer Center in New York. She is expected to remain in the hospital for seven to 10 days.
White House spokesman Robert Gibbs said President Barack Obama's "thoughts and prayers are with her and her family right now, and we hope for and wish her a speedy recovery right now."
Ginsburg, who was appointed to the court in 1993 by President Bill Clinton, is a survivor of colon cancer and underwent months of radiation and chemotherapy treatments in 1999. She never missed a day on the court during her recovery.
Pancreatic cancer, the fourth leading cause of cancer death in the United States, is especially deadly. With nearly 38,000 victims a year, only about 5 percent survive for five years after diagnosis, primarily because the disease has usually begun spreading widely before symptoms appear.
The key, doctors said, is whether the cancer has spread beyond the pancreas.
If it has not, then Ginsburg "is a very lucky woman," said Randolph Hecht, director of the gastrointestinal oncology program at the University of California, Los Angeles, Jonsson Comprehensive Cancer Center. Because it was so small and localized, she probably has a 30 percent to 40 percent chance of surviving for five years, he said.
The only curative treatment for pancreatic cancer is surgery, and that is effective only if it is identified early.
The fact that Ginsburg underwent surgery, however, is encouraging, said Dr. Gagandeep Singh, director of the Liver and Pancreas Center at John Wayne Cancer Institute in Santa Monica, Calif. Only 5 percent to 10 percent of pancreatic cancer patients have either Stage 1 or 2 cancer and qualify for surgery, he said. If the cancer has spread, then Ginsburg could undergo chemotherapy.
Any time a member of the Supreme Court develops a health issue, court-watchers inevitably begin speculating about a possible retirement. It was a drama that chased the late Chief Justice William H. Rehnquist for years until his death from thyroid cancer in 2005.
But before her illness, Ginsburg has never hinted at retirement and in fact has recently suggested that she would like to remain on the court into her 80s.
The announcement from the Supreme Court was unusual because of its degree of specificity about the nature of Ginsburg's illness. Typically the court releases little information about the health of the justices.
Local journalism is essential.
Give directly to The Spokesman-Review's Northwest Passages community forums series -- which helps to offset the costs of several reporter and editor positions at the newspaper -- by using the easy options below. Gifts processed in this system are not tax deductible, but are predominately used to help meet the local financial requirements needed to receive national matching-grant funds.
Subscribe to the Coronavirus newsletter
Get the day's latest Coronavirus news delivered to your inbox by subscribing to our newsletter.
---
Subscribe and log in to the Spokesman-Review to read and comment on this story