News > Business
New career can be a franchise
Fri., Feb. 6, 2009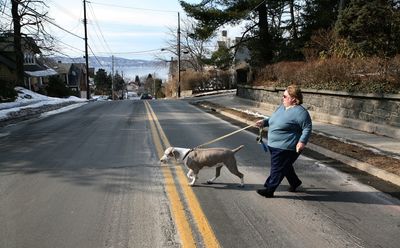 CHICAGO – Kathy McAvoy-Rogalski keeps her year-old business operating on a short leash, and that's a good thing.
Operating a Fetch Pet Care franchise with husband, James, out of their home has proved to be a rewarding second career for the early retiree.
"It's the one job where I can honestly say your clients are always happy to see you," said the 56-year-old Yonkers, N.Y., woman.
Thousands of older Americans with an entrepreneurial bent have started new careers in recent years by buying small franchises in everything from beauty shops to home maintenance to tax preparation. The option is likely to draw more interest as baby boomers age and, in a bleak economy, get laid off.
Opportunities could be harder to come by in the recession. The nation's more than 850,000 franchised businesses employed 9.8 million people and had estimated revenues of $839 billion last year, but those numbers are all expected to decline this year as the slump deepens.
Franchising offers the chance for additional income and a new direction for people in the latter stages of their working careers who either don't want to retire or can't afford to. Boosted by a brand name, training, advertising and an established business plan, a franchise can ease the struggle and risk of opening a business and still let you call some shots.
Retirees and near-retirees won't always find it a walk in the park, though, like McAvoy-Rogalski's daily rounds.
Hefty startup costs, which may range from $20,000 to $150,000 to buy part-time or smaller franchises, don't guarantee a profit. There also are royalties, licensing requirements, long-term commitments and the franchise company's ultimate control to consider. Three-quarters of all franchise businesses die within the first 10 years, according to Scott Shane, professor of entrepreneurial studies at Case Western Reserve University.
That makes it critical for individuals to do careful research and look at any buying opportunity skeptically.
"There are golden nuggets in franchising," Shane said. "There are great (franchises) out there where if you buy into them you could make a lot of money. But that's the minority."
Many franchisers, such as Fetch and HoneyBaked Ham Co. and Cafe, actively recruit the 50-and-over crowd. The International Franchise Association, which represents franchisers, franchisees and suppliers, advertises on the AARP's Web site.
"They've got school-of-hard-knocks experience and finance and business skills that they can apply on Day 1 at a franchised business," said Matthew Shay, president and CEO of the Washington-based franchise group.
McAvoy-Rogalski became the primary partner in a Fetch franchise six months after taking a buyout from the pharmaceutical company where she worked. Walking dogs, being outdoors and controlling your own hours sounded like a welcome change from years sitting at a desk, and James, 56, a former hospital security director now retired on disability, would be her co-partner and do a lot of the paperwork.
Buying an existing franchise cost $20,000 and additional startup costs including licensing and insurance totaled about another $2,000. Since then, operating costs have been modest.
Gross revenues for the first year were about $55,000. Some went to Fetch in royalties and some to their seven dog-walkers, who are paid $10 to $15 per half-hour walk or $30 to $50 per overnight stay.
Overall, that's better than McAvoy-Rogalski expected for the initial year.
"For retirees that are active, that like walking or love animals, it's the perfect way to earn some extra money," she said. The couple is using the money to live off until Kathy's pension and Social Security kick in.
Still, she cautioned others not to jump too quickly: "Think about how much time and energy you want to put into it. It's all going to be on you."
Local journalism is essential.
Give directly to The Spokesman-Review's Northwest Passages community forums series -- which helps to offset the costs of several reporter and editor positions at the newspaper -- by using the easy options below. Gifts processed in this system are not tax deductible, but are predominately used to help meet the local financial requirements needed to receive national matching-grant funds.
Subscribe to the Coronavirus newsletter
Get the day's latest Coronavirus news delivered to your inbox by subscribing to our newsletter.
---
Subscribe and log in to the Spokesman-Review to read and comment on this story