News > Spokane
Unemployment claims surge
Report today expected to show jobless rate of 7.5 percent
Fri., Feb. 6, 2009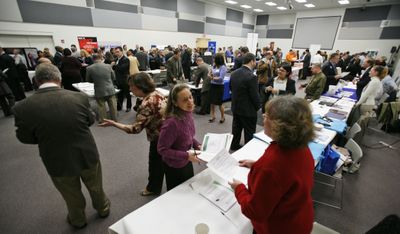 WASHINGTON – New jobless claims jumped far more than expected last week in an already dismal labor market, and there's no relief in sight for workers as mass layoffs persist.
The Labor Department reported Thursday that the number of newly jobless workers seeking benefits rose last week to a seasonally adjusted 626,000, far more than analysts' expectations of 583,000.
That's also the highest since October 1982, when the economy was in a steep recession, though the work force has grown by about half since then.
The numbers reflect the large spate of layoffs announced last month by companies from all sectors of the economy, including Caterpillar Inc., Pfizer Inc. and Microsoft Corp. The layoffs continued Thursday with cosmetics maker Estee Lauder Cos. saying its fiscal second-quarter profit fell 30 percent and it plans to begin a four-year restructuring plan that will include cutting 2,000 staffers, or 6 percent of the work force. The company will also continue its hiring freeze.
Economists expect the government to issue a grim report today that will show the unemployment rate rose to 7.5 percent in January, up from 7.2 percent in December. That would be the highest rate in 17 years.
The housing slump and financial crisis have hammered spending by businesses and consumers, sending the economy into a recession that is expected to continue until at least the second half of this year.
The recession's impact was visible in other economic data Thursday:
•Retailers reported dismal January sales that could foreshadow a cold spring as consumers worry about layoffs and their dwindling retirement funds. Bigger-than-expected declines crossed the spectrum from Gap Inc. to luxury retailer Saks and the Children's Place. Others, like Macy's and Limited Brands Inc., did better than forecast but still saw sales drops.
Wal-Mart, the world's largest retailer, was among the outliers, reporting sales gains that beat Wall Street's forecast.
January sales at established stores fell 1.6 percent, according to the International Council of Shopping Centers-Goldman Sachs tally – not as bad as expected, but the fourth straight monthly decline.
•Factory orders fell by 3.9 percent in December, the Commerce Department said, a record fifth straight drop.
For all of 2008, orders for everything from autos to computers to food rose by only 0.4 percent, the weakest showing since orders fell by 1.8 percent in 2002.
•As a proportion of the work force, the number of people receiving unemployment benefits is at the highest level since August 1982. But that doesn't include an additional 1.7 million people receiving unemployment insurance through an extension of benefits Congress approved last year, which brings the total to about 6.5 million.
•Productivity rose at an annual rate of 3.2 percent in the final three months of last year, far above the 1.1 percent rise that economists had expected.
Productivity, the amount of output per hour of work, jumped because the number of hours worked during the period plunged faster than output declined.
Local journalism is essential.
Give directly to The Spokesman-Review's Northwest Passages community forums series -- which helps to offset the costs of several reporter and editor positions at the newspaper -- by using the easy options below. Gifts processed in this system are not tax deductible, but are predominately used to help meet the local financial requirements needed to receive national matching-grant funds.
Subscribe to the Coronavirus newsletter
Get the day's latest Coronavirus news delivered to your inbox by subscribing to our newsletter.
---
Subscribe and log in to the Spokesman-Review to read and comment on this story